King's High School Bring Your Own Device (BYOD) Programme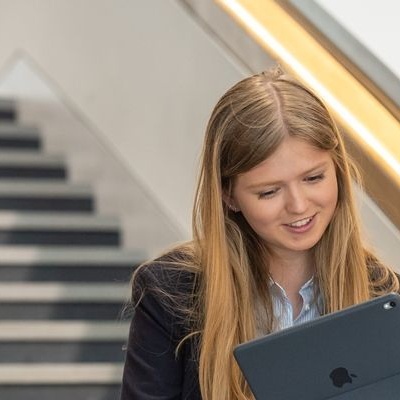 King's High School is excited to announce a new approach to the use of digital technologies within our school. From September 2019 we will be introducing a gradual implementation of a Bring Your Own Device (BYOD) programme for our pupils. To that end, we are now trialling a voluntary BYOD scheme with our Year 12 and Year 13 pupils (September 2018+). The following information explains why we are introducing the BYOD programme, how the programme will develop, how we will be supporting you and your daughter in the choice of a device and the ways in which we will be investing in technology and support in order to ensure successful outcomes.



Why BYOD?
We are clear that for our pupils to become successful members of society we need to help them develop an understanding of how to effectively use technology in ways that support their individual needs and aspirations. This requires an environment where the use of digital tools, technologies and resources is an integral part of the everyday learning, both in and out of the classroom.
Enabling pupils to make use of their own, personal device for learning has a number of benefits. Pupils become more familiar with technologies if they have the opportunity to explore its use both inside and outside the classroom environment. This, in turn, provides the opportunity to explore more creative and challenging uses of these technologies to support the 21st Century learning environment that young people deserve.

Voluntary trial with Year 12 and 13
The initial, pilot BYOD programme will involve girls from Years 12 and 13 who can bring their devices to school in order to use them for school work. We will be extending the programme to other year groups in September 2019 and further information about this extension will be provided to parents in due course.

The initial pilot is purely voluntary and any girl who does not bring their own personal device will be able to access a school device when devices are required in lessons.

What is a suitable device?
The aim of this pilot programme is to be as inclusive as possible and to support a wide range of devices so that individual preferences can be accommodated. These are the criteria that we would expect a device to fulfil in order for it to be successful as a BYOD device within our school:

Wireless - The ability to connect to a wireless network.
Battery Life – The device must be brought into school fully charged and should have a battery life that will last throughout the school day.
Screen – The screen should be large enough to be used to input a large amount of text and manipulate graphics without eye strain. We would suggest a minimum size of nine inches.
Keyboard – The device should have a physical keyboard, either as part of the device or through the use of a Bluetooth connected keyboard.
Portability – Since a girl may be carrying this device around school during the day we would suggest that it is as light as possible and easily portable.
Operating System – Since we will be using a software system designed to enrol the device onto our school network and ensure safe use of the device, we require the device to be able to run the latest versions of modern operating systems.
These include:
Windows 7 / 8.1 /10
MacOS High Sierra or above
IoS 11 or above
Android 7 or above
ChromeOS 67 or above
General Software – The core software tools that we will use are based around the Microsoft Office365 suite (Word, PowerPoint, Excel, etc). The device should be able to install and run these tools, which will be provided by the school as part of the BYOD pilot programme. We also recommend using the Chrome web browser for Internet access.
Anti-virus Software – In order to ensure a safe and secure working environment, every time a girl logs on to the school Wi-Fi network with their own device it will be checked to see if there is appropriate anti-virus and malware protection software that is up to date with the latest protections. A device needs to have this installed if it is to use the school network.
Carrying Case – It is important that the device is protected whilst not in use and so we would recommend that it is kept in a carrying case.


Frequently Asked Questions

Do I need to buy a new device for my daughter? No. The pilot phase for Years 12 and 13 is purely optional. If your daughter has a device and wants to bring it in to school to help with her work we would encourage her to do so. Otherwise, we will continue to provide access to a school device whenever required.

How will the device be connected to the school network?
Your daughter will receive an email, to her school email address, explaining how her device can be connected to the school network. The email will contain a link to a web page that will allow her to download and install the software required to enable her device to connect to the school network. She should install this software at home so that she is ready to use the network. Support will be provided from the IT Department for any girls who experience issues trying to log on to the school network using their personal device.

Will the device be used in every class?
We always aim to provide your daughter with an effective learning environment where different learning and teaching activities are used to help your daughter achieve. This means that the BYOD device will be used for some, but not all, lessons in ways that are appropriate for a particular learning task.

How will we try to ensure safe use of devices?
We already have a clear and unambiguous Acceptable Use Policy and this still applies when a personal device is being used. Also, as part of the process that accepts your daughter's device onto the school network, we will install software that aims to keep the device secure and monitor use of the device whilst it is on the school network.

Where should work be saved?
We already provide access to Microsoft Office365 and your daughter should save her work within the Office365 OneDrive space which provides more than enough space for her school work. This cloud space is available to all girls in the school, regardless of whether they have their own device or not.

Where will the device be kept when not in use?
Your daughter has a locker in which she can keep the device (preferably in a carrying case) when not in use.

What about insurance?
The school insurance does not cover loss or damage to your daughter's personal device and you may want to check to see if these are covered by your household insurance before considering specialist insurance.

Contacting the school for further information
If you do have any queries that have not been answered here, then please do get in touch using the following email address: byod@kingshighwarwick.co.uk