Train to Teach at King's High
Train to Teach Mathematics and Physics
Our next Train to Teach Day is Wednesday 27 November, 2019.
Train to teach Mathematics and Physics with NMAPS and the Warwick Independent Schools Foundation.
King's High School and Warwick School are delighted to have been selected to lead the Warwick Regional Hub for the National Maths and Physics School Centred Initial Teacher Training (NMAPS) Programme.
NMAPS offers unparalleled high quality teacher training, led by Mathematics and Physics experts from the best schools nationally.
To find out more about the scheme and how to qualify, see our Train To Teach Document or join us for a school experience day on Wednesday 27 November 2019.
For more information contact Mrs Rosemary Chapman, Director of NMAPS, Warwick Regional Hub NMAPS@warwickschools.co.uk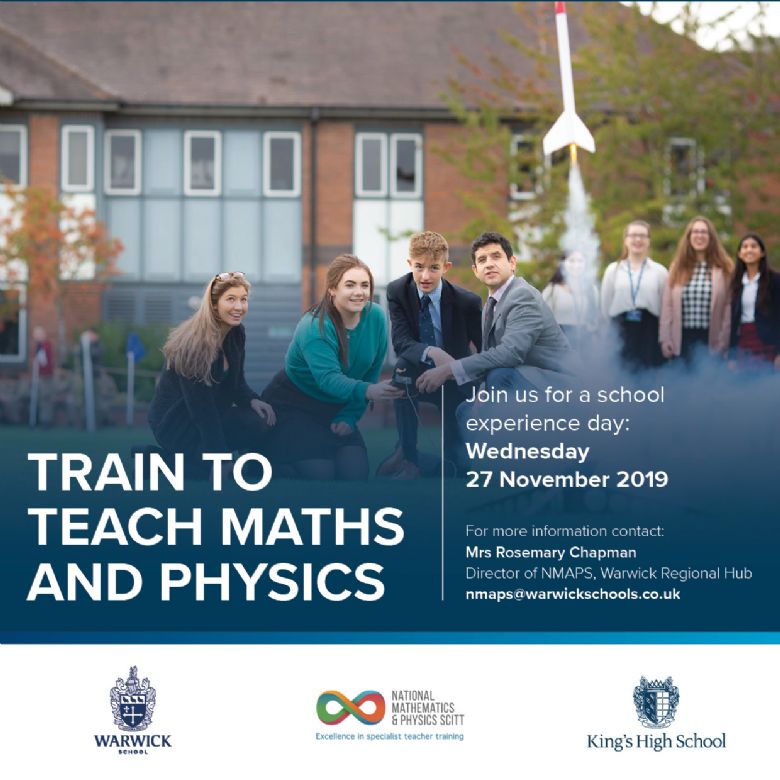 Teach whilst training
King's High School welcomes applications from teachers who would like to teach whilst training for Qualified Teacher Status (QTS). We run a comprehensive programme for dedicated graduates who are passionate about their subject.
Warwick Independent Schools Foundation welcomes highly-skilled graduates who would like to train for Qualified Teacher Status (QTS) whilst employed by the school. This scheme is available to those who wish to apply for advertised vacancies but who do not already possess a teaching qualification. The course takes a minimum of two years and in the first year you will have a reduced timetable and the help of a School Professional Mentor. After successful completion of the first year, you will be invited to spend four weeks in one of our partner schools before beginning the QTS assessment only route.
This route into teaching is an excellent way to develop your craft whilst being a fully salaried member of staff. There is extensive internal training and the opportunity to reflect on your professional practice with qualified mentors and other trainees. There is no fee for the first year of the course but the second year involves a certification fee of approximately £2500 and the School expects you to contribute 50% of this cost.
Benefits of Training to Teach at King's High School:
A reduced timetable and support in the form of a dedicated School Professional Mentor
A fully-salaried post
Subject expertise and pedagogical training offered by expert mentors
A substantially cheaper route to QTS
Can I visit the school before I complete my application?
Interested graduates should demonstrate that they have spent time observing and perhaps team-teaching in an educational environment. We would be delighted to hear from anyone who would like to see the school in action ahead of an application.
To be eligible, you will need the following:
A UK undergraduate degree or recognised equivalent qualification at 2i or above
A standard equivalent to a grade C in the GCSE examinations in English and mathematics, or equivalent
You will need to pass the Professional Skills tests in numeracy and literacy before embarking on the second year of the WISF QTS scheme