'The playing of the merry organ' – read the story behind our magnificent new organ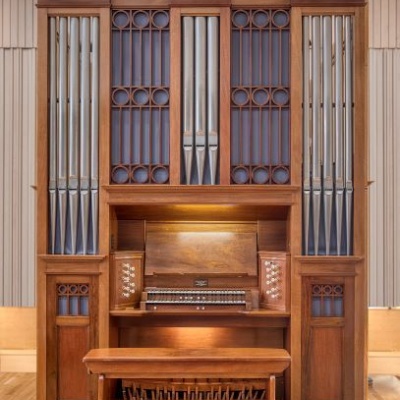 Royal Birmingham Conservatoire's historic organ comes to King's High and Warwick Prep Music School, to inspire a new generation of young musicians
We are delighted to shine a light on the magnificent Lady Susi Jeans organ, that has found a new home in our new Music School, thanks to a generous benefactor. (You may have heard the organ in all its glory at our virtual Landor Association Carol Service). We hope this historic organ, formerly owned by Royal Birmingham Conservatoire, will help to inspire future generations of young musicians, and support the UK's great tradition of organ music, at a time when music is under pressure as never before.
The organ belonged to Lady Susi Jeans, who saved many historic organs for the nation, and was a cornerstone of English musical life. Her many famous admirers included Charles-Marie Widor, who composed the wedding favourite, 'Toccata'.
The organ was built in 1936 by Hill, Norman & Beard Ltd, with pipework and voicing by Eule of Bautzen in the south-east of Germany. It was a wedding gift to Lady Susi from her husband, Sir James Jeans, an astronomer, physicist, and pioneer of British cosmology.  They installed the organ in their home, Cleveland Lodge in Dorking, which later became the Royal School of Church Music. At King's High, the organ graces a dedicated room in our state-of-the-art Music School, which opened this autumn for musicians, aged from as young as three-years-old, to eighteen.
Richard Nicholson, Principal of the Warwick Independent Schools Foundation (and a former Oxford University organ scholar), comments: 'This wonderful instrument will now go on to inspire many musicians, through King's High and Warwick Prep, and the Warwick Independent School Foundation, and – most importantly - beyond. It feels entirely right that an instrument made for a pioneering woman organist has found its home in a pioneering school for girls.
'Lady Susi Jeans stands as an inspirational role model for musicians everywhere. We would love to think this could inspire someone to follow the career of Anna Lapwood, the trailblazing organist and host of BBC Young Musician, who was appointed Director of Music at Pembroke College, Cambridge, aged just 21. We want this instrument to have an important impact on the musical life of Warwick and beyond, and look forward to developing partnerships which promote a whole new generation of organists. We are introducing the Northgate Organ Scholarship, which is open to sixth form students. At a time when music, such a vital part of life, is under pressure, we want to do whatever we can to help secure a future for young musicians, and support a great tradition of music-making.'
The UK's organist community has supported the project. Tom Bell, Artistic Director of the London Organ Day, has advised throughout, and Daniel Moult, Head of Organ Studies at Royal Birmingham Conservatoire, and one of the leading organists of his generation, comments: 'I'm delighted the organ is going to such a good home.'