Sport
Proud to be ranked No.13 Best Independent Girls' Sporting School in the UK, by School Sport Magazine.
We are so pleased to offer many opportunities at King's for girls to discover and develop their sporting interests, both in curricular and co-curricular activities.
We offer a broad range of sporting disciplines, designed to support those who wish to engage with the highest level of competitive team sport and for those whose interest is more recreational. Most importantly, sport is for all.
We aim to inspire our pupils to engage meaningfully with physical activity, as a core aspect of wellbeing and maintaining good mental health, but also as a key part of their school experience and in their life beyond King's.
As well as running successful teams at County, Regional and National level, some of our pupils also gain representative honours in their chosen sports, for example at National and International level. For more information on fixtures please visit our school sports page: King's High Sport
Our experiences, both recreational and competitive, allow every pupil to develop her own talents and abilities to the full, generating confidence, enthusiasm and an enjoyment of physical exercise and sport that will last throughout her life.
There is truly something for everyone at every level in which to participate and enjoy.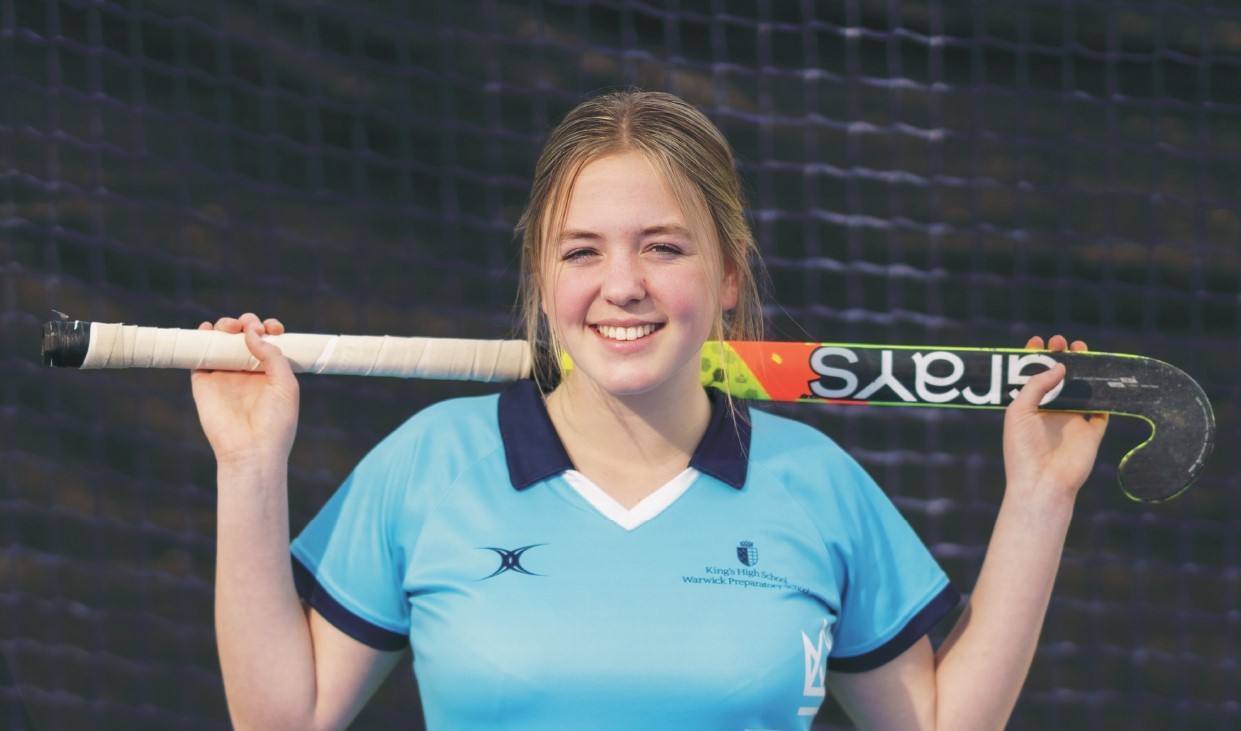 Inspire - Sport
The Talented Athletes Programme
Double Click To Change The Link
Our Sports Provision: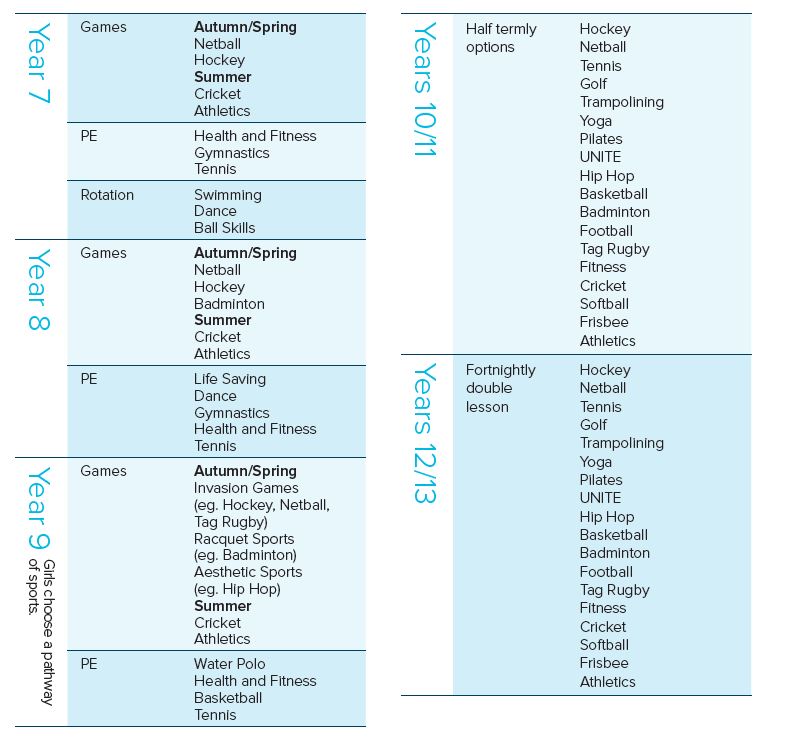 Our Co-Curricular Provision: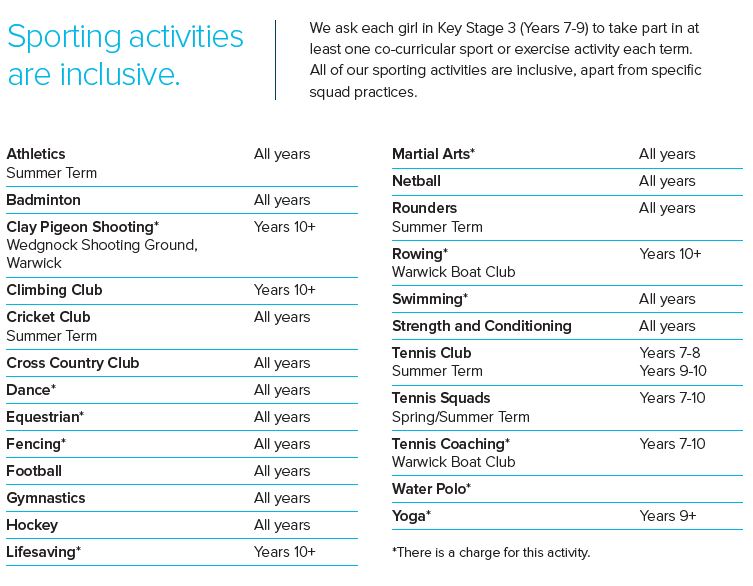 Our Brand New Facilities
Our new state-of-the-art sports facilities have been designed to further enhance the sports provision we offer.
The recently opened Sports Centre has been built onto the existing Bridge Sports Hall and now also includes:
• A fully-equipped Fitness Suite with cardiovascular equipment, free weights and plyometric boxes. This is a state-of-the-art facility for our girls.
• A new sprung floor gymnasium for gymnastics and trampolining, amongst other activities.
• Multiple changing rooms with showers.
• Two brand new locker rooms, equipped with 500 lockers.
We also have eight netball/tennis courts, two Astro Turf pitches and access to the other sports facilities on the Foundation campus, including the swimming pool, 3G pitch and climbing wall at Warwick Sports Centre.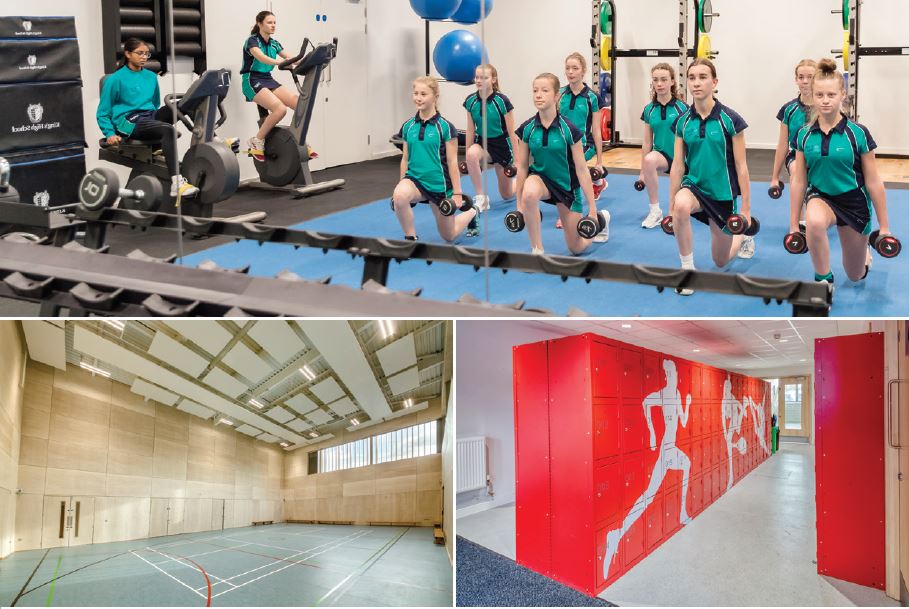 Our Sporting Successes
From the pitch to the pool, our girls represent the school in many different sports, competing with schools from
around the Midlands.
Our Clay Pigeon Shooting team have been National Champions 2015 - 2018, and finished as runners-up in 2019. Our teams have been crowned County Champions in Netball, Hockey and Athletics across different year groups and have also competed at a Regional level. Since 2017, our Netball teams have been County Champions eleven times and our Hockey teams nine times. The water polo teams have qualified for the National Finals for the last three years, with the U15 team bringing home bronze medals last year.
Our swimmers regularly compete at IAPS competitions and have competed in the ESSA National Finals for seven consecutive years.
We also have a track record of outstanding success at the highest levels with girls individually winning county and national championships and titles across multiple disciplines, from Rounders to Tennis, from Fencing to Cheerleading. For the latest sports achievements and news, please read the King's High News termly magazine or follow @KHSSport on Twitter.
Sport Tours
Biannual Junior Hockey and Netball tours are organised to Holland and Jersey, and in their senior years at school, girls have the opportunity to travel further afield to destinations such as South Africa to play Hockey and Netball against South African schools and clubs. Other trips organised include ranching in Arizona, biannual ski trips and day trips in the UK to watch top performers.
Talented Athlete Support and Sports Scholarships
Students who aspire to perform at the highest level are supported through our Talented Athlete Programme. Read more below and download our Inspire Sport Brochure (The Talented Athletes Programme) at the bottom of this page.
The Talented Athlete Programme includes three levels of support dependent on the level of performance currently undertaken by the athlete. As a school, we will be working in partnership with Athlete Evolution, a company who will help to provide strength and conditioning, profiling, wellbeing mentoring and inspirational talks. Students will be able to work through the programme from the Aspire level through to the Elite level as they progress in their sport.
In addition to the Talented Athlete Programme, we offer sports scholarships for 11+ and 16+; for more information please contact our Admissions team: admissions@kingshighwarwick.co.uk or Mrs Sarah Parkinson-Mills, Director of Sport: s.parkinson-mills@kingshighwarwick.co.uk