Inspection Report and Reviews
ISI Material Change Inspection Report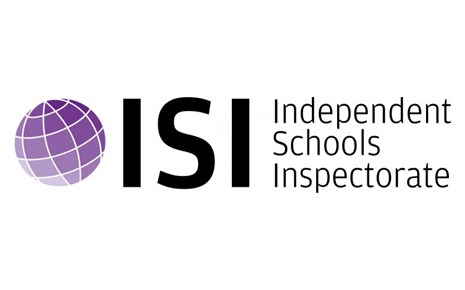 ISI Material Change Inspection Report (PDF - 0.1 MB)
March 2023
Double Click To Change The Link
Good Schools Guide Review 2022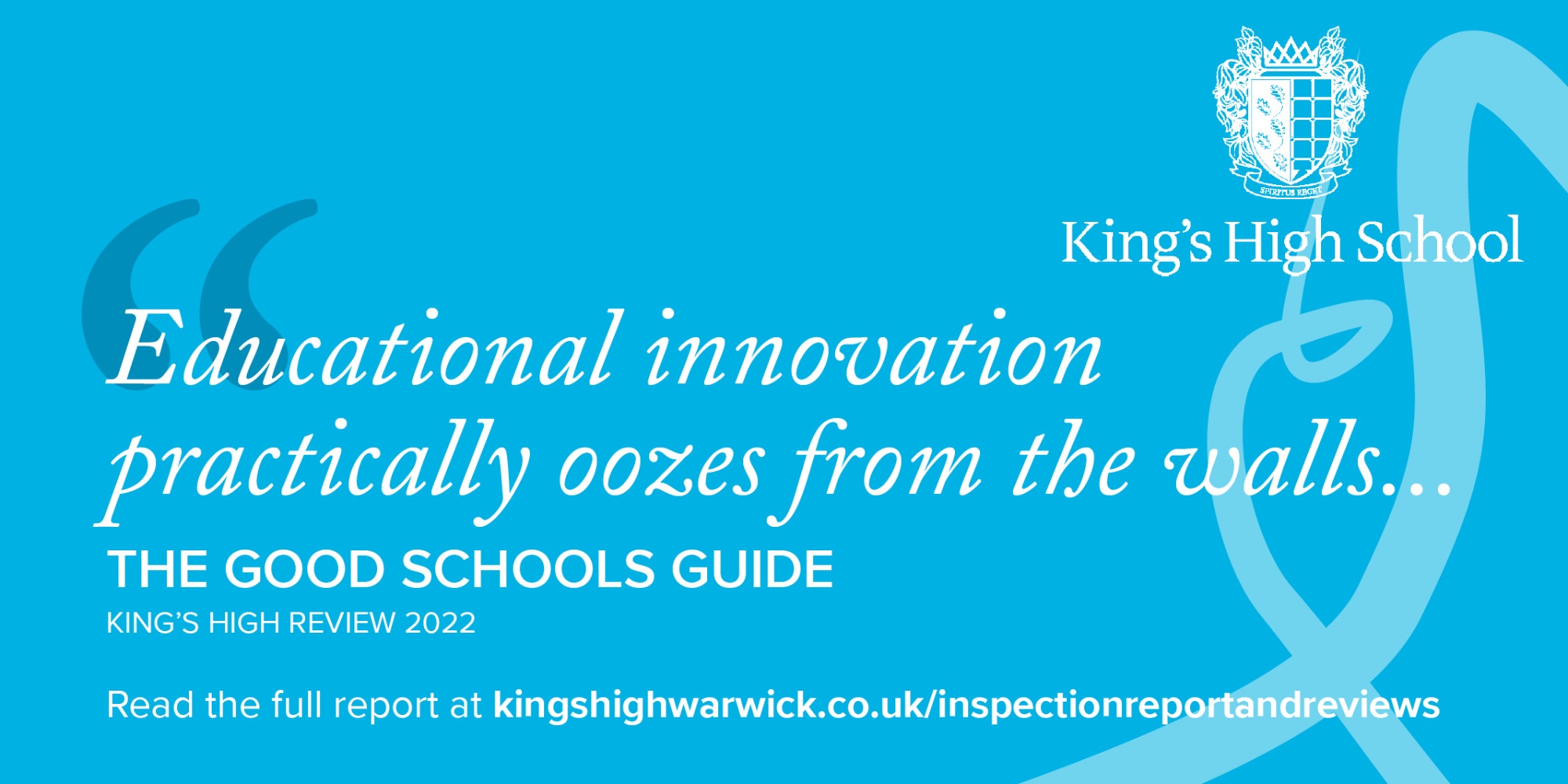 'The whole place feels dynamic, forward-thinking and big.'
'Wellbeing is at the centre of the school – they truly care and champion the girls to be themselves.'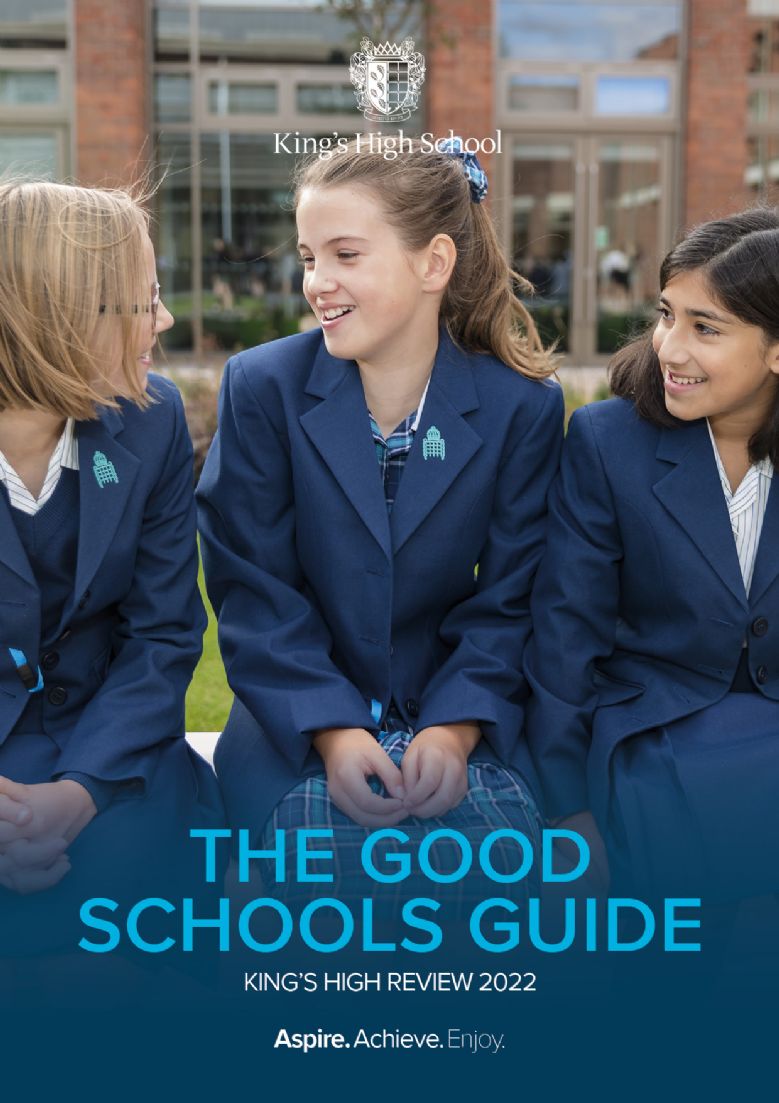 Read the full report HERE (PDF - 3.4 MB), and also available to download at the bottom of the page.
---
Muddy Stilettos 2022
In 2022, we were reviewed once again by Muddy Stilettos.
What they loved:
Their stunning airy and light-filled new home has been designed by London-based Nicholas Hare Architects with fabulous state-of-the-art facilities, including a mixed Shared Sixth Form Centre with Warwick School. This high-achieving all girls school is recognised for its holistic, homely atmosphere, innovative Inspire programme and artistic creativity. It was selected as The Sunday Times' West Midlands Independent Secondary School of the Year, 2019 and winner of the ISA Senior School of the Year award 2021-2022.
Girls have the pleasure of eating lunch in an airy, spacious and swanky dining room showcasing another wonderful maple ceiling. There's a great selection of daily menus too. Walking along the wide main corridor with its lofty high ceilings, white walls and natural materials there's a harmonious sense of space and light. A lovely aspect is that every classroom looks over green, whether it's a school playing fields or the Quad.
Other facilities within the school include an Innovation Centre with dry-wipe tables you can write and doodle on, creative ICT suite and study space; ICT suites and METEOR, one of 4 NAO robots in UK schools to aid the teaching of robotics. The girls have access to Bridge House Theatre, the 1000 seat Warwick Hall, Bridge Sports Centre, a swimming pool and sports facilities including a 3G rugby pitch, 5 netball and 6 tennis courts.
---
Achieving the Highest Standards: ISI Regulatory Compliance Report
We are delighted to share the recent Independent Schools Inspectorate's Regulatory Compliance Report for King's High, in which we achieved the very highest standards possible in terms of regulatory compliance.
"A superb outcome that reflects the outstanding work across all areas of our community." Dr Burley, Head Master.
Download the full report at the bottom of the page.
---
The Good Schools Guide 2018
In April 2018, we were reviewed by The Good Schools Guide. Just as ISI before them, they reported on an exciting, vibrant, and thriving school.
Key report findings include:
'King's High is carefully crafting a heady brew for the girls of absolutely top academic aspirations, endless opportunities to develop passions outside of the classroom and a focus on actions that will ground them in the real, inclusive world'.
'They plan big at King's'

'..the whole dynamic feel of the school with its can-do attitude, has meant the girls see their school
as fleet of foot and poised to take advantage of every opportunity, whether ones suggested by
the girls themselves or coming from outside'.

'Pastoral care is regarded as a great strength, and whoever you talk to, there is a sense that
every girl is known as an individual within the school'.

'The girls are just lovely. What can you say? Who wouldn't want their daughters to be like this at
18? Confident but not arrogant; excited about their future but hugely loyal to their past; believing
the world is theirs for moulding into something much fairer and better than has gone before; sure
that they can do it, but knowing they will need support and networks and kindness and empathy
to succeed'.

'If anyone doubts that girls' schools are the catalyst for gradual but determined social revolution,
they should come to King's High. At the heart of a relatively conservative area is this dynamic
powerhouse for social change, unleashing on the quiet byways of Warwickshire the full force of
young women who know what they want the world to look like and how to go about getting it
there. There's a careful and not sensational development of confidence and leadership, a respect
for serious academic thought and analysis that is not showy or judged by solely A*s. These
mean that King's girls go out optimistic but realistic, determined to work towards making things
better but emotionally intelligent in their sensitivity to the views of others. A winning combination'.
---
Muddy Stilettos 2018
In May 2018 we were reviewed by Muddy Stilettos and, as The Good Schools Guide and ISI before them, they had a range of hugely positive things to say about the school.
Key report findings include:
'Science thrives here! Girls have been successful achieving places on some of the most competitive university courses, winning a prestigious Weizmann scholarship and achieving awards in the Biology Challenge, Physics Olympiad and Cambridge Chemistry Challenge. An extensive extracurricular programme of trips and lectures, competitions, and clubs encourage pupils to believe science is accessible, challenging and inspiring. Each year several Sixth formers participate in university-style research and in Year 8 girls study engineering'.
'King's is very proud of its Pastoral Care which involves girls meeting their tutor twice each day, where they get the opportunity to discuss both academic and pastoral matters'.
'Sports is very strong with girls winning multiple County Championships in netball, water polo and clay pigeon shooting. Although girls and boys will continue to be taught in single-sex classes, parents and teachers feel it's important for them to work and socialise together'.
For the full report visit: the Muddy Stilettos website.
---
Celebrating 'Excellent' All Round in 2017 ISI Inspection Report
In May 2017, we celebrated an Independent Schools Inspectorate (ISI) Inspection Report that judged the school to be 'Excellent' in both Pupil Achievement and Pupil Development.
Head Master, Richard Nicholson, commented, 'We are very pleased about the judgements the inspection team has made about the school and we are excited about the continued development of King's over the years ahead. Whilst the headline judgements cannot use language other than 'excellent,' very rarely, inspectors will be allowed to use more generous superlatives, so I am delighted our pastoral care is described as 'outstanding', and that the girls' individual and group achievements are described as 'exceptional'. More than anything, we are incredibly proud of our girls. I was especially pleased that the strength of our community was recognised, with the inspectors noting that 'relationships in the school are harmonious', and that 'the most frequent comment made by parents is that pupils love their school.' The girls' happiness is at the centre of everything we do, which we know to be the key to their ultimate fulfilment.'
Key report findings include:
'Results in A Level examinations and standardised measures of progress indicate that pupils make excellent progress by the time they leave the school compared to the average for pupils of similar abilities.'

'Pupils' exceptional achievements cross a very wide range of academic, creative and sporting activities.'

'Their excellent attitudes to learning enable pupils of all ages to excel in their chosen areas, meeting the ethos of the school to aspire, achieve and enjoy what they do.'

'Pupils develop key skills for the future, including confidence, resilience and perseverance.'

'Pupils communicate freely, being articulate speakers who explore theories, ideas and their own views helped by the supportive, ambitious and respectful atmosphere of the school.'

'Pupils display outstanding attitudes to all aspects of school life.'

'Pupils develop key skills for the future, including confidence, resilience and perseverance.'

'Pupils develop strong moral values, take responsibility for their own behaviour and appreciate and value the world around them'.