History of the School
King's High has always been at the forefront of girls' education.
In the early wave of girls' school expansion in the late Victorian era, King's High blazed a trail. From modest beginnings in 1879, when the first 22 girls assembled in Landor House under the headship of 22-year-old Miss Mary Fisher, the school has been inspiring girls to achieve academic excellence and personal enrichment.
By the 1900s, girls were learning Botany, Chemistry and Euclid, and a trickle of Sixth Formers began to go to university.
In the 1920s, under the charismatic leadership of linguist and author Miss Eleanor Doorly, the school introduced Form and School councils, very far-sighted at the time. Science and Sport continued to flourish.
With a huge programme of building work in the 1960s, over 600 girls were educated on the Smith Street site, and university entrance became more widely achieved, with several girls winning coveted Oxbridge places every year.
From the end of the 20th century, newer school subjects like Computing, Business Studies and Psychology were introduced. The school colours were changed from the old gold and black to today's green and blue. Uniform was dispensed with altogether for Sixth Form girls.
During the first 14 years of the 21st century, with Mrs Surber at the helm, the school continued to be at the forefront of girls' education, offering wider opportunities for extracurricular activities such as foreign exchanges, a Mandarin club, climbing and ballet lessons. In addition, Mrs Surber led an ambitious building programme which included the Sixth Form Centre and St Mary's, the Creative Arts Centre and the Dining Room.
In September 2015, Mr Nicholson joined King's as its first Head Master, furthering the school's well-established tradition of innovative leadership. As well as leading the school's forward-thinking approach to teaching and learning and bringing together King's High and Warwick Prep as a single-school from 3-18, he also spearheaded the move to a new state-of-the-art purpose built school in September 2019, where King's High joined its 'brothers' at Warwick School and the children of Warwick Preparatory School, on the new Myton Road site.
When Mr Nicholson left to be Principal of the whole Foundation in 2020, Mrs Renton became our twelfth Head. With a wealth of senior experience within the school since 2004, Mrs Renton is able to lead the school confidently through the 'new normal' of the global pandemic, ensuring that each girl feels cared for and valued, and continuing the provision of remote teaching and learning that the school does so well, mixed with first class face to face tuition.
With ever-increasing opportunity for enrichment in the creative arts, (Art, Music, Drama and DT), an all-embracing sporting and leadership philosophy enhanced by the House System, the aspiration, achievement and enjoyment of (academic) excellence, and the first UK purpose-built girls' Independent School for thirty years, King's High is inspiring our future leaders and innovators to flourish in the world that women are making their own.
Our very own King's High School, Warwick and Warwick Prep School book, 'Of Mulberries, Ilex and Acorns', is now available to purchase. Celebrating our fascinating story from 1879-2019, one not to be missed!

The Gala Book Launch for the newly published history of King's High and Warwick Prep, 'Of Mulberries, Ilex and Acorns', was held at King's High on Monday 2 December. Over drinks and canapes, the guests heard from co-authors Polly Beidas and Jennifer Edwards about their research and writing. Representatives from the publisher, Profile Editions, and King's High Head Master, Richard Nicholson also gave short addresses. Delighted purchasers were able to have their books signed by the authors. If you have not yet purchased your copy, please email:

KHS-LandorAssociation@kingshighwarwick.co.uk for details of how to purchase.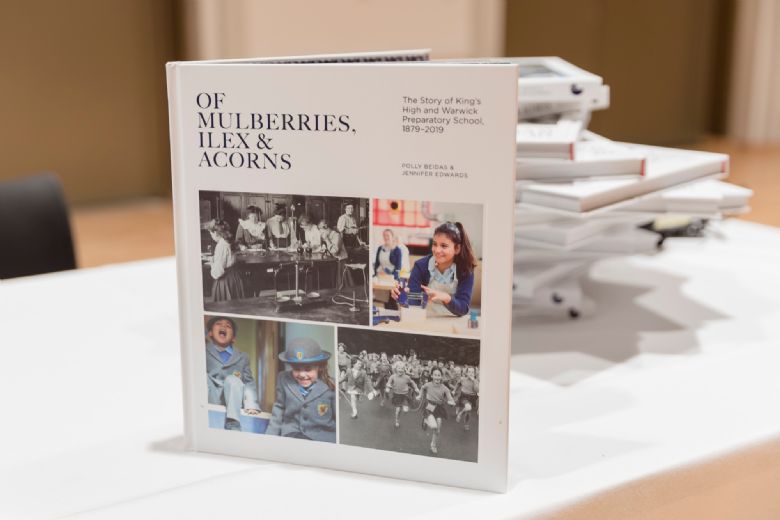 School Hall, 1901 with Headmistress, Miss Margaret Lea