King's girls support school Wellbeing programme with their own initiatives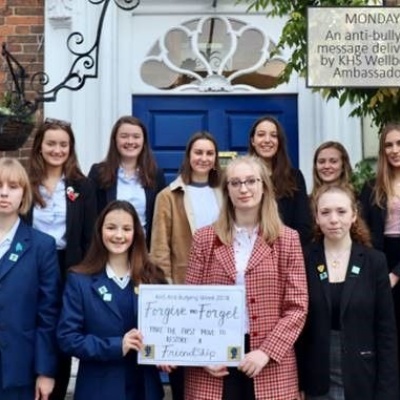 Wellbeing is taken very seriously at King's High, as it should be. Along with the Pastoral support system, King's High's Wellbeing Mentor, Emma Williams, is an experienced counsellor, who has worked extensively within the NHS and childcare. Girls know her door is always open, and parents enjoy her weekly 'Wellbeing' blog. Lunchtime Wellbeing clubs, where girls meet to do origami, crochet, knit, and just enjoy the simple pleasures of making something, are hugely popular.
King's girls being King's girls, they decided they wanted to take this further, and set up a Wellbeing Workshop, to explore practical ways they can support each other. This pupil-led initiative has led to the school's first cohort of Wellbeing Ambassadors. Twenty girls from across the year groups received training from the Diana Award charity, to become King's High Cyber Mentors. They give talks to girls and parents about how to use social media sensibly.
Girls organised a whole range of events for National Anti-Bullying Week. They devised and photographed a series of daily anti-bullying placards. These were posted digitally; used in form time; uploaded on school screens, and printed for display around school. Girls supported the national Odd Socks campaign with an array of mismatched, colourful socks, and there was an anti-bullying creative competition; dance; debating; power-point presentations, and an anti-bullying 'wall', constructed in the school hall.