King's High awarded The Sunday Times West Midlands Independent Secondary School of the Year 2019!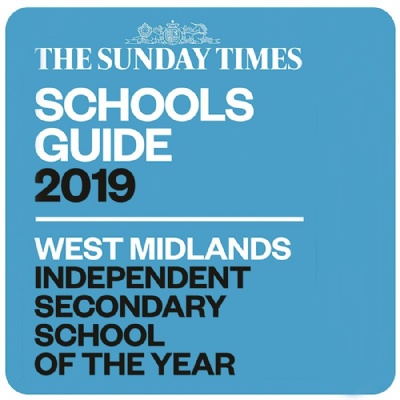 King's High, Warwick has been named The Sunday Times West Midlands Independent Secondary School of the Year, 2019.
Richard Nicholson, Head Master of King's High, commented: 'I am absolutely delighted for our girls, staff and parents. This is a tremendous accolade, recognising both the girls' achievements, and the all-round experience we offer.'
This year saw the girls achieve outstanding exam results. King's was ranked nationally 21st for Independent Girls' Schools, and 49th of all Independent Schools, for A-Levels, and 31st of all Independent Girls' Schools for GCSEs. Girls divide 50-50 between going on to study STEM and Arts subjects at university. King's has two recent Old Girls in Game of Thrones. This Spring, girls organised a live link-up with an astronaut on the International Space Station. Head Girl, Emma-Jane Taylor Watts says: 'Girls at King's take it as a given they can achieve anything.' The Good Schools Guide 2018 review says: 'Who wouldn't want their daughters to be like this at 18?'
The nomination comes at a momentous time in the school's 139-year history. In September 2019, King's moves to its new King's High school – with world-class facilities for girls - alongside Warwick School, creating what has been called 'the best of both worlds – single-sex education for girls and boys, in a shared social environment,' and 'An education powerhouse for the Midlands.'
Richard Nicholson commented: 'Whilst we are thrilled that King's has been recognised in this way, we are not at all complacent. All that we do is focused on ensuring that we offer each of our girls the very best of educations. In a rapidly changing world, that remains our commitment.'
Alastair McCall, editor of Parent Power, commented: "Few schools in the country can show the year-on-year improvement in results achieved by the girls at King's High this year. The improvement matters not because the school's league table ranking has shot up, but because of the individual triumphs that lie behind those outstanding results".