Careers Event at King's High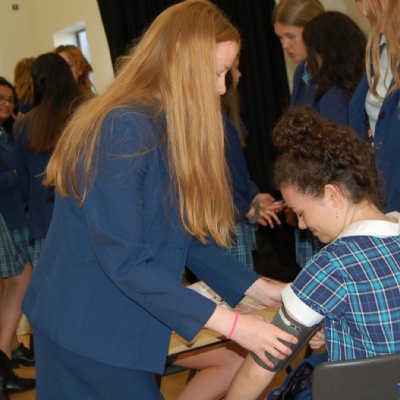 There has been a wealth of opportunities on offer throughout the Careers Event at King's High this week. Our pupils have discussed employability and transferable skills, heard about the ups and downs of running a business, and honed their networking skills over Networking Bingo!
An array of talks covered architecture, degree apprenticeships, careers in humanities and social science, STEM, dentistry, veterinary, Unifrog, studying overseas, and the importance of leaving a good digital footprint, for future employers.
Year 9 spent a day doing the National Enterprise Challenge, the UK's largest school's enterprise education competition, championed by Theo Paphitis. Pupils created their own social enterprise solution, considering how it would operate, and discussed marketing and promoting services to their target audience, to pitch their business proposal to a judging panel.
Medical Mavericks brought their hospital-in-a-school, which allowed pupils to try out a range of procedures and equipment, sparking all kinds of ideas about the host of different careers 'Medicine' includes.
Students had an entertaining and memorable workshop from Moj Taylor of Push on Employability and Transferable skills, and an enlightening presentation from old girl and Founder of Spaghetti Agency in Warwick, Jo Ciriani on setting up your own businesses as well as several life lessons.
Pupils attended webinars on Careers in Humanities, Careers in Stem, Careers in Architecture & Combined Honours Degrees. They also had presentations on Oxbridge, Medicine, and Post 18 Options.
We also played Student Fortunes and Networking Bingo and looked at developing our Brand and using Social Media to develop their brand and network.
This varied programme both informed and excited students about their future aspirations, and prepared them for the changing landscape of careers.