Honeycomb Installation to Commemorate Environmental Work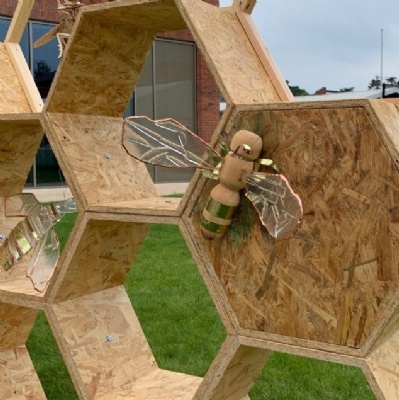 Although we often visualise global environmental challenges in terms of climatic change and the medium term threat to mankind, a more complex picture is emerging . Apocalyptic predictions have failed to take into account the immense accelerating impact that takes place through comparatively small catastrophes, such as the threat to the humble honey bee. At King's over the last year, we have been focusing on the issue of biodiversity through our societies and initiatives.
These issues have seen a concrete focus in the introduction to King's of the beekeeping activity which has entailed students not only having hands-on experience with our four hives in our apiary but also planting wildflower corridors on our school site.
In addition to this, the activities of our Environment Action Today club, Wildlife Conservation and Sustainability Society and our Geography club, have raised awareness and enriched our understanding of many different topics through talks, workshops and also the creation of for example hedgehog homes and birdfeeders.
To commemorate and publicise our environmental work at King's, we constructed an installation outside our Music School, using reclaimed materials. This piece represents bees on a honeycomb, surrounded by glass wildflowers. We do hope as many of you as possible will see it in situ and scan the QR codes which lead to some wonderful art works, projects and research by our students. The installation has now been relocated to the King's Quad where we will add to it organically in the future.