Sofia wins Highly Commended in the Independent Schools Association's sought-after Whitbread Prize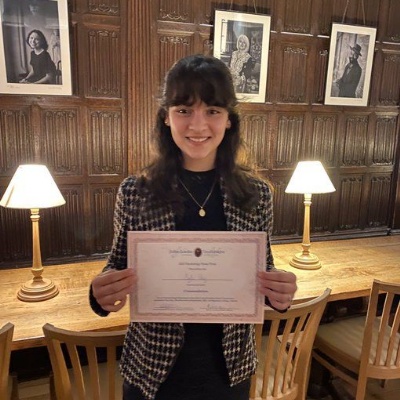 From imaginative fundraising, to mentoring fellow pupils and producing videos to raise awareness about the environment, Sofia shines in the ISA Whitbread Prize
Sofia (Lower Sixth) was nominated for the Independent Schools Association's prestigious Whitbread award. We are proud and delighted to announce that Sofia won Highly Commended, being chosen from some 5,000 pupils across the country,
The Whitbread Memorial Prize celebrates outstanding involvement in, and service to, wider aspects of school and community life, together with excellent GCSE results.
Sofia is involved in numerous activities within school, and chairs the 'Lit and Phil' Society. She achieved the unparalleled distinction of completing not one, but two, EPQs in Key Stage 4 (this is normally a Sixth Form qualification). Recently, Sofia beat world-wide competition to win Highly Commended in the John Locke Institute 2021 Psychology Essay Prize (pictured above), which attracted over 4000 entries from 101 countries. She is a dedicated charity fundraiser, most recently organising events that could work within Covid restrictions.
Beyond King's, Sofia met her goal of $3000/£2,700 fundraising to purchase new operating tables for the Madonna Clinic in Ghana, a charity she became aware of independently. Her interest in Medicine in the developing world follows time she spent on a medical mission overseas. Passionate about the environment, she produced a video to raise awareness about seagrass.
Celia Tedd, Head of Sixth Form, says: 'We are immensely proud of Sofia. She is so generous with her ideas and involvement, and is always the first to volunteer her time. She is a buddy for new pupils to Sixth Form, and is mentor to a Year 10 pupil.' Sofia will be presented with her ISA certificate in the end of term Assembly.