Lucy Worsley gives the Landor Association Lecture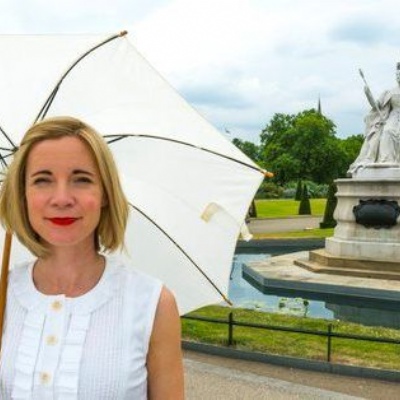 Lucy Worsley delivered the second Landor Association Lecture to pupils, parents, staff and friends of King's High and Warwick Prep. Lucy Worsley's passion is History, her subject was Queen Victoria, and she held her audience utterly rapt, in a packed Warwick Hall. From her opener, challenging the myth of Queen Victoria as 'a little old lady, dressed in black, looking – let's face it - like a jacket potato', to an intensely moving account of Victoria's last days, Lucy Worsley delivered a masterclass on Victoria's reign, with a wealth of historical detail, and rich new insights.
Lucy Worsley's work as Chief Curator of Historic Royal Palaces illuminated details, such as how Queen Victoria, an early advocate of the use of chloroform in childbirth, suffered from a massive hernia, which was previously unknown. Lucy and her colleagues discovered this by studying Queen Victoria's dresses from Historic Royal Palaces' unique collection of Royal ceremonial dress, charting how Victoria's body changed throughout her reign. Lucy Worsley ended her talk by answering questions from the girls, and the wider audience. At King's High, we count ourselves fortunate to have had our very own audience – with Queen Victoria, and Lucy Worsley.