Young Enterprise Success!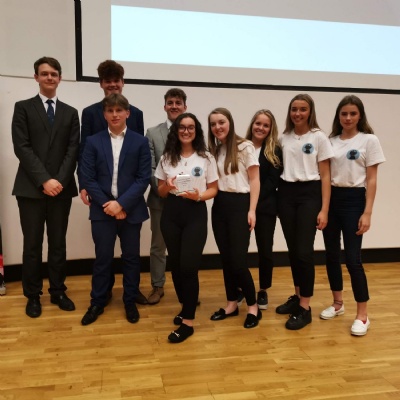 It was another successful night this week for the Young Enterprise companies from King's High and Warwick School at the Coventry and Warwickshire area finals.
Team Fresco was awarded a trophy for the company exhibiting the best sustainability for its use of recycled bottles from Ghana as part of their jewellery collection.
The overall winner on the night was team Imperium. As representatives of this region they will now compete at the West Midlands final on June 6th at the new HSBC Headquarters in Birmingham. They survived the tough questioning of judges and produced a confident presentation. What impressed the judges the most was their vision for the future and how they might look to develop their product going ahead. Congratulations go to Alice, Lauren, Ruth, Martha, Phoebe, Poppy and Emily of team Imperium, as well as their Warwick School team mates - Will, Bradley, Dan and James!
Imperium have come up with an innovative – and timely – product to help students through Exams Season. Stress Less is an interactive exam revision pack, that combines revision tips with really useful advice on sleep and wellbeing. QR codes direct students to a relaxing music playlist, and an online quiz helps students personalise exam methods that suit them best.
Team Imperium have sold Stress Less in Stratford, Leamington, and presented to local medical practices around the area. Team Imperium's Martha reports: 'We can proudly say that 100% of our profits will be donated to Young Minds, a charity helping young people with mental health issues.' King's High and Warwick's Teams Ambient and Fresco have also won awards for their imaginative, sustainable campaigns, making products from clothing destined for landfill, and jewellery made from recycled bottles from Ghana.