Festival of Wellbeing 2023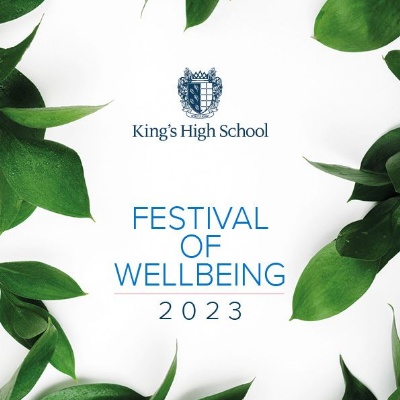 This year's Festival of Wellbeing takes place from 2
-12
May. At King'

s

High, we prioritise the wellbeing of our

s

taff and

s

tudents as a consistent focus, but the Festival of Wellbeing provides us with additional, exciting opportunities to try

s

omething new. We encourage all members of our

s

chool community to engage in activities that boost and promote our wellbeing and our understand
ing of what we need in order to be well and thrive.
Throughout the Festival of Wellbeing, we focus on the five key areas of wellbeing: we
give
, we
keep learning
, we are
active
, we
take
notice
,
and we
connect
.
The programme of activities and guest

s

peakers, available to download below, has been designed to provide opportunities to engage in all of these areas.
As part of the focus of giving, this year we are

s

upporting the local charity Own Books which donates pre-loved reading material to local

s

chools and families to ensure that every child has access to reading regardless of background or

s

ituation.
Our wellbeing

s

its at the heart of everything that we are and everything that we are able to do. Prioritising our wellbeing is an excellent

s

tarting point to thrive in the one, invaluable life that we are given.