Young Enterprise UK National Finals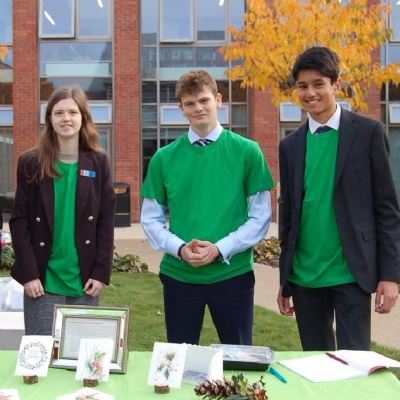 Second year running for King's High and Warwick School Young Enterprise teams in UK National Finals
Green Collar Company competed in the Young Enterprise UK Finals – the second year running for our Young Enterprise teams! - after winning the Coventry and Warwickshire, then West Midlands, rounds of Young Enterprise. It has been an exciting journey for Green Collar, whose sustainable greetings cards caught the judges' eyes at every stage, as they scooped numerous awards, including Marketing, and Sustainability.
Alice, who leads the team with Josh from Warwick School, says: 'We were inspired by a passion for enhancing the environment around us. Our cards can be planted into the ground once finished with, blooming into a mix of wildflowers. It's a dynamic, forward-thinking solution to a market which contributes to significant waste. With the environment so topical, we hope to make a difference.'
Their beautiful card designs – created by a local artist – proved very popular, and their remaining stock has been on sale in the Greenbean sustainable community shop in Warwick. Congratulations to Alice, Josh, Lauren, Gemma, Freddie, Sam, Will, Rajan, Ed, Toby and Freddie. We are very proud of all our young entrepreneurs. Team Orbis enjoyed great sales with their stylish jewellery, made from recycled aluminium cans and skateboard bearings, which won them awards for Technology and Innovation.