Sixth Form Stories: Lucy wins Arkwright Engineering Scholarship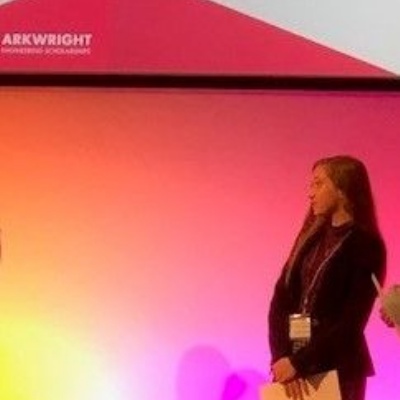 Sixth Form Stories: How Lucy won a prestigious Arkwright Engineering Scholarship
Lucy has been awarded an Arkwright Engineering Scholarship - the most prestigious scholarship of its kind in the UK, aimed at inspiring school-age students to be the country's future leaders in the Engineering profession. The award is named for Sir Richard Arkwright, considered the father of the modern industrial factory system, whose inventions helped spark the Industrial Revolution. (There is a Warwickshire connection also, that may be familiar to parents with school-age children - Hatton Adventure and Country World is part of an estate owned today by Sir Richard Arkwright's descendants).
Lucy writes: 'I was encouraged by school to apply for an Arkwright Scholarship, when I was in Year 11. I have a keen interest in design, and have loved making things from a very young age. Through studying Design Technology, Physics and Computer Science GCSEs, I have discovered a love for electronics and robots, and I am looking to study Electronic Engineering at university.
The scholarship involved a rigorous selection process, including a detailed application, an examination with two Engineering challenges, and an interview at Southampton University, where I presented my Design & Technology GCSE project - a sensory play feature in the shape of rockets, for children with disabilities.
I am now one of 300 Lower Sixth students nationally to be awarded an Arkwright Scholarship. I attended an awards ceremony at the Institute of Engineering and Technology in London. The theme was Women in Engineering. Today, 12% of Engineers are female and to address this imbalance Arkwright has set a target to appoint 50% Female Scholars in the next five years. This year I became one of the 30% of their female Scholars. There were talks from inspirational engineers and I met other scholars from across the country, as well as my Sponsor – Reaction Engines Ltd, a British aerospace manufacturer, based in Abingdon.
The Arkwright Scholarship is for two years and provides financial support for myself and Kings High, together with mentoring, exclusive events, and work experience opportunities. My Mentor at Reaction Engines has already provided details of the exciting projects he's working on, and is organising a tour of their facilities, to get an overview of the company, and develop a plan for a week's work experience over the summer.'