Latin Lunch 'cena' for Year 9 Classicists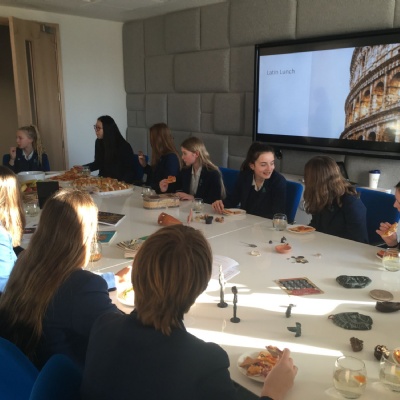 King's High Latinists enjoy an authentic Roman 'cena'.
We all know how seriously the Romans took their cuisine and how drawn-out dinner parties featured as a major part of their cultural experiences. In that vein, some of our most enthusiastic Latinists in Year 9 attended a Roman 'cena' last week.
The event proved to be a true symposium during which the intrinsic values of Latin were expounded; namely the subject's ability to stretch powers of logic, to develop superb analytical skills, to heighten literary prowess and to sharpen knowledge of linguistics and wordsmanship.
The discipline of Classics provides a solid academic foundation, which provides a fundamental grounding for the pursuit other languages and the study of English language and literature, as well as reaching out into the logical realms of science and maths; such solid skills will be valuable and essential beyond school within chosen professions.
As a twist on the usual entertainment that Roman guests would expect at the end of a banquet, the pupils indulged in a feisty and competitive game of Latin bingo, a fun activity that also tested their knowledge of vocabulary.
Roman artefacts were also on display including a 2000-year-old anulus/ring and a fibula/brooch, along with a dolphin-shaped Greek coin that had been minted as far back as the 5th century BC in Olbia.
Huge thanks to the incredible King's catering team for providing such wonderful food, of which even the famous Roman chef, Apicius, would have been proud.