Introducing (BBC Music Introducing...) rock band, MACH4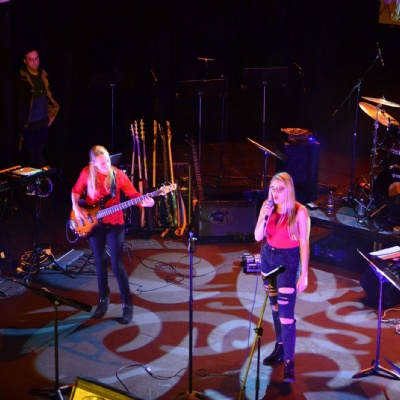 King's High rock band, MACH4 – getting bigger by the week – have been featured on BBC Music Introducing.
MACH4 have been together three years, writing their own material. Last summer, they went into a professional recording studio, and recorded their debut 4 song EP with John Rivers, at Woodbine Studios in Leamington. John has worked with the Specials, Buzzcocks and Paul Weller, and has helped many up and coming bands into the music industry. Nick Jones, Drum teacher at King's High, (who has supported the girls all along) submitted two of their songs to BBC Music Introducing, the BBC's platform for discovering and playing emerging UK artists. BBC Introducing 'graduates' include George Ezra, and over half of the artists performing at Leeds and Reading.
BBC Coventry and Warwickshire's Brody Swain introduced MACH4's song, Deny (right after Stormzy!) on his show. MACH4's clever lyrics and gorgeous sound proved a hit, and the station has since replayed their songs. The girls have been a popular fixture at King's High and Warwick School concerts, and are currently in talks for more public performances this summer. Nick Jones says: 'They have worked so hard over three years, crafting their songwriting and performances. With these guys, it really is a case of 'watch this space' as they are so good!' Listen in to the girls (from 31 mins 45 secs) on https://www.bbc.co.uk/programmes/p0825fy6