Virtual Sport For All - King's High is running Virtual Fixtures for schools everywhere to join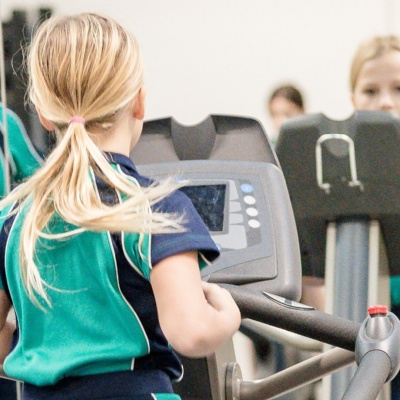 The sports department at King's High and Warwick Prep have devised a series of Virtual Sporting Fixtures, which they are inviting schools everywhere to join in. Schools from Manchester, Derby, and around the Midlands have signed up so far, including the Coventry School Foundation (King Henry VIII and Bablake), King's, Worcester, RGS Worcester, Leicester Grammar, King Edwards, Edgbaston, Malvern College, Princethorpe, Solihull, Abingdon School and Prep, Balsall Common Primary School Academy, and Derby High School.
Sarah Parkinson-Mills, Director of Sport, explains: 'As PE teachers, whilst we are all now well adapted to becoming online fitness instructors and yoga masters through a screen, I have no doubt we are all missing the opportunity for a competitive fixture in these current times. So we are running three virtual sporting events:
Virtual Swimming Gala
Virtual Hockey Fixture (Team and individual event)
Virtual Health and Fitness fixture (Team and individual event)
'The idea is that these will allow pupils to compete against other schools as best as we can right now. We hope it will also bring something a little fresh to your current sporting world. There is no specific time or date you need to carry out the 'fixture'. Simply use your lessons/training sessions within the time window to collect your results and submit by the specified date. Where access to facilities and equipment are an issue, we have our Virtual Health and Fitness Fixture.
We will also host a Virtual Netball fixture and Cross Country fixture in the Spring term. The Cross Country fixtures may well tie in to a charity fundraiser as well, which would be lovely to have as many schools as possible involved in. We will send out details of these fixtures in the coming weeks when we know a little more what the Spring term is looking like.'
We have just launched our latest Virtual Health and Fitness Fixture!
Virtual Health and Fitness fixture (Team and individual event) - Details emailed out week beginning 1st December. Results submission by 21 December
Chipper challenger (series of exercises, complete all in fastest time) for seniors. Timed event of how many of each exercise per minute for prep.
Video tutorial for exercises to be sent with fixture email.
4 in a team, enter as many teams as you wish to.
Winning team and individual awards
Results announced via email and certificated to the winning teams and individuals.
Other details are as follows:
Virtual Swimming Gala - Results submission by 11th December
Series of races to enter.
Use your PE/Games/Swimming sessions for pupils to race the distances you can have it as your own internal gala.
Record your times and submit using the form that will be sent to you.
Results from all schools collated by 11th December.
Results announced via email and certificates sent to winning competitors and schools.
Virtual Hockey Fixture (Team and individual event) - Results submission by 4th December
Series of 5 Hockey challenges to complete. Details and video tutorials to follow in fixture email.
Record times/points for each challenge.
7 players in a team. Submit as many teams as you want to if you want to enter the whole year group in a games lesson for example.
Winning team and individual awards.
Results announced via email and certificates to winning teams and individuals
For more details, or anything you would like to ask, please email jan.smith@kingshighwarwick.co.uk