An evening with Philip Mould - Art Inspire event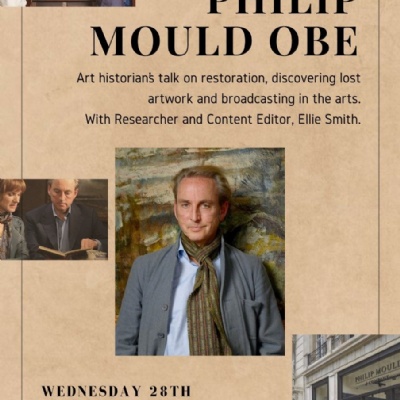 A talk by Philip Mould OBE - Wednesday, 28th April at 6pm
As part of our Art Inspire programme, we were delighted to welcome Philip Mould OBE. The art dealer and broadcaster is best known for the BBC's Fake or Fortune? with Fiona Bruce. He is also President of Plantlife, and Kids in Museums. His 'Art in Isolation' talks proved a great lockdown hit, as Philip unearthed the history behind works of art in his own home.
Philip gave a fascinating talk, alongside research assistant Ellie Smith, on recovering last artwork, restoration, and broadcasting in the arts.
More from his website: 'Philip Mould OBE is an art dealer who through his books, television programmes and articles has become one of the best known personalities of the art world. He is internationally known for BBC1's Fake of Fortune?, the most regularly watched art programme globally, which he co-presents with newscaster Fiona Bruce. It achieves viewing figures of close to 6 million in the UK and goes to 40 countries worldwide.
Dubbed the 'Art Sleuth' by journalists for a string of notable art discoveries, his finds include the lost half of Gainsborough's earliest known work, the only portrait of Prince Arthur Tudor and several key lost works by Sir Anthony Van Dyck. From 1988 to early 2011, Philip held the position of official art adviser to the House of Commons and to the House of Lords for which he received the OBE.
Together with running his own fine art gallery in London for over 30 years, now in London's fashionable Pall Mall (from June 1st2015), Philip is celebrated for his discoveries. Because of his specialist talent for unearthing long-lost, forgotten masterpieces or exceptional works of art Philip's expertise is in demand from collectors, academics and museums from around the Globe'.