Saving Our Music – Alex Laing's powerful article for the Music Teachers Association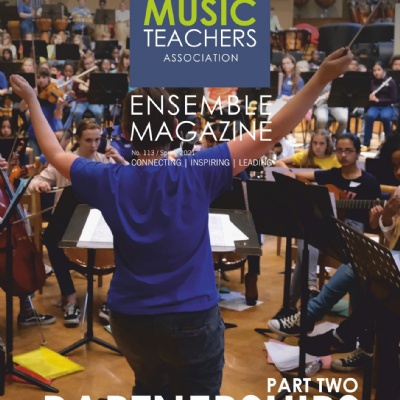 Writing in the Spring edition of the Music Teachers Association's influential magazine, Ensemble, Alex Laing, Artistic Director (Music) of King's High and Warwick Preparatory School, describes how the UK could risk losing a generation of musicians, how we must not let this happen, and how the Warwick Independent Schools Foundation - 'blessed with the very best music facilities in the region' - is sharing resources and creating new musical partnerships.
The future of music education: courage, openhearted generosity and sharing everything
Producing music is not easy; we in the profession all know this. But we also know that, at its best, it is endlessly inspiring and rewarding, especially when we see the spark kindle and take hold in a student.
This is a very difficult time for arts education in the UK. Even before the Covid-19 pandemic, funding was hard to come by. Fewer pupils have been taking music at GCSE and A Level, which has led to a fall in the number of qualified music teachers. A dangerous spiral has formed, with the distressing thought that music education might even disappear from UK schools completely. The pandemic and its restrictions, which impact disproportionately on practical music making in groups, has added a further layer of frustration.
It is understandable to become dispirited. A career in music seems even more uncertain now than it always has been. The pressure to turn elsewhere is very powerful. So we risk losing a generation of musicians who will choose other, safer career paths. This generation must be the ones that inspire the next, so the fear is that the fallout could be terminal.
We must not let this happen. Music is too important, and we must keep trusting in its power to inspire, to create possibilities and to boost pride, optimism and joy. I truly believe there is strong hope for the future. We can succeed by sticking together, forging partnerships, collaborating and sharing everything we have: our facilities, our knowledge, our experiences, our energy and perhaps, most importantly, our generosity of spirit.
My own career has led me to the fortunate position of being able to work with some of the best music educators around. I am Artistic Director (Music) of the King's High School in Warwick, one of four music departments within the Warwick Independent Schools Foundation (WISF). I also coach the violin and conduct for the National Children's Orchestra of Great Britain, and coach, conduct, teach and mentor for the Benedetti Foundation. I am lucky to be constantly surrounded and inspired by like-minded musicians and teachers. A strong message keeps coming out: we are not dictating how music should be done or taught, rather sharing whatever we can, and providing opportunities.
At WISF we are blessed with the very best music facilities in the region. It has always been important to us that these are also open for use by the community. We have a strong association with the Warwickshire Music Hub. Until the pandemic stopped it (temporarily), we hosted weekly rehearsals for a string orchestra comprising young musicians from Warwickshire, Coventry and Solihull. This formed the basis for a symphony orchestra, performing three times a year, with professional conductors. Similarly, the Warwickshire Music Children's Chorus rehearses at our Prep School before their concerts.
We also try to facilitate musical experiences more widely. Louise Sharp (Director of Music at Warwick Junior School) has set up and hosted 'Making Music Days' for KS2 pupils from over 14 schools. These provide a fun day of music making and workshops culminating in the young musicians giving a short performance to friends and parents. Particular joy has come from Samba workshops and the 'WOOFYT' organ. Louise has also been working with local primary schools to put together schemes of work for KS1 and 2 for non-music specialists. She says: "My aim is to create a music curriculum, deliverable by a non-music specialist, that is worthwhile and that the pupils genuinely gain knowledge, understanding and appreciation of music."
Our facilities also enable professional ensembles to deliver their education work to larger groups. On two successive BBC Music days, we welcomed to the Foundation Ex-Cathedra Education (led by Rebecca Ledgard), who have delivered their incredible Singing Playground workshops to hundreds of children. The children learn the songs and actions, compose and develop their own, then take what they have learnt into their own school playgrounds ­-­ and the music spreads.
Last year, to celebrate the 140th birthday of the King's High School, we commissioned from Brandan Ashe an oratorio for choirs and orchestra: "A Warwickshire Will". The text was taken from Shakespeare, and the music brilliantly allowed for different levels of choir to perform. Professional singers, representing Ex-Cathedra and the Collegiate Church of St Mary, Warwick, shared a stage with pupils from King's High and Warwick Prep, along with over 200 children from local primary schools. Rebecca Ledgard and I visited these schools to facilitate the participation and partnership. The concert had more than 400 performers and 1000+ people crammed into the Warwick Hall to hear it. What a joy it was to hear and see children singing about snakes, dogs and lizards as they threw ingredients into the witches' cauldrons. There was even some musical vomiting!
I am lucky to have been included as a conductor and coach for the Benedetti Foundation. Nicola Benedetti and Laura Gardiner (the director of the Foundation) have set up an extraordinary organisation with inclusivity and inspiration at its core. The four (pre-Covid) Live Sessions saw hundreds of young musicians from Glasgow, London, Birmingham and Dundee experience orchestral playing at beginner, intermediate and advanced level, with workshops also for music teachers. The team includes top class performers, educators, composers, arrangers, presenters, musicianship leaders, specialists in wellbeing and physical freedom. The team also fosters mentorship with the role of 'ambassadors': professional-level performers at music colleges, who act as big sisters and brothers to the younger musicians. The Benedetti Foundation thus creates a seamless transition from the youngest musicians through the generations to fully-fledged professionals. The common strand is that we are all real, human and make mistakes. In fact, as Richard Michael (the great jazz pianist) says to huge appreciation: "Mistakes are cool".
The fearlessness of Nicola and the Foundation enabled it to cope, and even grow, despite the pandemic. The online Virtual Sessions were attended by over 7,000 musicians and learners from around the world, from as far afield as Chile, South Africa and Canada. These sessions are designed to support and not replace normal music lessons. While the Virtual Sessions can never be as wonderful as meeting together, they do provide the opportunity to reach many more people. Online Mini Sessions continue to support string techniques, but also offer help, specifically, to teachers. The ethos remains strongly collegial and supportive as we all share our strategies, our weaknesses, our worries and our passion.
Nicola says: "As we look to the future, one thing we can for certain is we are resolute in our commitment to you, to building and empowering a community of musicians, to sharing and making high quality music education more accessible on a larger scale to young musicians regardless of background or geographical location and to supporting and uplifting the work of teachers".
A revelation for me has been the power of team teaching. Nicola Benedetti, Jenny Lewisohn (a viola specialist) and I taught beginner vibrato together. We each brought our own strategies and were able to learn from each other. When Suzie Collier and I teamed together, we discovered that we each say similar things but often come from different angles. The session ceases to be a masterclass, where one person 'gives' and the rest 'receive'. Instead, it becomes a friendly, informal discussion of issues among peers, with positivity and exploration at the core.
So my message to all music teachers is 'take heart'. I know that many of you are already doing innovative and imaginative projects. These initiatives do not have to be glamorous or world beating. Working away with simple things at a fundamental level is also crucial, and can make a huge difference to students and colleagues. Covid can make us feel isolated, but it also encourages new forms of communication. We are creative people and we should continue to find ways to share and support each other. Sometimes asking a friend, a peer, a colleague or a fellow professional for help is the best thing we can do. A problem shared is not only a problem halved, it can lead to a solution that is mutually enjoyed, celebrated and built on. Whoever we are, we have our difficulties and our vulnerabilities. We owe it to each other to share these as well as our strengths.
Alex Laing's original text, with thanks to the MTA