Library named Cozad Neuger Library, after generous benefactors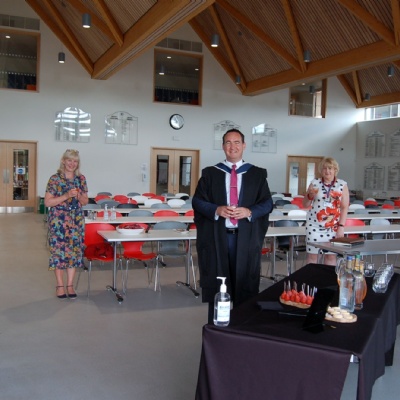 Phillip Rothwell, Foundation Director of Development, reports: 'The King's High school library was officially named in honour of generous benefactors Win and Christie Cozad Neuger.
The library was named in recognition of a generous gift from Old Girl Christie Cozad Neuger and her husband Win. Christie attended King's High from 1964 -65, which had a profound impact on her life and future career. Since Christie and Win live in the United States and are unable to visit the school due to the Covid-19 pandemic, we recorded the library opening ceremony. The opening featured speeches by Head Master Dr Burley and Foundation Principal Mr Nicholson, as well as a reading and performances by King's High pupils.
We are grateful to Christie and Win for their transformational support and look forward to welcoming them to the Cozad Neuger Library later in the year.'
Pictured below, following the library naming ceremony, from left-right: Richard Nicholson, Principal of Warwick Independent Schools Foundation; Caron Burman, King's High Librarian; Dr Stephen Burley, Head Master of King's High; Polly Beidas, Landor Association and Development, and Phillip Rothwell, Foundation Director of Development.