Celebrating national recognition for Music and Drama at King's High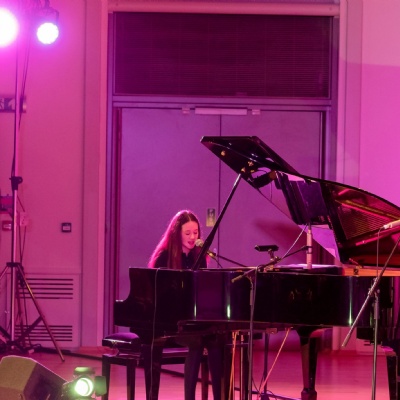 The story behind King's High's growing national award nominations for Performing Arts
With King's High gathering nominations for national awards - Excellence and Innovation in the Performing Arts (Independent Schools Association); UK School of the Year in Performing Arts - Music and Drama (Independent School Parent magazine), we shine a spotlight on King's High and Warwick Prep Music Department, and King's High Drama.
There is a lovely culture of shared creativity in the performing life of King's High. Musically, this ranges from open-mic Friday lunchtimes, when our musicians perform for fellow pupils, to the joy (pre-Covid) of pupils of all ages combining with professional musicians, local choirs and primary schools, to perform a specially commissioned Oratorio for over 1,000 people.
Pupils aged 3-18 enjoy music, and age is no barrier to ambitious music making. King's High and Warwick Prep's Strings Project sees pupils as young as six playing (mini) double bass. Our pupils develop to perform with the National Youth Orchestra of Great Britain, National Children's Orchestras of Great Britain, National Schools Symphony Orchestra, National Youth Choir of Great Britain, and City of Birmingham Orchestras.
Inspire Music is a dazzling new weekly series of live music, masterclasses, workshops and concerts, led by Alex Laing, Artistic Director (Music) of King's High and Warwick Preparatory School. This showcases both world-class and home-grown musicians, with our talented students performing their first public recitals. Alex Laing, who also teaches and conducts for Nicola Benedetti's Foundation, leads an inspiring team of music teachers, many of whom perform at the highest levels.
The music programme includes major concerts and musicals, recitals, informal tea time concerts, jazz nights, local concerts, joint projects, workshops, competitions and trips. There are choirs, orchestras, bands and ensembles for all ability, from harp to jazz, guitar to percussion. Pupils are supported in forming their own interests - King's High's rock band featured on BBC Music Introducing. Music carried on right through the pandemic, with pupils creating The Isolation Symphony, playing instruments and household objects at home.
Star saxophonist Jess Gillam recently opened our magnificent Music School. We are very fortunate to have the best music facility in the region, with Conservatoire-level performance spaces. Our Music Department actively work to reverse national trends – loss of funding, fewer pupils studying, the continued fall in qualified music teachers – by sharing facilities, and forging partnerships. King's High enjoys a strong association with Warwickshire Music Hub, hosting weekly rehearsals. Ex Cathedra deliver Singing Playground workshops to hundreds of local primary schoolchildren on BBC Music Days, and King's High is championing young people's access to the organ, through an Organ Scholarship.
Drama at King's
Drama is a huge strength at King's High, with pupils going on to successful careers in theatre, television, film, and even Hollywood. King's High has two alumnae in Game of Thrones - Sophie Turner and Gemma Whelan. Exciting recent innovations include our Drama Masterclass series, where well-known actors give workshops for pupils, and share their experiences of the industry.
All girls in Years 7-9 have weekly drama lessons, developing in mime, movement, role play, improvisation and storytelling. Over 80 pupils are taking Drama at GCSE/A Level and results are excellent. Over 150 attain Distinctions and Merits in LAMDA exams. As important is the buzz and enjoyment around Drama – lunchtime clubs are hugely popular. Recent joint productions with Warwick School include Les Miserables and Oliver - where the accompanying off-stage band were so good, the audience thought they were listening to the original West End recording!
Our U6 Drama A Level students recently displayed their tremendous talent and skill as they showcased their original piece inspired by the play 'Lemons Lemons Lemons Lemons Lemons'!
Set in a dystopian society, the piece explored social injustice and stereotyping, leaving the audience enthralled, entertained and questioning our own social judgements and behaviour.
Huge congratulations to Thalia, Evanthe, Alex, Libby, Izzy and James! View the full set of photographs in Upper Sixth Devising Performance.