OBE for King's High Changemaker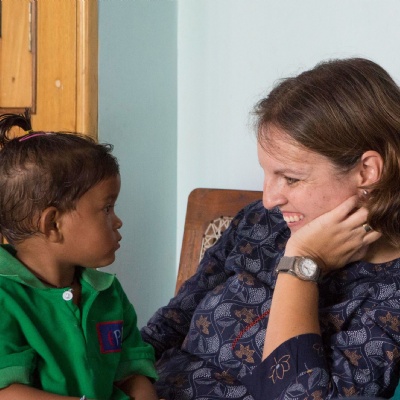 We are delighted and incredibly proud that Dr Mary Cusack (King's High, 1985-1992) was recognised in the New Year's Honours List
Dr Cusack received an OBE, together with her colleague, Dr Catherine Morris, for services to Healthcare and Child Welfare in India. Their charity, Love the One, has transformed the lives of thousands of vulnerable children in India.
Mary Cusack worked as a Paediatrician in the NHS, before completing a Diploma in Tropical Medicine & Hygiene at the University of Liverpool. She met Catherine Morris there, and they decided to travel to India. After five years working with Non-Governmental Organisations and familiarising themselves with Indian culture and tropical medicine on the front line, Dr Cusack and Dr Morris established the Love the One organisation in Berhampur, Odisha. Through their inspirational vision and dedication they have created an integrated community ecosystem comprising a children's centre, clinic, six early paediatric interventional care centres, and a school. The citation reads: 'Through their work, they have saved and transformed lives and delivered hope through selfless voluntary service and brought great credit to the UK'.
Mary Cusack says: 'We are completely shocked and totally humbled to be awarded an OBE. It is such an honour and we accept this gratefully on behalf of our team that we work with here in Odisha, without whom we could not realise the dream of providing health, education and childcare to some of India's poorest children.'
Head Master, Dr Burley says: 'I was delighted to share Dr Cusack's story with students at the start of term as a wonderful example of working hard to make a positive impact in the lives of others. Dr Cusack is a true inspiration, as a King's High Changemaker!'.