Arabella's Successful Summer & First Term of Competing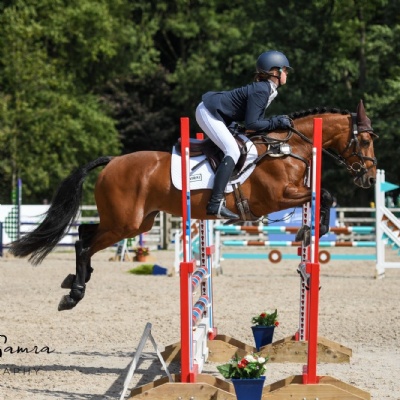 Arabella has gone from strength to strength in a successful summer and first half-term of competing.
In just a matter of weeks of riding horse, Rosie, Arabella managed to win her Pony Club area qualifier, earning her a spot at the National Championships! Children from all over the UK came to compete in the event, where Arabella secured a 2nd place win. Not only did she achieve a personal best dressage score of 23, but she also jumped two faultless rounds.
In between competitions, Arabella represented the central team at the Youth Championships, achieving 3rd place at Bishops Burton College. She also picked up the reins on a new pony called Phantom, winning 2nd place at their first event together after just a handful of rides! Arabella also competed with horse, Mabel, in the Be100 Under 18 at West Wiltshire, securing 5th place finishing on her dressage score.
This summer also saw Arabella qualify both ponies, Rosie and Mabel for a three-day event at Bitcon, which was held in the old-fashioned long format, involving roads and track, steeplechase and other elements before the cross-country. Taking place in the October half-term - Arabella worked hard to remember two courses and all the timing elements that can be quite complicated, performing well in awful, wet conditions. Rosie was lying in the top ten on the final day of the event, but sadly had a pole in the showjumping, taking her to 21st place out of 96. Meanwhile, Mabel jumped herself from fourth to third in the 100open section amongst professionals and adults.
With no chance of slowing down, Arabella returned home on the Sunday evening after the event, only to be back out and off to Cheshire on Tuesday to attend a pony premier show, The English Home Pony. Arabella and Mabel jumped well all week for numerous placings, qualifying on the final day for the novice championship. She rode first in the jump off, setting a very fast time and winning the class. There's just no stopping Arabella!