ISA Awards 2023 - Future Readiness Winner!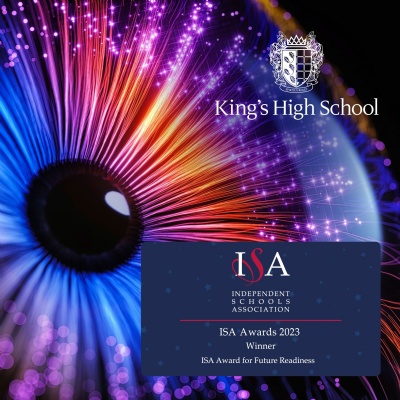 We couldn't be prouder to be crowned ISA Winner for Future Readiness in the 2023 Awards ceremony!
Head Master, Dr Burley, commented, 'We are all thrilled with this national recognition for the innovative and future-facing work that King's High is leading. It was also a huge achievement to be Finalists for Outstanding Community Engagement and Outstanding Sport.'
We were honoured to be shortlisted again for Girls' School of the Year in last year's coveted awards, following on from our accolade as Senior School of the Year 2021-2022.
The ISA said, 'The school's curriculum has been reimagined, positioning core skills such as creative thinking and oracy at its centre. This has brought the launch of two GCSE-equivalent courses which prepare students for an evolving future, whilst inspiring their social responsibilities as individuals who can drive change.'
2023 marked a record number of entries for the ISA Awards, reflecting the continued growth of ISA's membership in recent years.
Chief Executive Officer of the ISA, Rudolf Eliott Lockhart, added:
'This is a fantastic set of winners. In all cases the schools have shown themselves to be outstanding in their category. These winners really show the different ways that independence can be used to meet the different and specific needs of pupils.

'I am delighted that we have new awards celebrating SEND, future readiness and boarding. These are areas of particular strength within ISA and it is important to be able to highlight some of the excellent and innovative practice that we see in our schools.

'The ISA Awards are a testament to the way that the different strengths of all pupils are identified and championed by the Heads, teachers, and staff across the schools within our Association.'
Read more about our Future Readiness here.