Ottelia Shares a Court with Tennis Legends at the Laver Cup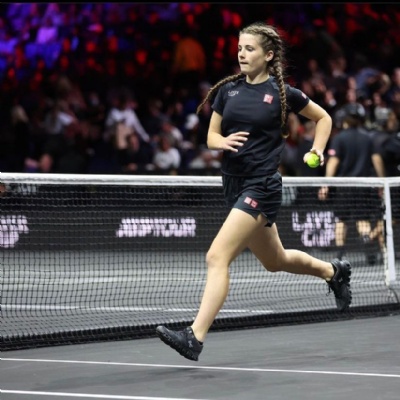 In June, this year Roger Federer released a video on social media inviting applicants between the ages of 12 and 16 to come to trials to be a ball kid for the Laver Cup. King's High pupil, Ottelia decided to apply and was one of the fortunate few to be invited to a 90-minute trial at the Olympic Park in London. Over the course of one weekend numerous trials were run, with approximately 100 individuals at each trial being put through their paces, all under the watchful eye of the assessors. From here Ottelia would go on to be one of only 12 girls and 24 ball kids to be selected for the Laver Cup. We sat down with Ottelia, who told us all about what it was like to trial, train and go on to share a court with some of the greatest names in tennis.
Ottelia: 'With such a large number of applicants the chance of being successful was slim, so I was absolutely delighted when I received an email confirming I had been selected!
Over the next few months I attended multiple training sessions, each one in London, each one 4 hours long, teaching us how to be ball kids. All 24 of us came from different backgrounds and were different ages, but what we all had in common was tennis.
The weekend of the actual Laver Cup was an absolutely amazing experience! Practice day on the Thursday was nerve racking as it was the first time we had done it with a crowd (20,000 spectators in the O2) but it was incredible to see the big four – Roger Federer, Novak Djokovic, Rafael Nadal and Andy Murray – all on court together for the first and only time. That's 66 Grand Slams on one court at one time!
The next three days of the actual event was hard work – the days were long, but it was brilliant fun. We worked in teams of 6 and had set positions; I was a centre – responsible for running the net. It was amazing to meet and talk to some of the best tennis players in the world. It was also a real privilege to be on court for Roger Federer's last ever match. I was also on court when Team World won the Laver Cup for the very first time and picked up the very last ball hit in the competition. Overall, it was an amazing experience, truly inspirational. I made some great friends as well as some fantastic memories!'