King's High Celebrates GCSE Results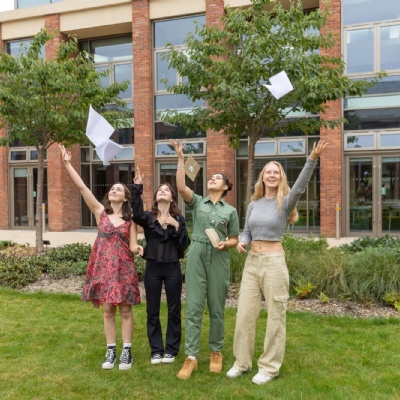 King's High School pupils are celebrating after achieving excellent results for their GCSEs. The pupils have shown great strength and determination and applied themselves consistently to their studies, taking the challenges of the pandemic in their stride.
Pupils achieved excellent results with 76% of pupils attaining A*/A (9/8-7), with 53% of pupils attaining A*(9/8). Success was also achieved in a diverse range of subjects with well over 90% of students studying Geography and English Language achieving grades 9-7. Every student taking Drama, Music, Food and Religious Studies achieved grades 9-7, and over 58% of History students achieved grades 9 or 8. This year saw a record number of students sitting exams achieve the top grades 9 or 8, with 78% in RS and 71% in Geography achieving these coveted grades.
Head Master, Dr Burley said: "We are thrilled with our pupils' outstanding GCSE results and I am immensely proud of the way that they have risen to the challenges they have faced in recent times. Their successes reflect the hard work they have invested and the fantastic support they have had from staff and parents. They can take great confidence from their results and great pride in the way they have shown resilience, commitment and determination. We are very excited about the next stage of their educational journey."
Mr Richard Nicholson, Principal of Warwick Schools Foundation, commented: "I could not be more proud of the Foundation's GCSE pupils. They studiously applied themselves with such focus and fortitude, paying dividends with such outstanding results. I hope that they and their families are truly proud of their achievements, and that this positivity is taken forward as they are now exceptionally well prepared for the next stage of their education."