Take Off: New Engines and Aviation Project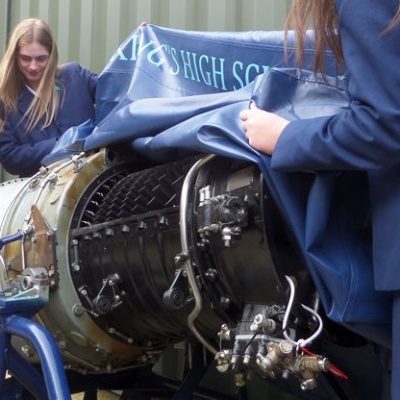 There was much excitement at King's High when pupils took delivery of a Rolls Royce Viper 102 Turbojet engine, from an RAF Jet Provost trainer aircraft. This will form the centrepiece of our new Engines and Aviation Project at King's High.
This is a wonderful opportunity to see first-hand the internal workings of a Turbojet engine. The engine will be used as a teaching and learning aid for our Design and Technology Department, and CCF's Air Cadets. Some ideas include: learning more about mechanisms, materials, and mechanical fittings, and learning to read working drawings and technical documents.
A huge thank you to Mark Smyth, pilot and King's parent, who has made all this possible. He sourced the engine, cleaned it thoroughly, provided a custom-made waterproof cover with King's High's name on it, and personally transported the mighty engine to school!