Warwickshire Secondary Book Award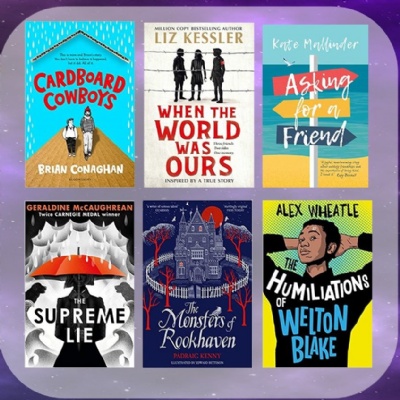 A small group of our Year 8 girls attended the WSBA on 24 March at The Bridge House Theatre.
The authors Kate Mallinder, Geraldine McCaughrean and Alex Wheatle attended in person and Brian Conaghan, Liz Kessler and Padraig Kenny attended virtually.
We heard about the books and the authors answered questions. The overall winner receiving the most votes from 14 schools taking part was 'When The World Was Ours' by Liz Kessler.
Thank you so much to everyone who read, enjoyed and voted for my book as the winner of this lovely award. I have to say, getting acknowledgement like this from young people themselves means more than anything. I want my book - the story, the characters and the themes - to reach young people far and wide, so to know that it's been received with the same kind of love that I put into writing it is everything I could want. Thank you again and I'm sending my best wishes and biggest smiles to you all.
Liz Kessler xx
'An exceptional read' The Sunday Times
'Vital glimmers of hope enlighten this profoundly poignant book' Guardian

A powerful and heart-breaking novel about three childhood friends living during the Second World War whose fates are closely intertwined, even when their lives take very different courses. Inspired by a true story, this is the perfect read for fans of The Book Thief and Anne Frank's The Diary of a Young Girl.

Vienna, 1936.

Elsa, Leo and Max have always been best friends, a special team of three. Then the Nazis come.

As a growing darkness descends around them, Leo and Elsa run for their lives, taking two very different paths across Europe. And Max, once their closest friend, now becomes the enemy as he is drawn into the Hitler Youth. Will the friends ever find their way back to each other? Will they want to?

Inspired by a true story, WHEN THE WORLD WAS OURS is an extraordinary novel that is as powerful as it is heartbreaking, and shows how the bonds of love, family and friendship allow glimmers of hope to flourish, even in the most hopeless of times.

Three friends. Two sides. One memory.