Visit Us & Request a Prospectus
Choosing a school is an important decision and we encourage all parents and girls to visit King's in order to get to know us - we hope you will decide that King's is the right school for you.
School Visits
You are welcome to visit the school at any time, so that you can meet the Head Master, and other key staff and have a personal tour of the school hosted by our Sixth Formers.
These one to one visits take place on a normal school day allowing you to experience the atmosphere and spirit of King's first hand. To arrange a visit please contact our Registrar and Head of Admissions: Mrs Worrall registrar@kingshighwarwick.co.uk
Please note that a school visit and informal interview with the Head Master or a member of his Senior team is a compulsory part of the admissions procedure.
Taster Mornings are a great opportunity for girls who are in Years 5 and 6 to get to know the school, staff and other girls, and are held twice a year. Taster is a fun-filled Saturday morning of activities such as creative writing, baking cakes, LAMDA, Maths puzzles, sports competitions, Art or DT projects and erupting volcanoes.
Our next Taster Morning is Saturday 14 September 2019 at our new Myton Road Campus; prior booking is required. An additional Taster Morning will be held on Saturday 14 March 2020. For any queries, contact marketing@kingshighwarwick.co.uk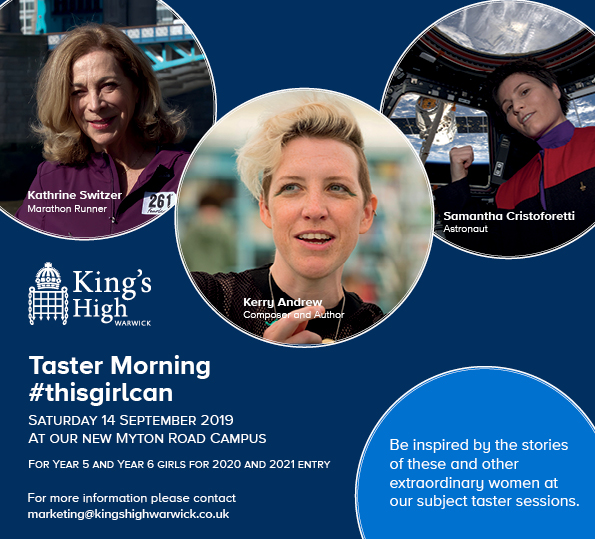 Open Evenings and Workshops
We generally hold two Open Evenings each year. The dates of our next Open Evenings are Friday 20 September 2019 and Friday 26 June 2020 and will be held at our new Myton Road Campus. Additionally, for Year 5 girls, we offer a range of 'Inspire' Workshops, and Subject Scholarship related Workshops.
Taster day - Year 10 girls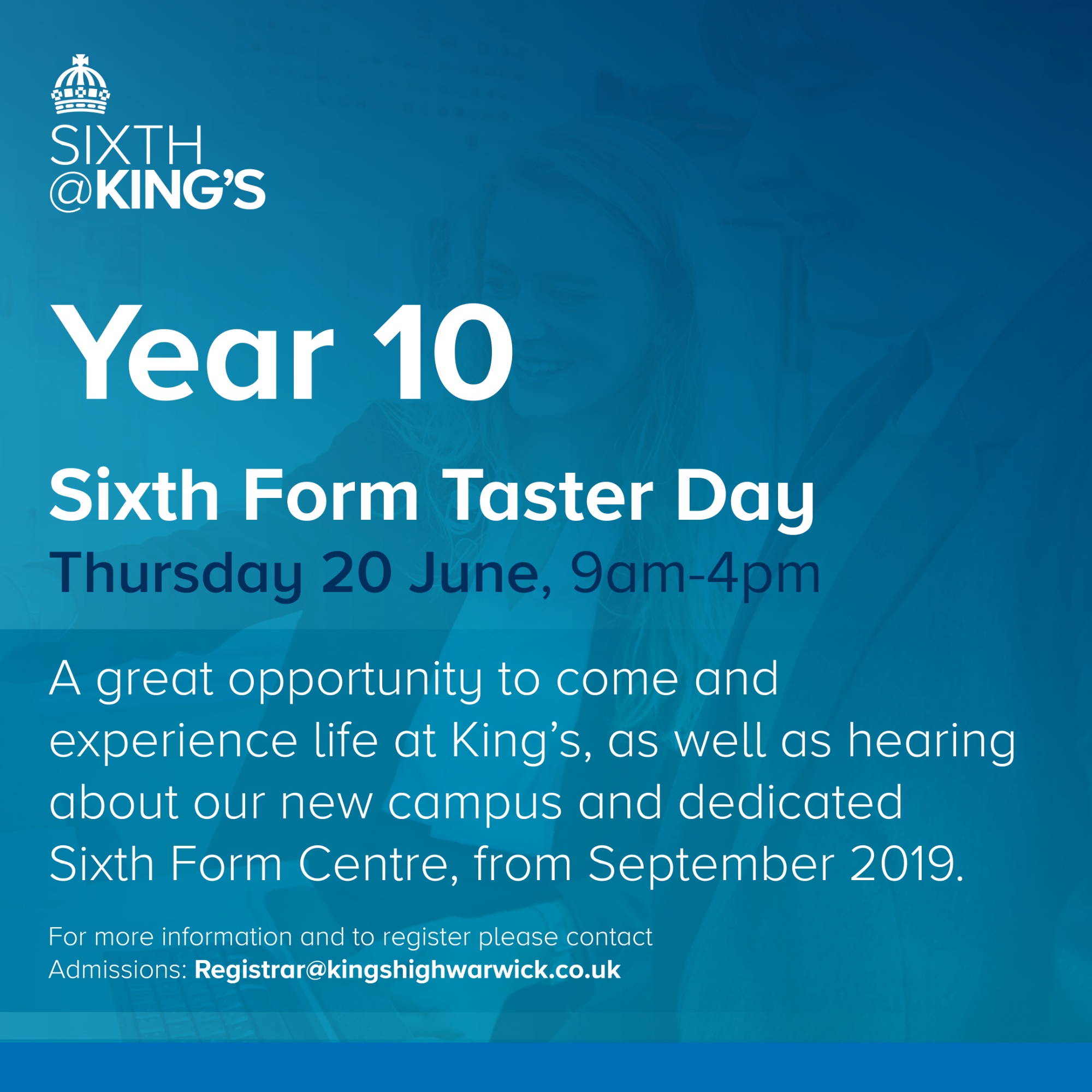 We have a Sixth Form Taster Day - Thursday 20 June 2019 For King's High and external Year 10 girls.
Come and spend the day at King's High and experience life in the Sixth Form for yourself.
Over four double periods you'll be able to explore subjects you've not studied at GCSE such as Psychology, Politics, Economics and Business Studies and existing subjects too – we offer over 20.
You'll be able to meet current Sixth Form girls, as well as the Head of Sixth Form – Mrs Murphy, and Head of Key Stage 4 - Mrs Tedd, who will answer any questions you may have.
You'll have time to experience the Common Room at break times, and sample the range of cuisine at lunchtime in our Dining Room. You'll also discover more about our move to our new state of the art campus in September 2019.
You'll also find out about our new state-of-the-art shared Sixth Form centre with Warwick School, on our new Myton Road Campus, from September 2019.
All current year 10 King's High pupils will be involved in the Taster Day, and details will be available from Miss Tedd nearer the time. There is no need for current King's girls to make a booking.
To book a place for your daughter visit the booking page or email: admissions@kingshighwarwick.co.uk
For King's High girls please email Ms Tedd: c.tedd@kingshighwarwick.co.uk
To request a prospectus please email: marketing@kingshighwarwick.co.uk
Sixth Form@Kings - Your Future
Next Open Evening date - Wednesday 25 September 2019.
If you'd like to arrange a Taster Day or Tour please contact: Registrar and Head of Admissions, Mrs Worrall, on 01926 735461 or via email: registrar@kingshighwarwick.co.uk