Head Master's Blog
A British Baccalaureate and Maths to 18?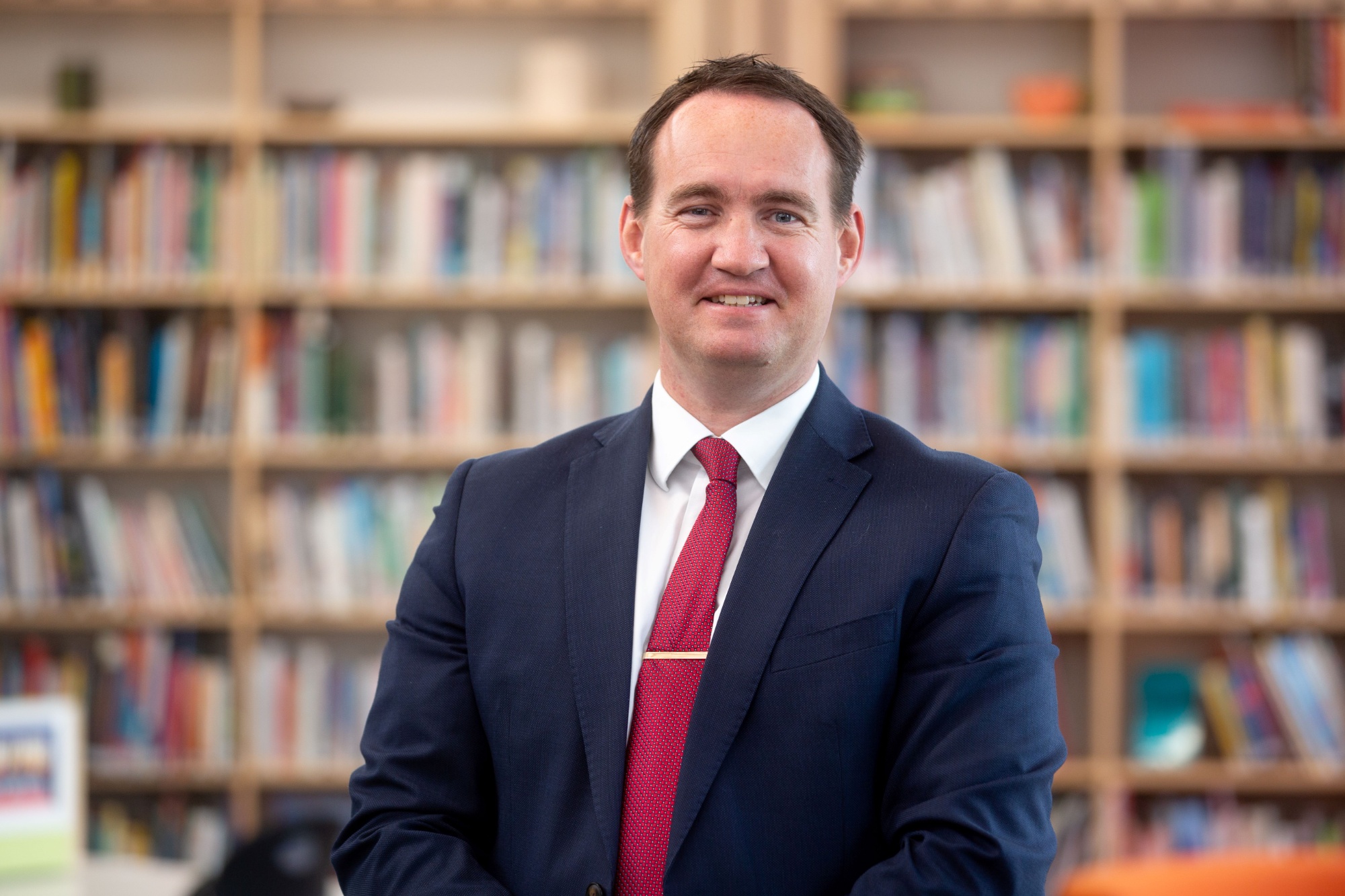 It's been interesting to read the recent coverage around the emerging plans from the Prime Minster to ensure that all young people study Maths to 18, possibly as part of a new British Baccalaureate, that could see students follow a programme, similar to the International Baccalaureate (IB), with three 'major' subjects and three 'minor' subjects instead of A Levels.
On the face of it, it seems to make sense. Few could argue that Maths skills are not vital and that the more young people we have with higher-level Maths skills and competence the better. Furthermore, various baccalaureate systems are in operation around the world and are very successful indeed in providing educational breadth and balance across a range of subject areas and academic domains.
However, when one considers the educational priorities of our time, it seems odd to start at the top end of the system with A Level reform. We know, for example, that the early years and foundation stage (EYFS), from birth to five years old, is where investment will have the greatest impact on life chances. Developing world-class EYFS provision that provides every child with the very best start to life is surely more important that reforming a highly regarded A Level system.
Furthermore, if one were to focus on secondary education, then the national SEND crisis would surely be the first core issue to address. And when it comes to qualifications, it has been GCSE reform, rather than A Level reform, that has been at the centre of educational debate recently. There has been a growing movement among a number of independent schools to find alternatives to the content-heavy, terminally assessed monotony of GCSEs.
As one of the founding members of the Schools Directed Course Consortium (SDCC), King's High has played a leading role in shaping the discussion on GCSE reform, and in providing compelling new KS4 courses including our Global Changemaker Programme and Innovation and Entrepreneurship Programme. Schools such as Latymer Upper and Bedales have recently announced moves away from GCSE courses and, whilst we are certainly not planning to ditch GCSEs, we are part of a network of schools thinking and acting innovatively and creatively to provide outstanding learning opportunities for our pupils.
When it comes to A Level reform, it's natural to look to the IB as a compelling alternative. With a powerful educational philosophy informing the qualification, students study three subjects at 'higher' level and three subject at 'standard level', with Studies in Language and Literature and Mathematics part of the six mandatory taught areas. Alongside this there is a compulsory 'core' which consists of a research project (Extended Essay), Community Action Service (to promote voluntary and community engagement), and Theory of Knowledge (to encourage reflection on the nature of knowledge and critical thinking skills).
As someone who has taught the IB for many years, it undoubtedly has great strengths. The educational vision informing all aspects of the course, the range of methods and tasks used to assess student understanding, and the all-important 'core' to promote social responsibility, higher-level research study, and a reflective and critical approach to the acquisition of knowledge is outstanding.
However, having said that, the IB is not for everyone and not without its limitations. For example, the assessment and grading is notoriously erratic (notably more so than GCSE and A Level); and, whilst it is very well-suited to strong academic all-rounders, those with a clear preference and inclination for the sciences, humanities, or languages tend to do less well and struggle to achieve high marks in their weaker areas.
Most notably, the content and student workload on the IB is enormous and the qualification allows little or no time for students to breathe, reflect or consolidate their learning as they try to balance the competing requirements of six academic subjects and a heavy, project-driven core. Unlike A Level pupils, IB students do not have 'study periods' through the week and a common complaint is an unmanageable workload. The independence for students to use their study periods effectively is one of the more powerful learning experiences of Sixth Form.
With a diet of three or four A Levels, students and schools have the independence to build a range of valuable courses and experiences around this academic core to develop future-facing skills and knowledge. At King's High the high majority of students take the Extended Project Qualification (EPQ) to work in depth on a research topic or project of their choice. This provides ownership and agency as students follow their interests and embark on university-style study, meeting regularly with a tutor. Naturally, universities love the EPQ and often give lower grade offers to students with a good EPQ.
Our Your Future course works in tandem with our Sixth Form PSHEE course, taught jointly with the boys at Warwick School, to explore topics including practical finance, careers, positive mental health and consent, sex and relationships. Our own King's Baccalaureate inspires students to structure their co-curricular endeavours around core skills and dispositions to achieve an accredited qualification, whilst our Friday Afternoon Activities Programme enables students to choose from over 70 activities, joint with Warwick School.
Options include our ever-popular Combined Cadet Force, a project to build and race a Formula 24 car, and volunteering to work at Westgate, Coten End and Evergreen Schools, or to support the most vulnerable members of the community via our partnership with Kissing It Better or by working at the local neuro-rehabilitation hospital. Alongside weekly Health, Fitness and Wellbeing sessions and outstanding opportunities in music, drama and sport, our Sixth Form offer is enriching, inspiring and perfectly tailored to the interests and needs of our students.
One of the drawbacks of the Baccalaureate system is that it removes a lot of the choice and ownership from the students to craft their own Sixth Form experience; it removes a lot of the autonomy and independence of schools to develop their own programmes to inspire their pupils. It feeds into one of the great problems of our education system: the tendency towards a one-size-fits-all approach rather than a tailored approach that prioritises individuals through choice, independence and diversity.
We have already seen the impact of the EBacc or English Baccalaureate, a controversial accountability measure for state schools introduced in 2010 which requires students to study at least 7 GCSEs across five areas: English language, English literature, maths, double science or biology, chemistry and physics, history or geography and a language.
The impact of the EBacc has been damaging, creating an unhelpful hierarchy of subjects, and a consequence has been the rapid erosion of Music, the Arts, and many other 'smaller' subjects in schools, including DT, as focus has inevitably narrowed on the core subjects of the EBacc. It has limited choice and, ultimately, imposed uniformity rather than encouraged diversity and, in doing so, it has worked to exclude even higher numbers of students from our education system.
For too long our education system has prioritised breadth of learning over depth of learning. Of course, breath is very important indeed, especially so in Key Stages 1, 2 and 3, but we also know that the highest-performing education systems in the world prioritise depth of learning and do not cram their curricula full of content. In doing so, they allow teachers time to teach, and learners time to learn – teachers then have license to explore content at a deeper level, encouraging deep thinking and genuine, powerful learning.
To my mind, the discussions about A Level reform are at odds with the educational priorities of our time. Early years provision, support for students with SEND, and GCSE reform are far more pressing matters for our attention. And, beyond that, it is my view that students need an increasing level of choice, ownership and agency over what and how they learn – they need to develop specific interests and pursue these. They should embrace academic and vocational courses that they are interested in and have an inclination towards and an aptitude for. In doing this, we can begin build systems that work for all of our students, rather that imposing systems that will likely only work for a few.
Single-Sex, Co-Ed, or Best of Both Worlds?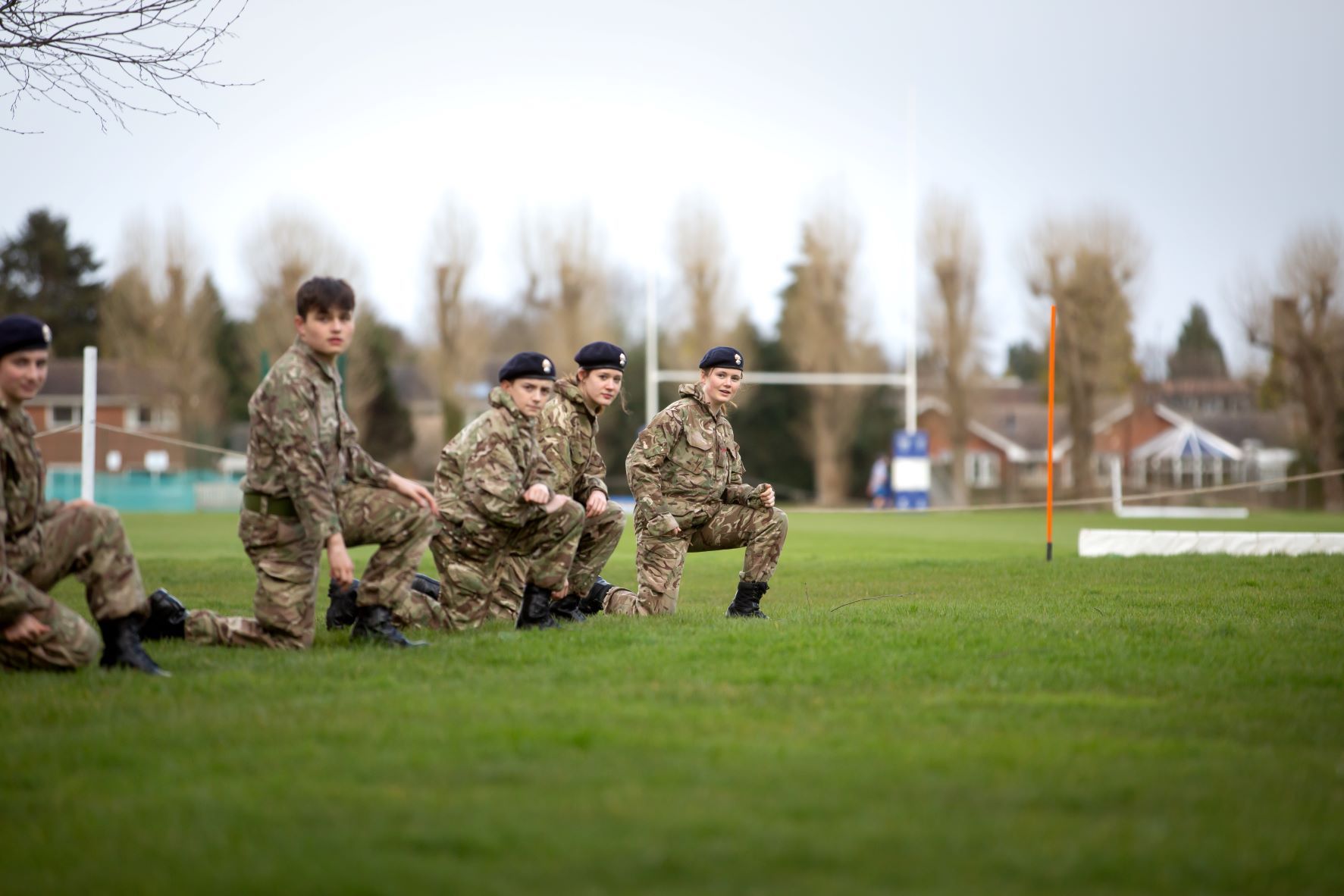 Educational debate can very easily become polarised and there are few better examples of this than the long-running arguments over single-sex versus co-educational schooling. Traditionally, in one camp are those who champion the unique benefits of bespoke single-sex education which enables greater freedoms away from the narrowing effects of gender stereotypes and, those in the other camp, who argue for the benefits of co-education as a more natural way to educate children as it more closely replicates the 'real world'.  
Single-Sex versus Co-Education
Although heavily contested on both sides, the academic research on the issue gives greater weight to the arguments in favour of single-sex schooling. Perhaps the best review of the research is Kevin Stannard's 'Why (and how) girls thrive in girls-only schools'. Stannard begins from the position that the argument for single-sex schooling does not rely on any notion of fundamental cognitive or biological difference, but rather on the 'empirical differences [between girls and boys] in perceptions, behaviour, needs, preferences and outcomes.' Ultimately, the ways in which boys and girls interact, engage and experience education is different and this difference can be most sensitively and effectively managed in single-sex schools.
Stannard evaluates the research evidence to determine four core fundamentals:
Academic Achievement: girls perform better in single-sex schools
Subject Choices: participation in maths, science and technology is greater among girls in single-sex schools
Career Progression: girls from single-sex schools do better in the job market
Wellbeing: girls are not held back socially by single-sex secondary environments
As someone whose career has spanned single-sex and co-educational schools, my professional experiences confirm these four fundamentals. Whilst it is very clear that transformational educational experience and outstanding schools can be either single-sex or co-educational, there is far greater opportunity in single-sex schools to foster an environment that is powerfully adapted to the specific learning preferences and needs of the students, and, in doing so, realise the significant potential benefits to be derived from single-sex education.
The research into subject choices is particularly striking. There is powerful evidence to show the impact of gender stereotypes on girls' subject choices in co-educational schools, and how this is redressed through single-sex education. Internationally, take-up among girls of STEM subjects in single-sex schools is notably higher that in co-educational schools.
This is borne out at King's High where, in recent times, our most popular A Level subject choices have been Chemistry and Biology and where we have strong uptake in Maths and Physics. 64.1% of our sixth form take at least one STEM subject and 56.5% take either Chemistry or Biology. Around a third of our sixth-form students take either A Level Maths of Further Maths, when the national average according to Cambridge
Assessments is 19.8%. Each year, around half of our Upper Sixth leavers go on to study STEM subjects at university.
In a powerful celebration of the impact of girls' only education, Jo Sharrock, Head at Shrewsbury High School, writes, 'Girls' schools are not ivory towers behind which to hide our daughters and protect them from the real world. The girls' schools of the 21st century are engines of change, where a girl learns without any limits placed upon her and where her confidence and resilience can flourish.'
Sharrock's rejection of the misperception of single-sex schools as 'ivory towers' is important. Far from the myth of girls' schools as places where students are insulated from the negative effects of gender stereotypes, they are in fact dynamic spaces where negative stereotypes and inequalities can be debated, explored and challenged, instilling the knowledge, skills and confidence to make a valuable impact in the world.
Best of Both Worlds
For decades, it has been common practice for single-sex schools to develop partnerships locally to enable a range of fruitful social and co-curricular collaborations between boys and girls. In the Warwick Independent Schools Foundation King's High and Warwick School have long experience of such collaboration. In recent times it has been incredibly exciting to take this to a new level as part of our unique and powerful educational vision, 'The Best of Both Worlds', which combines the very highest standards of single-sex education in the classroom with extensive opportunities for girls and boys to collaborate and work together throughout their school journey. As such, it offers a compelling alternative to the polarised arguments about single-sex versus co-education.
The Best of Both Worlds is an innovative model which embeds co-educational endeavour throughout the school experience of our students. The Best of Both Worlds journey develops as students progress through the schools. At King's High and Warwick School our students play together at lunchtime, attend joint assemblies, services and events, share co-curricular opportunities such as lectures, visits and trips. From Year 9 onwards, our Friday Afternoon Activities Programme provides the opportunity for every King's High and Warwick School pupil to participate in a range of varied and valuable co-curricular activities in a co-educational setting.
Our Combined Cadet Force and Young Enterprise Programme are notable success with equal numbers of girls and boys involved, sharing in a broad range of leadership opportunities. Alongside a fantastic range of collaborative opportunities in music and drama, with joint productions, ensembles and orchestras, the Best of Both Worlds provides a unique and exciting new educational vision for our students on our shared campus. This culminates in our superb shared Sixth Form Centre, where lessons remain single sex, but pupils across King's High and Warwick School share the same bespoke social and private study space. 
As we look ahead to the future, and to an educational experience unrestricted by the parameters of Covid-19, I am excited to continue the work to extend and further enrich the powerful Best of Both Worlds experiences of our students. In doing so, we are able to offer a compelling alternative to the ancient 'single-sex/co-ed' debates which blends the highest standards of both educational models to provide the very best preparation for the future.
What does excellence look like in preparation for Higher Education?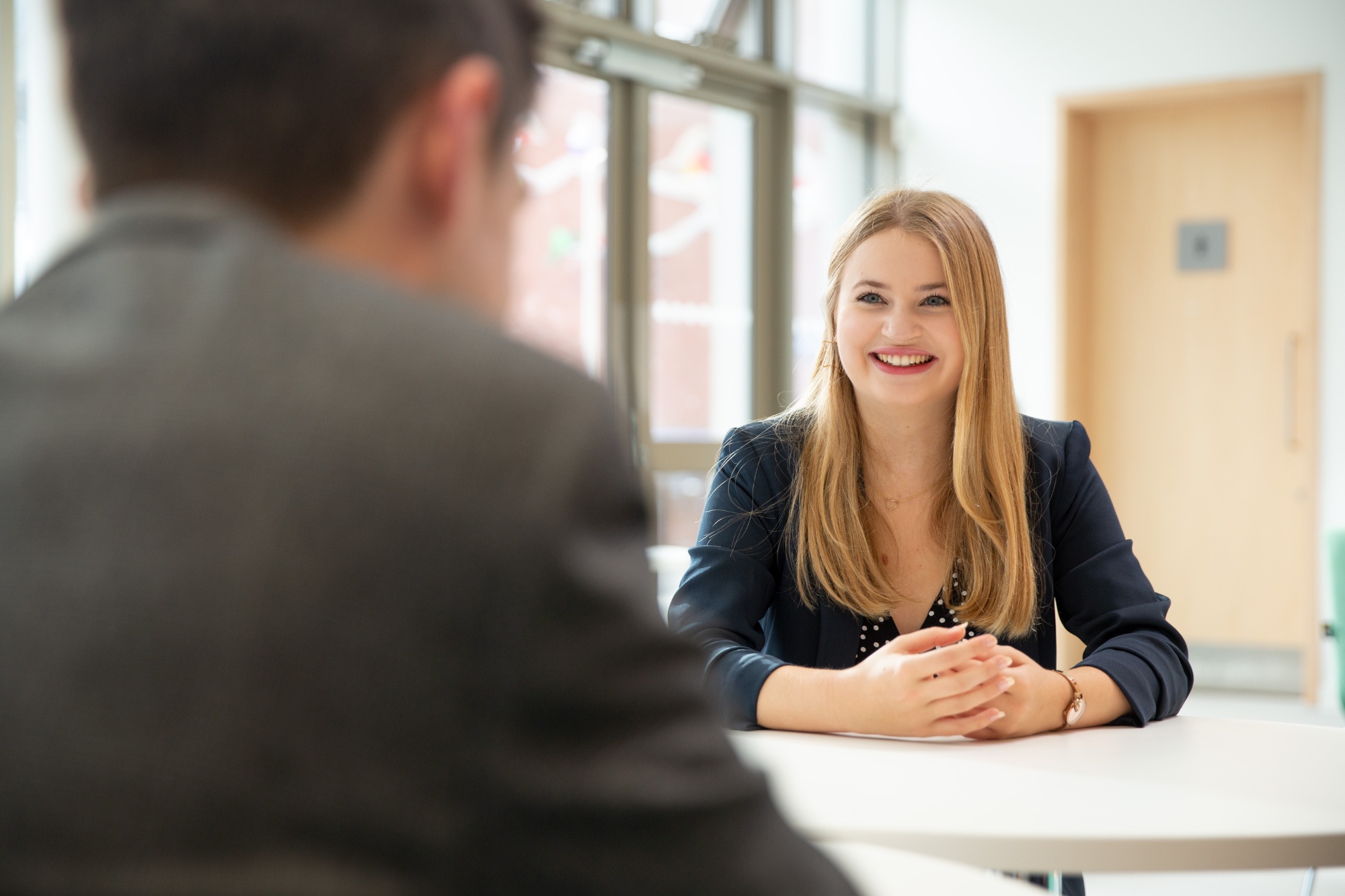 There are a number of very live debates in education at the moment, and one of the most prominent is undoubtedly preparation for and access to Higher Education, and, specifically, the role that schools play in enabling stronger Higher Education outcomes for their students.
The 2019 Sutton Trust Report, 'The Influence of Schools and Place on Admissions to Top Universities' (Montacute and Cullinane) was a watershed publication which created many headlines. The key findings showed that independent school students were seven times more likely to gain a place at Oxford and Cambridge universities than their peers from non-selective state schools and twice as likely to gain places at Russell Group institutions. The study showed that, for Oxbridge, there was a 34% acceptance rate from independent schools, 31% from grammar schools, and 22% from comprehensive schools.
The findings of the report led to considerable debate and some action. For example, there has been a rise in the use of contextual data and information in some admissions and offer decisions. But what does this actually mean? For most universities contextual data includes whether or not an applicant has been in the care system, has been eligible for free school meals, or lives in an area of particular deprivation. If there is evidence of this, the applicant may be more likely to receive the university's standard offer, or, in some cases, a slightly lower grade offer.
In an interesting development last year, OfQual launched a consultation on possible reforms to introduce a post-qualifications applications system, whereby A Level students would apply to university only once they have received their final A Level grades. Some felt that this would address disparities and approaches to Personal Statements and UCAS Predicted Grades across different schools. However, there are such significant logistical issues around this proposal that it has been put on hold for the time being.
Nonetheless, the heavy – and often unhelpful – media coverage around these debates has had the unfortunate consequence of fomenting some misperceptions. Is an independent education more or less likely to help my child gain a place at a prestigious Russell Group university? The answer to this is very clear indeed and the experiences at King's High School offer important evidence to support this.
At King's High we pride ourselves on offering the very highest quality preparation for the myriad post-18 pathways of our students, whether that is an application to Oxbridge, Russell Group, Medicine and Overseas Universities, or to music and drama school, or apprenticeships and degree apprenticeships.
Our Inspire Higher Education Programme has been very important in enhancing our students' preparation for competitive university places. With weekly seminars led by Dr Seal and Dr Harrison, and bespoke sessions delivered by our Higher Education Tutors - graduate students from Oxbridge and Russell Group universities - our students are introduced to higher-order thinking skills and debate across the Sciences and Humanities.
In addition, our students are connected with a Personal Statement Tutor or an Oxbridge Mentor to offer bespoke and tailored support for their applications, drawing on subject-specific expertise within our departments. We are fortunate to be able to access additional expertise across our Foundation family of schools, with a range of talks, practice interviews, and pre-admissions test practice. This collaborative approach has been further strengthened by the appointment of cross-school experts: we now have co-ordinators for Law, Medicine and International Universities working with students across King's High and Warwick School. Furthermore, we often recruit bespoke support to offer additional insights and guidance. In recent years, for example, we have drawn on external experts to support our Architecture applicants, and have had organisations run workshops, talks, and seminar series to prepare students for the rigours of interview and the increasingly important pre-admissions tests.
It is clear that this approach is having a very positive impact. The Higher Education outcomes that our students are enjoying are remarkable and we have seen significant upticks in headline statistics. For example, we have seen an average 22% rise in the number of students gaining places at their first choice university: from 2014-2016 an average of 68% of our Upper Sixth cohorts went to their 'firm choice' destinations; we are now averaging 90%. In addition, we have seen a 25% rise in the number of students taking places at prestigious Russell Group universities: from 2014-2016 an average 57% of our Upper Sixth cohort took up places at Russell Group institutions; last year this figure was 82%, and in pre-Covid years the average figure was 75%.
As all schools know, the statistics for Oxbridge and Medical places tend to wax and wane and, for many reasons, are subject to greater variability. Nonetheless, each year at King's High up to, and sometimes more than 10% of the cohort gain places at Oxbridge or go on to study Medicine at university. In the pre-Covid period at King's High, the number of students applying for Oxbridge trebled and the numbers securing places quadrupled. In 2018 alone 11.4% of leavers went on to study Medicine at university; this year 14% of the cohort has applied for Medicine and Veterinary Medicine and is awaiting offers. In addition, the number of students taking the valuable Extended Project Qualification (EPQ), which is so highly regarded by universities, has quadrupled, and, in the same period, we saw significantly improved outcomes with 89.5% of students (2019) achieving an A* or A grade for their project.
In recent years, there have been important developments in the post-sixth-form pathways that students are exploring. Whilst around three quarters of our cohort go for Russell Group universities, the 25% who do not are equally important to us. We are committed to supporting the pathways that are right for each individual.
At King's High we have strongly promoted degree apprenticeships since they were introduced in 2015. Each year we have a number of pupils who explore and go on to prestigious degree apprenticeships. For example, at The Dyson Institute of Engineering and Technology, at Santander and Barclays, to name a few.
Similarly, higher numbers of students are exploring 'off-UCAS' applications to international universities and institutions such as the New College of the Humanities. We have had students take places at McGill University in Canada and at the University of Sophia in Bulgaria, in addition to destinations including The Oxford Aviation Academy, Birmingham Conservatoire, BIMM (The British and Irish Modern Music Institute), The Royal Academy of Dramatic Arts, and the National Centre for Circus Arts.
So, in answer to my opening question – what does excellence look like? – I think that this, ultimately, comes down to a school's agility and flexibility in responding to the exceptional and exciting variety of student interests. It comes down to a school's enthusiasm and willingness to recognise that the Russell Group University pathway is not for everyone, and that each and every application and interest is as important as another.
It comes down to, crucially, the level of expertise within a school, and a school's ability to draw on and in invest in external expertise to make a valuable difference to student outcomes. It comes down to the ways in which schools nurture and inspire their students, offering and showing the range of pathways and diversity of choice that is open to them at an early stage in their journey. At King's High we offer excellence in all that we do, and our Higher Education preparation, and the data and outcomes and successes of our students, are strongly based on the excellence of the preparation that they enjoy.
Inspiring Spaces and Why They Matter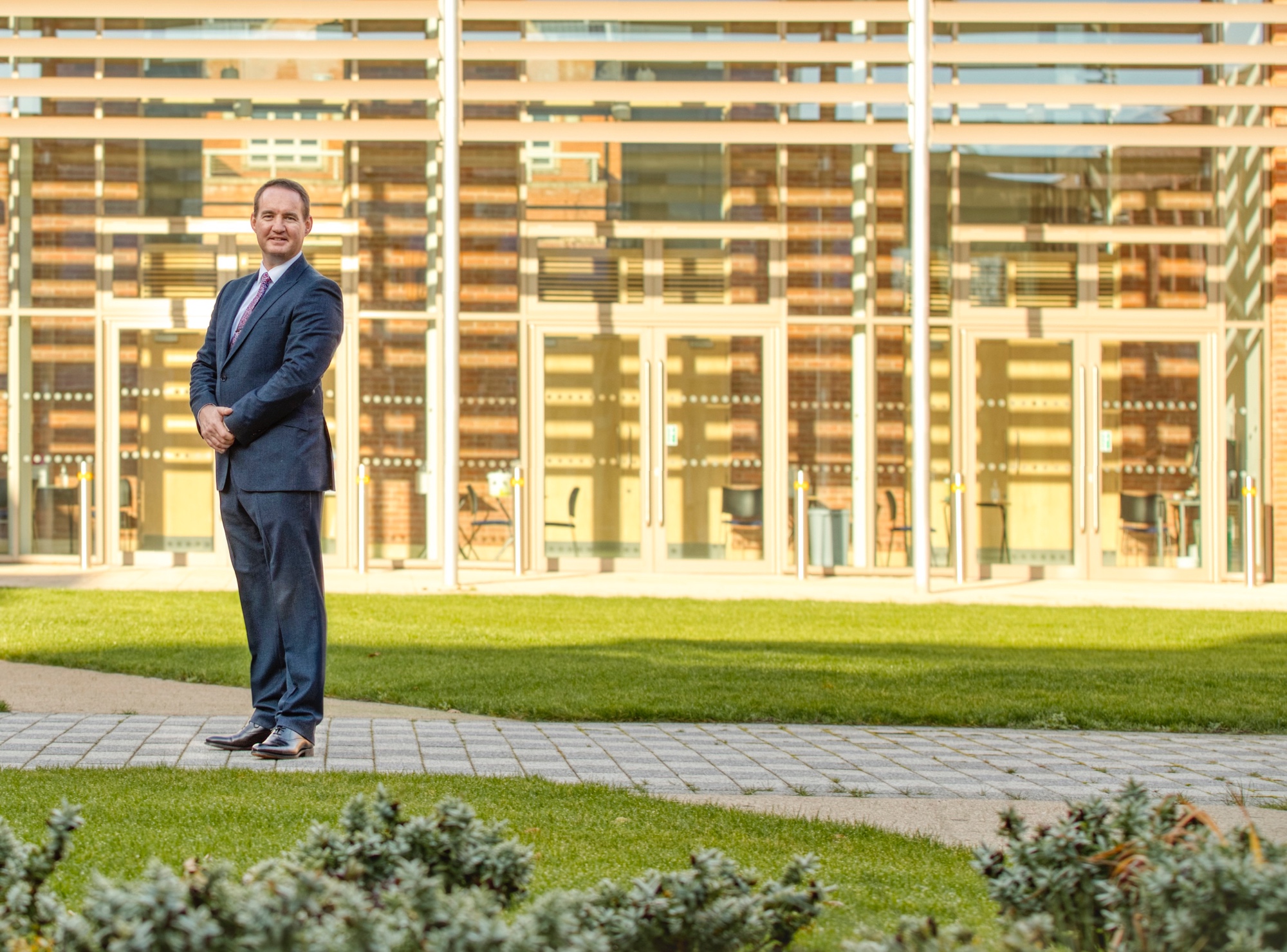 Inspiring spaces and high-quality educational facilities are transformational – we know that the physical environment in which students learn and interact with one another changes the way in which they learn and interact with one another. The cumulative impact of this over time is enormous. This is why, year on year, school governors and leaders across the country invest so heavily to ensure that their students can enjoy exceptional facilities, purpose-built to the very highest standards.
At King's High we are enormously fortunate to benefit from our new £45 million, purpose-built, state-of-the-art school on our green and spacious Foundation campus alongside Warwick Preparatory School, Warwick Junior School and Warwick School. We moved to our new premises in September 2019 and I was thrilled to learn that our new school has won a Royal Institute of British Architects (RIBA) West Midlands Award 2021. Paul Baxter and Nicholas Hare Architects won Project Architect of the Year for their superb work on King's High.
Yet, aside from the gongs, it's important to remember the fundamental improvements that inspiring spaces and high-quality facilities bring. These can range from straightforwardly logistical matters (for example, we no longer need to bus our students across town to access sports facilities and swimming lessons and we now have ample parking for staff and visitors), to the deeper impact on student and staff wellbeing.
For me, apart from the more obvious benefits of our state-of-the-art facilities, the fact that our new school is bathed in natural light and both surrounded by and centred around open green spaces is particularly impactful. Whilst the architectural decision to structure our main teaching spaces around a beautifully cloistered quadrangle may echo the traditional layout of the Oxbridge colleges, the value of internal green space providing a powerful focal point for our school community cannot be overestimated.
We are now more physically active as a school as we are able to make the most of our 50-plus acre site, and more connected as a community as our new spaces – both internal and external – have provided greater opportunities for those all important public moments (assemblies, social gatherings and performances).
To build on the success of our new school site, we launched our new Inspiring Spaces Project in 2020 to continue the work to create new, dynamic and cutting-edge facilities and spaces in and around our school.
Our new Changemaker Gallery, for example, has transformed our School Reception area, offering a fascinating and powerful perspective into the values of our school community. Our St Mary's corridor has been transformed into a stunning gallery space, showcasing the incredible artistic talent and creative flair of our students. The areas around the Mulberry and Red Corridor entrances have been developed into new social areas for students, and, outside our beautiful library, we have created a new Quiet Study and Wellbeing Hub with 'chill out spaces' providing oases of calm and tranquillity amidst the busyness of the school day.
In addition, we have also worked hard to consider the optimal classroom designs and layouts for our students. Our Classroom of the Future Staff Working Party, led by Head
of Geography Mrs White, has explored carefully the complexities of classroom design and the impact that this can have one the quality of learning and outcomes. Following on from this, we have developed newly-designed classrooms based on the ideas and findings of our working party.
Whilst we are deeply fortunate that our classrooms are flooded with natural light and that our designed air-flow control systems can maintain an optimal temperature, we have chosen mobile Node chairs to provide maximum flexibility in layout, alongside writable paint or writing walls, with some added soft furniture and, of course, varied, bright, colourful and inspiring displays and decoration. This will offer each teacher 'ownership' and 'flexibility' to organise learning and layout to suit the needs of every group and particular learning activity. With the added benefit of a technology-rich learning environment through one-to-one devices, we are excited by the possibilities of our very own Classrooms of the Future.
Drawing on ideas from biophilic design, we have also introduced plants across many of our internal spaces to connect us more with our natural environment and to create uplifting, sustainable spaces with high quality air. This has worked alongside our development of new external spaces, including our new apiary and Reflection Garden, where we have new plants, trees, and vegetables growing thanks to our thriving Gardening Club.
Our whole community has taken great interest in and pleasure from our work to reimagine our learning environments, social spaces and outdoor areas. We have worked together to create innovative, flexible, forward-thinking spaces that inspire creativity and curiosity, and, importantly, support student and staff wellbeing.
As I look ahead to 2022 and the plans to extend this work further, it is exciting to consider the ways in which school spaces are being liberated by the lifting of Covid restrictions, and how our students can benefit from new spaces which they have helped to develop. Our school environment is far more than a 'container, backdrop or context to the educational experiences of our students: it is very much part of the experience itself, transforming the ways in which our community operates and the ways in which our students and staff interact with one another.
Understanding Upstanding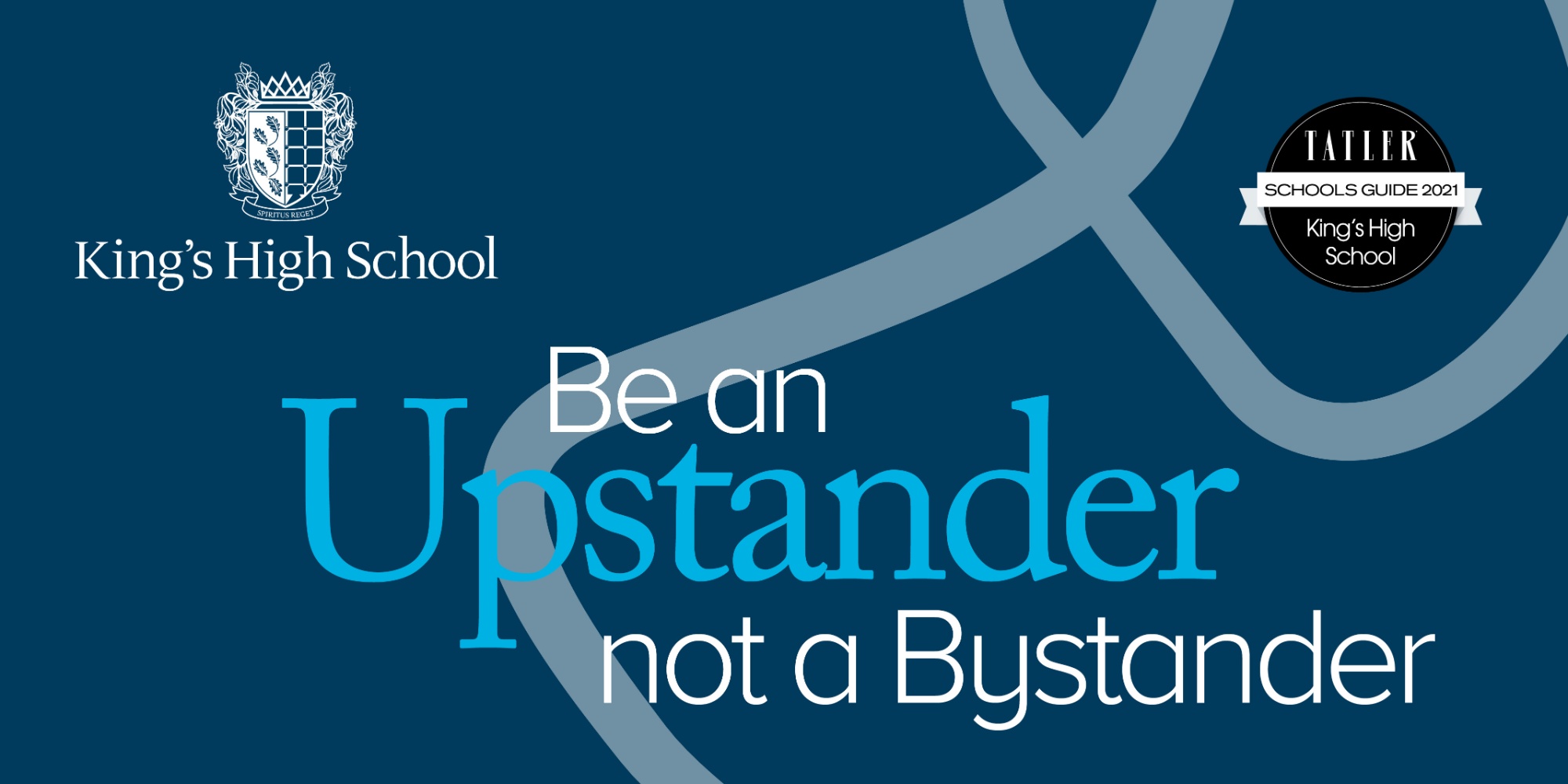 Let's imagine for a moment: you are with a group of friends in a busy town centre and notice a woman in distress. It could be a domestic argument. Would you intervene to try to help, would you report it to the authorities, or would you carry on in the assumption that someone else would deal with the matter, or perhaps that it is none of your business?
Researchers in the 1960s, in one of the strongest and most replicable effects in social psychology, found that when alone around 70% of people would either speak out or intervene to help the woman, but with other people around them that figure dropped dramatically to only 40%. This phenomenon became known as the bystander effect and centres on the fact that that individuals are less likely to help a victim when there are other people present.
The bystander effect is a powerful psychological reality and this is precisely why it is incredibly important that we teach our young people about it as part of a broader progamme to create a strong community of upstanders, in which each individual feels empowered to speak out against injustice and wrongs, to use their voice and their sense of agency to help others, and to be proactive and vigilant in opposing all forms of discriminatory, bullying or disrespectful behaviour and language. This is a moral responsibility of the greatest significance for us all.
Can schools work in partnership with parents and external organisations to cultivate the moral courage that is the foundation for developing upstanders rather than bystanders? Can schools genuinely make a difference in encouraging students to speak out against injustice and to use their voice to help others when wider peer and social pressures are so heavy? Can schools and parents cultivate practices and routines of kindness and empathy to empower students to feel the compassion for others that is necessary to be an ethical upstander and to withstand the long-established power of the bystander effect?
The answer to these questions is a powerful and resounding 'yes'; however, the journey to achieve an embedded culture of upstanding is long and onerous, requiring consistent energy, imagination and commitment.
Fully embedded organisational upstanding within schools must, fundamentally, be part of a wider framework of high quality character education in which all staff are committed to the careful and deliberate nurturing of positive character strengths and virtues. Honesty, integrity, compassion, resilience, citizenship, courage – these are the foundation blocks of upstander culture and, as such, form the starting place to tackle some of the issues that our young people are faced with today.
I was delighted that our work at King's High was recognised recently by the Anti-Bullying Alliance, as we received their Gold School Award as part of their All Together programme, funded by the Department of Education. This, in addition to our partnership with The Diana Award, evidences the strength of our community in supporting one another and standing up and speaking out against all forms of discriminatory, bullying or disrespectful behaviour and language.
Yet, like every other school across the country, we continue to work hard to reflect on and strengthen our culture and our values to ensure that our students are compassionate, active citizens with a committed sense of social and individual responsibility.
A Community of Changemakers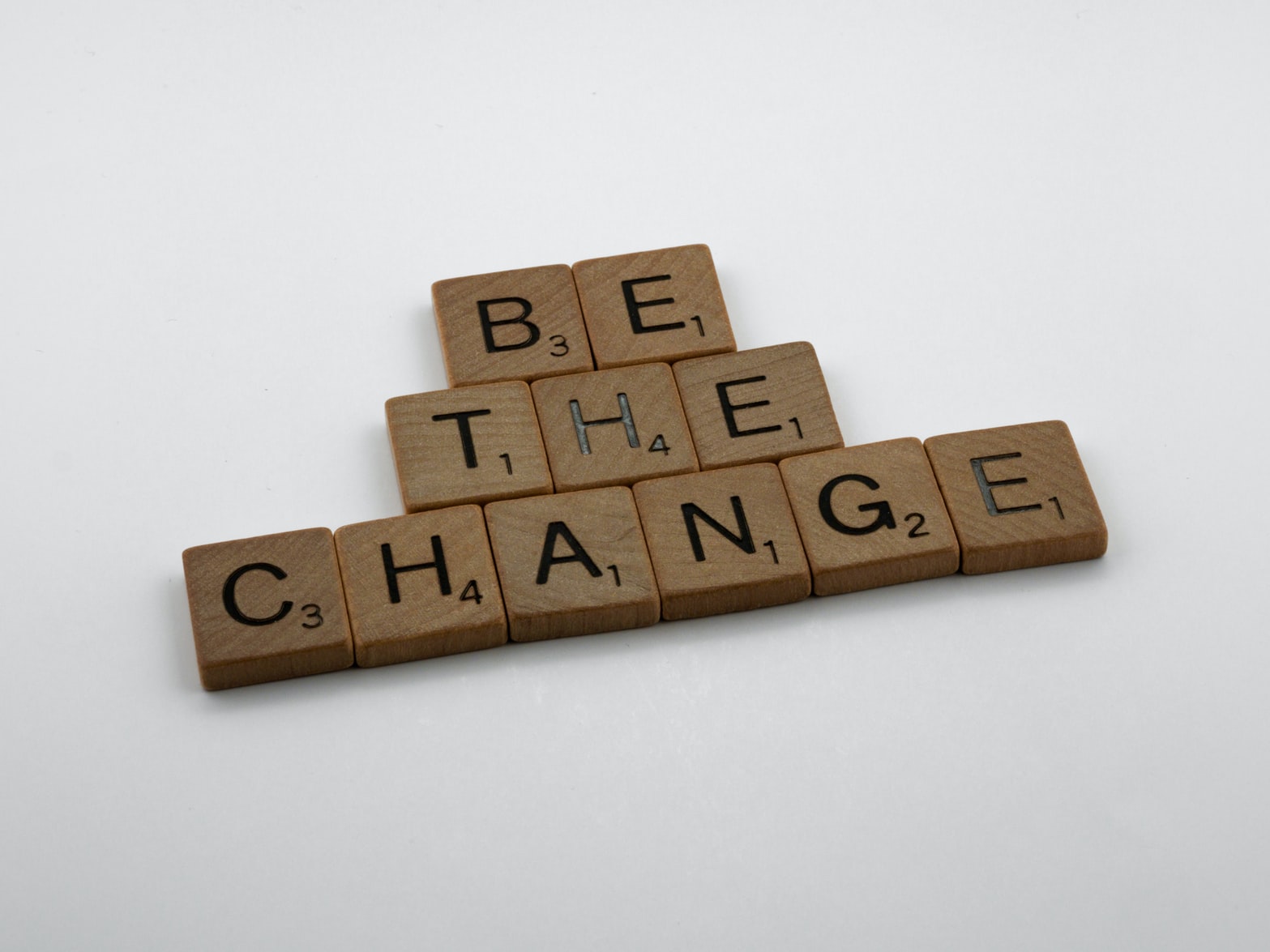 Of the many salutary lessons we have learned from our experiences of 2020, the ability to adapt to a world of accelerating change and volatility is surely one of the most striking. Who could possibly have envisaged the seismic changes wrought by Covid-19 and the pressures that they would place on individuals, families and communities? Amidst such high levels of uncertainty and change, the value of resourcefulness, resilience, empathy and community have never been so important.
Although, for many, 2020 will be remembered as a year to forget (to highlight a paradox), there are so many positives to be drawn from our collective experiences. For example, communities have come together to protect and support the most vulnerable members of society; we have seen a renewed appreciation for those who work tirelessly, and often behind the scenes, to keep our society going; we have a deeper appreciation of the value of community, connection and collaboration; and, of course, we have seen the remarkable strength of our scientific community in developing a vaccine which, we all hope, will bring an end to the pandemic.
Yet, so much of the great work of 2020 has been achieved in reacting to change, in responding to the unprecedented crises of the day. As we look ahead to what the new year may bring, my greatest hope is that we will be able to more creative and proactive in forging positive change in our community and in the world around us; that we will find a new currency for the inevitability of change, moving from a reactive and adaptive approach brought about by necessity, to an exciting, dynamic, creative and positive philosophy of changemaking.
At King's High, the foundations for this have already been laid through our recent work to foreground creative thinking skills, digital learning and educational innovation as part of our school's DNA. Changemakers are innovators and creative thinkers, inquisitive and open-minded, keen to test out new ideas and explore new ways of doing things. Changemakers have a positive impact on others and their community through inspirational leadership, creative ideas, by demonstrating kindness, compassion, emotional intelligence and empathy. Their commitment to leadership is driven by a sense of others rather than self, by a deep-rooted conviction about the importance of social responsibility and making a positive contribution to community.
To become a community of Changemakers, or a Changemaker school, is my priority as I assume my new role as Head Master of King's High. To do this, we need to nurture values, skills and character attributes that centre on creative thinking, social responsibility, empathy and teamwork. As rapid and often unpredictable change becomes the new normal for us all, I am eager to look ahead with hope and optimism at the values that our school community has demonstrated so brilliantly through 2020, and how we can build on this in 2021 to create something very special: an inspired and inspirational community of Changemakers.
Dr Stephen Burley
---
2019 - A Year of Reckoning
There is no doubt that 2019 is going to be a seismic year. The current political situation is febrile, and it is impossible to predict quite what will happen over the next few months. What is surely certain is that historians will be well employed in future decades, unpicking the political and societal actions which have brought us to where we are now.
I well remember the day following the referendum in 2016. As I was briefing Heads of Department on the plans for Project One Campus, Mrs Renton kept us updated with the fast-moving political situation, including the resignation of the Prime Minister. Whatever one's personal view of the outcome, there is no doubt that it was a momentous event, and as we met as a community later that day, I spoke of our need to listen, to understand everyone's different views, and of our duty as individuals to work consistently for a stable and equitable future for everyone.
As we look at our own momentous event, moving to our new school on the Foundation campus, 2019 is full of hope and excitement, but in the full knowledge that in the midst of change, it is consistency and stability which are our greatest strengths.
What is it then that we want our chroniclers of the future to say about 2019 in the life of King's?
Firstly, that we reflected on and celebrated our history, and the roles that our forebears and our buildings had in shaping our character.
Secondly, that in taking stock of our present, that we celebrated the 'King's-ness of King's' - that we recognised the specialness of our community, a warm and nurturing environment for girls who love learning and wish to contribute to their own and the wider community.
Thirdly, that we embraced the myriad possibilities of our new location; that we harnessed the opportunities of the closer proximity to our sisters and brothers in Warwick Prep and Warwick School; that our Foundation was enriched educationally and culturally, and that in so doing, the special and unique characters of our schools were enhanced.
To do justice to the vision of the Governors in the fulfilment of Project One Campus, our journey will be greater than the distance from Smith Street to Banbury Road; equally, it will be far more exciting.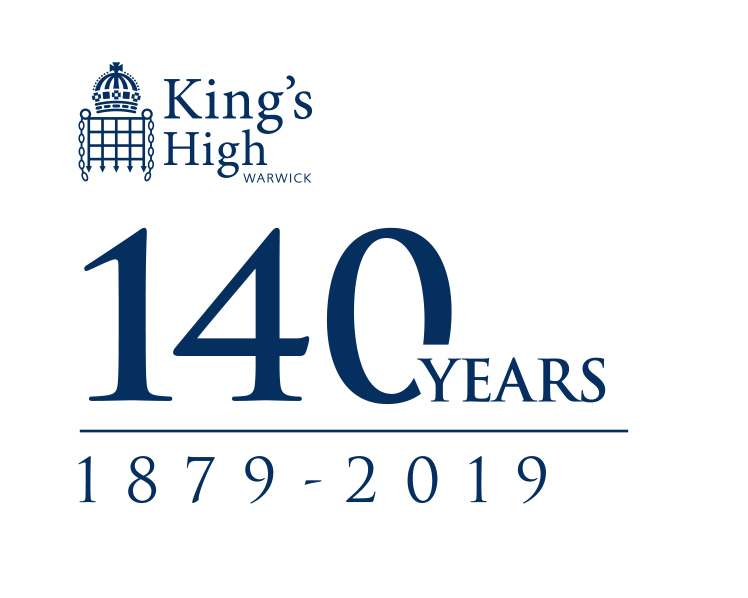 The Great STEM Debate
I have watched with interest the great discussion recently about STEM (Science, Technology, Engineering, Maths) for girls. It is indeed striking how many girls at girls-only schools choose to follow science subjects at A Level, which we know is because of the absence of any conscious or unconscious gender bias across the curriculum. Indeed, the lack of such bias or lazy stereotyping is a huge reason why single-sex education is so important.

We are proud that here, 65% of girls sit at least one STEM-related subject at Sixth Form, and that roughly half of our girls will go on to study a STEM-related subject at university. This is not a new thing for us - it's something which has happened here for many years; it's built into the school's DNA.

However, we are not complacent about our girls' successes in this area nor their future interest in pursuing STEM careers.

The key reason we believe that these subjects and careers areas remain so alive for our girls is that we are innovative in the ways we promote them.

Firstly, we know that, statistically, girls close down their careers options at a very early age. So to try and counter that national phenomenon, we have introduced Engineering in Year 8. We have a vast array of careers talks too, and in recent years hosted a series of STEM days, including workshops run by Arup on the driverless car.

Secondly, we provide engaging opportunities for the girls to develop and share their interests. In STEM, a great success story has been Café Scientifique, where the girls set the agenda, read their own research papers, and invite in leading experts.

Thirdly, we actively promote and support the girls' interests. The most high-profile of these this year has been our link-up to the International Space Station. This was from the outset a student-led venture, but which the whole school community from 3-18 was engaged.

Fourthly, we seize opportunities. Two recent examples illustrate this particularly well. What better way of celebrating 'Project One Campus' than by promoting the myriad STEM skills which have been involved in developing our new school. From site visits, to talks from our consultants, and new work experience opportunities, these are unique opportunities for our girls. Once again, too, with our space studies, we are committed to an ongoing legacy, through space-related activities, for all Year 9 as part of their Friday Afternoon Activities.

Finally, and perhaps most importantly, we harness the skills and interests of our forward-looking staff to nurture the girls' talents. However gifted a school staff body is (and ours is superb) we are not too proud to know when we need additional support. This year's space odyssey is another case in point: we are proud to be (as far as we know) the only school to have a Space Scientist in Residence. That single appointment has brought - and will continue to bring - untold richness to the school.

Whilst the key thing for us is to facilitate and nurture each girl's ambitions and aspirations, the collective impact of so many students here wishing to study such subjects to degree level means that we are punching considerably above our weight when compared to national norms.

We are neither complacent nor arrogant, and we know that our programmes of study and the opportunities for our girls will continue to evolve.

It is important for every school to take up the agenda of keeping girls active in science, and employers to do something about the alarming gender disparity in the STEM-workplace.

If we can play a greater part in this mission, we are keen and eager to do so.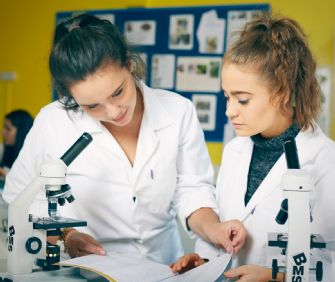 From the Desk of the Head Master, Stratford Herald
We strongly encourage our girls to develop their interests both inside and outside the classroom. This culture of empowerment led one of our girls to apply to ARISS Europe (Amateur Radio on the International Space Station) for a highly prestigious link-up to the International Space Station.
This student-led initiative has resulted in a whole-school focus on Space Science, both in the classroom - from Engineering to English Literature - as well as co-curricular activities, including our 'Mars Society.'
To support this programme, we have appointed our own Space Scientist in Residence – a unique position, we believe, for any school in the country.
Excitement is building for our live link-up to the International Space Station in April, when pupils from King's High and Warwick Prep will talk with the astronauts on board.
King's High And Beyond! - Adventures in Space
John McGuire, Space Scientist in Residence, has joined forces with Stratford Astronomical Society to organise a Stargazing Live event for students and parents of King's High and Warwick Prep next Friday night. They will enjoy an Introduction to Astronomy, Telescope Talks, and 'Ask an Astronomer' sessions, before viewing the skies for themselves. This follows months of Space activity, from the very youngest pupils of Warwick Prep creating Mars models, to King's students developing their own Amateur Radio Licensing Club, to set up a link between King's and the International Space Station.
Live Link-Up to the International Space Station
When King's High student, Eleanor Griffin was selected to hold a space conversation with an astronaut, she was inspired to set up the Warwick Mars Project, for students across the Warwick Independent Schools Foundation, to further interest in Space Science. Eleanor says: 'The moon landings belong to the generation of our grandparents, and the International Space Station to our parents'. What will happen in our generation? Will Mankind travel to another planet?' She will lead students in a live Q and A session with astronauts on the International Space Station on 18 or 19 April – the actual date depends on where the ISS is in orbit at the time.
From one girl's interests and ambitions, a generation of King's High and Warwick Prep pupils will benefit from an extraordinary range of opportunities and life-experience. We are also delighted that pupils from other local schools will be able to share in the excitement, by joining us for a 'Space Day' and the link-up itself. All power to our pupils!
The exciting journey pupils take at King's High has expanded to a whole new dimension this academic year, as we explore the wonders of Space Science, with students from across the Warwick Independent Schools Foundation. At King's, pupils have studied Space in lessons, from Engineering to English Literature, and developed a programme of student-led activities, including Space Blogs, an Astro-Photography competition, and a Space-themed dinner. We recently appointed our own Space Scientist in Residence – a unique position, we believe, for any school in the country. Excitement is building for our live link-up to the International Space Station in April, when pupils from Warwick Prep and King's High will talk with the astronauts on board.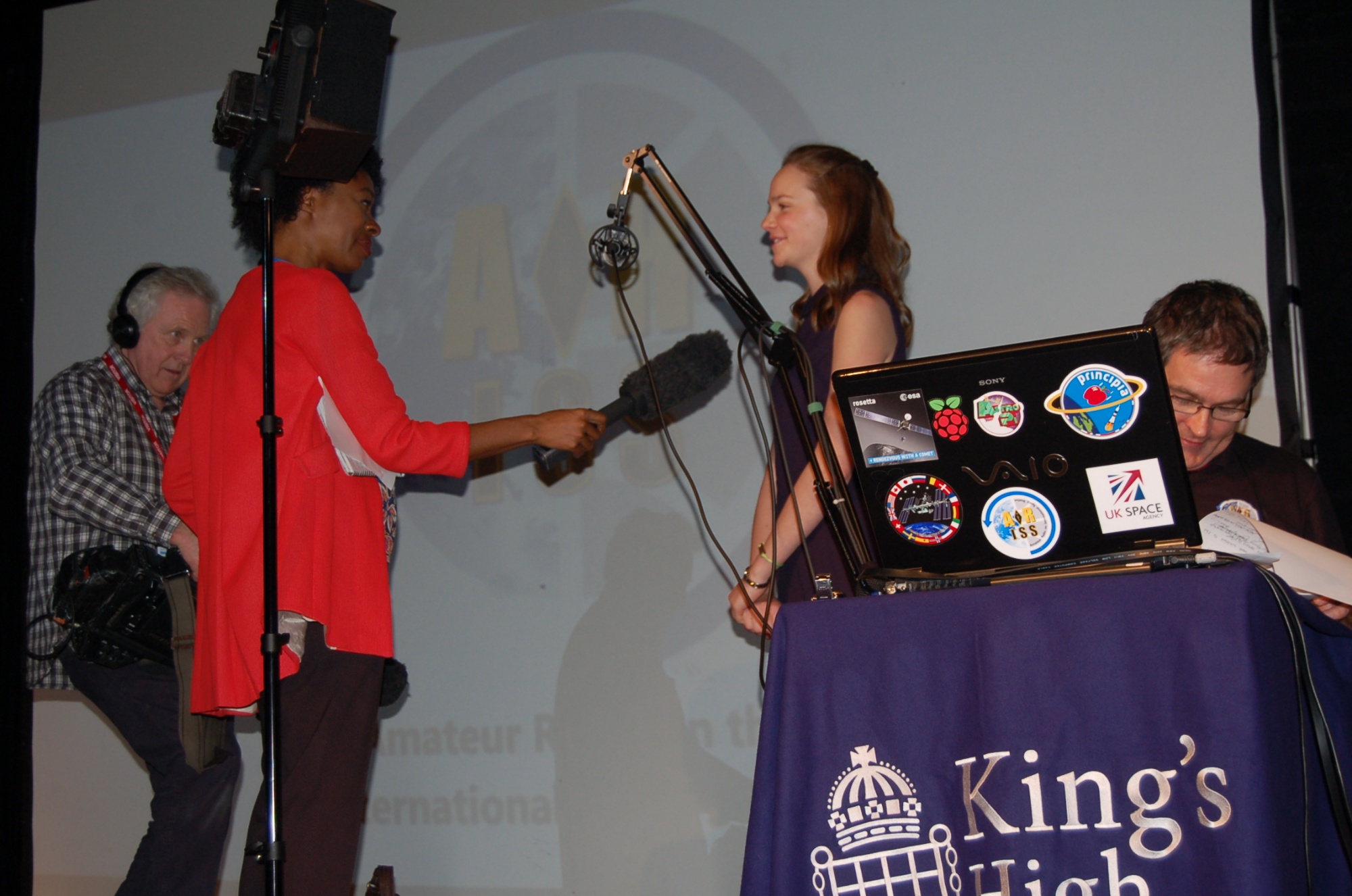 From the Desk of the Head Master, Stratford Herald
King's High Making History
In building a new, state-of-the-art school for the girls at King's High, we are very proud that Warwickshire is home to one of the most exciting and largest school building projects of recent times. The visionary Project 'One Campus' brings together all the pupils in the Warwick Independent Schools Foundation for the first time in our history. The campus will include the new main school building for the girls at King's, plus new Technology and Sports facilities, a new world-class Music School, shared with Warwick Preparatory School, and a stunning Sixth Form Centre, which King's High girls and Warwick School boys will share for social activities and curriculum enrichment. Project 'One Campus' also sees improvements to the sports pitches for all Foundation pupils, including a new 3G rugby pitch and additional netball and tennis courts.
Students Learning On Site
There is nothing like learning at first-hand, and the Project 'One Campus' build is giving students a wealth of practical experiences. The team behind 'One Campus' – surveyors, architects, and constructors Speller Metcalfe, who built Stratford Hospital – gave a Careers Workshop, taking King's and Warwick students through the entire process of a major build, from client brief, to project completion. The students stepped outside to see the process made real, as they viewed their future campus taking shape in front of their eyes.
From the Desk of the Head Master, Stratford Herald
Youth Speaks At King's High
'Deeds not Words' was the stirring slogan adopted by Emmeline Pankhurst, and we were proud to join last week's celebrations, marking the 100th anniversary of The Representation of the People Act, which gave some women the Vote. Led by our own Pankurst House, girls marked #vote100 in many different ways, including holding a 100 second silence – one second for every year since the 1918 Act of Parliament. King's High's girls are proud of those who went before them, and determined to continue their work for fairness in the workplace and society – with Words as well as Deeds.
Debating at Rotary
King's High fielded two Sixth Form and Year 10 teams at the national Rotary 'Youth Speaks' Competition. Amelia Davies led our Sixth Form team, debating 'Does Capitalism Make Us Happy?' We congratulate our brother school, Warwick School, on winning the Senior event, to go on to Regional Finals.
Should the Voting Age Be Lowered?
Junior girls at King's High have formed their own Debating Society. Maud Beidas, President of the new KS3 Debating Soc, says: 'Debating is useful mind training. It helps to think on your feet, enabling you to produce persuasive arguments. It's helpful as a transferable skill for essay writing and interview preparation. It's also great fun.' Debating this week's topic – Should the Voting Age be Lowered to 16? – Hannah Mason reports: 'Whilst some girls firmly believed that 16 year olds are smarter and more capable than most people think and deserve to have a say, others argued that 16 year olds have limited life experience and maturity levels which vary wildly from person to person. What we learned especially is that it is important to use counter-arguments effectively.' I think it is fair to say the future is looking bright in the hands of our young people today.
From the Desk of the Head Master, Stratford Herald
Do Put Your Daughter on the Stage - Drama at King's High
I am delighted to misquote Noel Coward - 'The Master' himself - and say: 'Do put your daughter on the stage', because King's High Drama is flourishing at school and beyond, from Stratford, to RADA and Hollywood.
RSC's A Christmas Carol
If you enjoyed the RSC's wonderful A Christmas Carol, you may have seen Harriet Kelleher play alongside Phil Davis, as Scrooge. Harriet, who started at King's High in September, plays the dual roles of Victoria, and the haunting Ghost of Christmas Future, who finally touches Scrooge's conscience. Harriet, who previously played Lucy in The Lion, the Witch and the Wardrobe at Stratford Arts House, and Bottom in A Midsummer Night's Dream at the RSC's The Dell, says: 'I have always loved acting, so to be able to perform on stage at the Royal Shakespeare Theatre is a dream! All the cast and everyone who works for the RSC are amazing and I have learnt so much. My teachers have been so supportive with my dream of becoming an actress and continuing with my studies.'
Les Misérables
King's High and Warwick School celebrated 10 years of joint productions with a mighty run of Les Misérables at Warwick Hall. The 100-plus strong cast were led by their first Student Musical Director, Sam Young, and had the wonderful opportunity to rehearse with John Caird, co-director of the original Les Misérables. 'It was a fantastic experience,' says Poppy Whittaker, who played Cosette. These past weeks alone, King's girls have performed leading roles with Playbox and The Loft Theatre; Annabel Ledgard sang for Birmingham Royal Ballet's The Nutcracker, and Katie Burrows and Gabrielle Mac did Panto at Leamington's Spa Centre.
From King's High to Hollywood
Recent Old Girls, Laura Woodhouse and Lucy Doyle, gave King's Drama students behind-the-scene tours of LAMDA and RADA, where they are both studying. We are very grateful for their support, and delighted that former King's girls are enjoying such a purple patch on stage and screen. We have Ellise Chappell starring in Poldark, Gemma Whelan, who plays the loveable, wise Kate alongside David Mitchell's Shakespeare in Upstart Crow, and Sophie Turner, best known for her role as Sansa Stark in Game of Thrones, and currently starring in the X Men films in Hollywood. We are very proud of the many girls who each year take part in our many school productions, often in collaboration with the boys of Warwick School.
Sophie Turner - Old Girl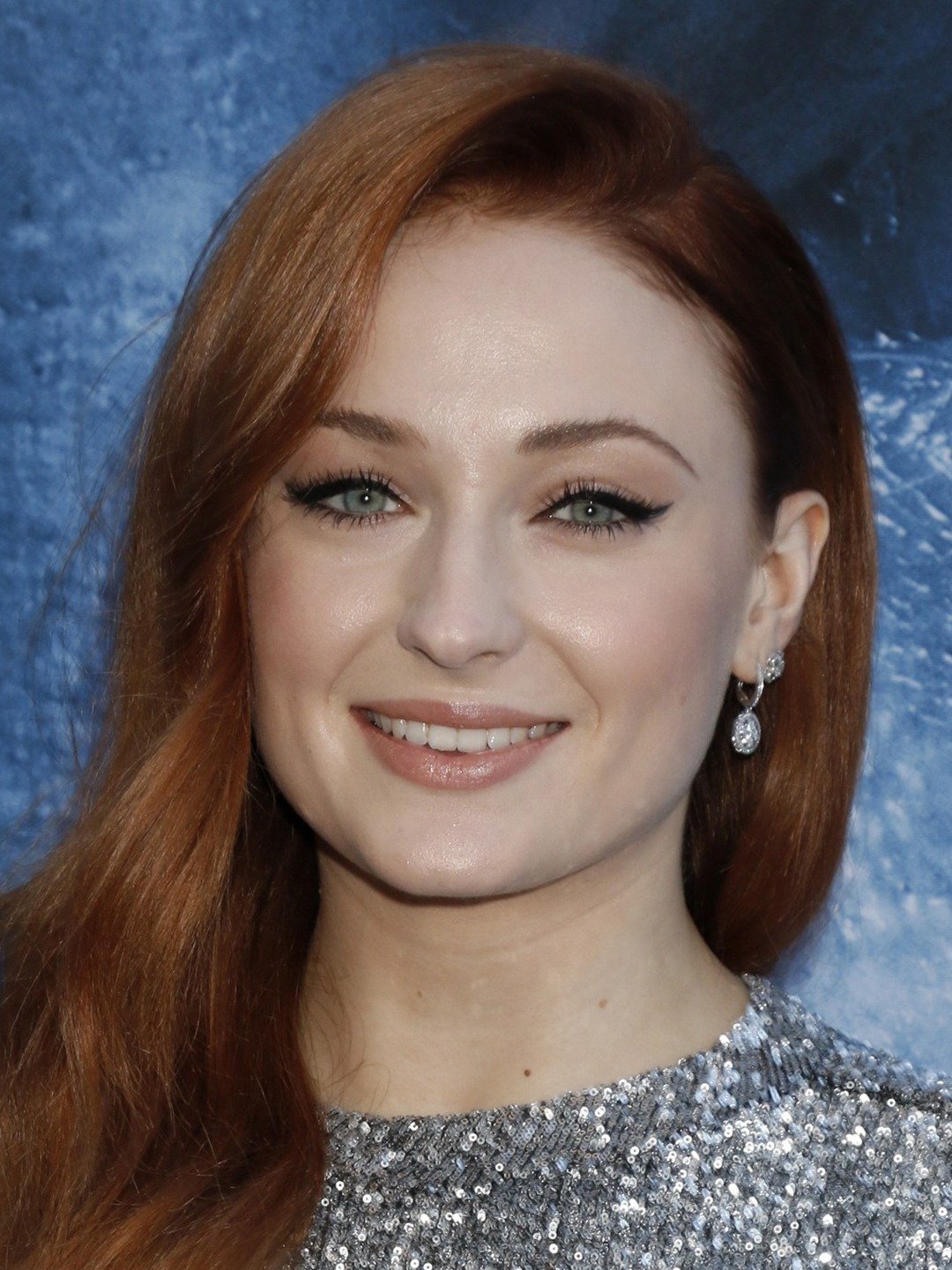 For Mr Nicholson's blog, From the Desk of the Head Master, for the Stratford Herald's December feature on Education Matters, he invited Jenny Parkinson-Mills, Director of Educational Innovation at King's High, to write the following piece about innovation in teaching and learning at King's:
King's High, like all other schools, aims to prepare its pupils for a life of learning in a 21st century world that is changing and developing at an ever increasing rate. The skills that we need to equip our girls with for success today are already vastly different from those possessed by school leavers at the beginning of the century, and who can predict the skill sets needed in another ten years' time? Many of the careers of the future do not yet exist.
It is therefore vital that we do all that we can to explore the latest innovations in teaching and educational research so that the girls' learning experiences in school best prepare them for that big wide world. One key strand to that strategy has been the completion of the Innovation Centre in the heart of the school. A space like no other in any school, where girls and staff alike can write on all the walls, table tops and windows: encouraging collaboration, greater freedom of thought, creativity and risk taking. This, combined with mobile devices in their hands and an ability to "cast" their work to the front board and share their ideas, has totally transformed what a lesson can look like, and it certainly makes it unforgettable.
Indeed, there is no denying the rapid advancement of mobile technology in all aspects of our lives, and where there are clear benefits to learning, these opportunities are being exploited. King's has therefore already invested in banks of 2-in-1 devices, iPads and laptops and the necessary infrastructure to remotely project girls' work to the front of the classroom instantly. The school community is working in the "cloud", to share resources and work collaboratively on documents in real time, as they all edit the same live file.
Whilst it is wonderful to have the latest technology at your fingertips, innovation can also take place within the "everyday" work that teachers do. To that end, the post of Researcher in Residence has been created to reflect the growing volume of work that is going on in the world of educational research. Our researcher is helping to disseminate the latest research, investigate teaching and learning interventions that might best support all girls of all abilities, and support the continual professional development of the teaching staff. After all, King's aims to encourage all members of our school community to be the best that they can be, to foster a love of learning and to develop new talents – so why not the teachers too?
These are just a few examples of the ongoing innovation taking place in all areas of the school, but they do demonstrate our commitment to ensuring that our girls are best prepared for the exciting world ahead of them.
Times Educational Supplement (TES) Awards
Every good school looks to enhance and develop the pastoral and educational opportunities for the pupils in their care. Rightly, much of this work passes without comment or fanfare: it is the bread and butter of school improvement. We were, however, delighted to hear that King's has been selected as a finalist for three national education awards: the Times Educational Supplement Independent Schools Awards. This highlights that areas of particular focus at King's have been remarkably successful, and have had significant impact, in a very short period of time.
Our 'Springboard' programme, shortlisted for the well-being award, was devised to provide more time outside subject lessons to help our girls focus on skills to develop resilience, an important characteristic for good mental health. Through a range of activities, the girls have had time to explore new skills, to think about how they learn, and practise skills for life. We were delighted too that this programme was singled out by the recent ISI report:
'Participation in the challenging activities included in the new 'Springboard' programme for younger pupils is successfully developing pupils' well-being, self-esteem, and resilience'.
We were also determined to ensure that our girls were as 'world-ready' as they could be, once they leave us for the next stage of their life journey. The King's High Baccalaureate - shortlisted for the Strategic Education Initiative of the Year - is a qualification unique to King's, providing a framework for our girls to develop skills which we know are not only valued by universities and employers, but are also essential building blocks to contribute constructively and effectively to society. They cover, amongst others, leadership, communication, service to others, and knowledge for the workplace. Girls who have already completed the award speak of the breadth of experience it has provided, taking them out of their comfort zone, and the focus on life-skills, such as public speaking.
Our nomination as 'Senior School of the Year' is testament to the success of these, and other, new initiatives.
Whilst it is wonderful that the girls and staff have been recognised in this way, it does barely scratch the surface of what it is that makes King's so special. It does demonstrate, however, the difference we make for the girls at King's in our determination to support each of our girls on their own, unique, journey to fulfilment.
'Value Added' at King's
Results days are always nerve-wracking affairs, as everyone waits to see the outcomes of the hard work and perseverance of the students who have sat public exams.
This year, there was considerably more uncertainty than usual, given the large number of new, reformed, A Levels, and the new GCSE grading for some subjects.
It is certainly true that no two cohorts of pupils are the same. Every year group is different; that difference should be embraced and harnessed. What really matters to us here at King's is that the girls do the very best that they can.
We were all extremely proud that our recent inspection by the Independent Schools Inspectorate (ISI) found that the girls' progress is 'excellent', and, among other findings on academic outcomes, that our A Level results have been above the national average when compared with results for maintained selective schools.
As these judgements suggest, we have a very impressive track record in 'adding value' to the girls' academic achievements. 'Value added' is the additional progress individual pupils make which, above a certain amount, is due to the quality of the teaching and learning at the school in question.
One of the most common measures of establishing the 'value added' score for pupils is by using baseline data at Year 7. This makes it possible to extrapolate from carefully screened and externally created assessments the predicted results that pupils 'should' get at GCSE. Comparing this to pupils' actual GCSE results gives the 'value added' score. This 'value added' assessment is undertaken by the Centre for Educational Monitoring (CEM) at Durham University, which each year analyses countless pieces of data, and provides the progress measure for each pupil.
Year on year our 'value added' is significantly above that which would usually be expected - on average, the lion's share of a GCSE grade per girl per subject. This year, our 'value added' was the highest our girls have achieved. These results put us, according to CEM, in the top 50 schools for 'value added'. To put that into context, that could be the difference between 10 As and 10 A*s, 10 Bs or 10 As. This is something about which we are extremely proud, as it demonstrates just how many more life-chances we can offer the girls, and how many more university doors are open to them.
I also firmly believe that, as well as exceptional teaching and learning, the variety of co-curricular opportunities - including academic and intellectual enrichment opportunities - play their role in nurturing an ethos of aspiration, within a stimulating, caring and supportive environment.
Truly, we want all our girls to 'achieve, aspire, enjoy', and, on our 'value added' measures, they are doing just that.
The September issue of Cotswold Life magazine selected Mr Nicholson for their 'Meet the Head' feature. The feature text follows and you can access the publication here. The article is on page 237.
RICHARD NICHOLSON MA (OXON)
KING'S HIGH SCHOOL, WARWICK
How long have you been at King's High?
September 2017 is the start of my third year.
What attracted you to it?
The warmth of the school community, the focus on the fulfilment of every girl, and the girls' wonderful achievements across academic, sporting, and cultural spheres.
What do you consider the strengths of the school to be?
We value and support each of our girls as individuals, nurturing their personal development and their academic potential. The recent ISi Inspection graded us 'excellent' in all areas, the highest judgment possible.
Tell me something about your pupils
What unites our girls is their love for learning, inside and outside the classroom, and their commitment to the school and wider community through a myriad of co-curricular opportunities. They are an exceptional group of young women.
What are the fees?
£12,477/year
What does the future hold?
The next few years are particularly exciting. We are moving to new, bespoke, school buildings, joining Warwick Prep School and Warwick School so that all pupils are educated on the Myton Road campus (www.projectonecampus.co.uk). Building starts this summer. We also have expanded Music, Sport, and Careers teams from September, and have a Space­ Scientist in Residence!
21 June 2017
Independent School Parent magazine selected Mr Nicholson for their 'Meet the Head' online feature. We include the link for you to access the article, below:
http://www.independentschoolparent.com/promotion/meet-head-kings-high-warwick/
26 May 2017 - Learning to Lead
(The following blog was published in The Stratford Herald's From The Desk of the Headmaster feature).

'Findings have also indicated a difference in classroom performance; 36 per cent of girls believe their gender makes them feel less confident in putting themselves forward for leadership roles, with a quarter stating boys dominate classroom discussions too much.'

This extract comes from a report commissioned by the charity 'Young Enterprise'; it is deeply concerning that girls up and down the country feel this way.

I often speak about key reasons for single-sex education for girls: the lack of gender-bias in subject choice, learning environments tailored specifically for them, and the empowerment to pursue interests and skills unencumbered by stereotype. The findings outlined above demonstrate just how valuable such an education is, in making sure that the needs of girls are addressed, and in that way that their life chances are enhanced.
We work hard at King's to develop programmes which develop both confidence and leadership, which are so heavily intertwined:

• The King's Baccalaureate, recently accredited by EduQual, is specifically designed to stretch and challenge the girls so that they develop a broad range of skills, some of which - for example, public speaking - may be out of their comfort zone. Mastering skills which may not come easily is as important as honing those which are more natural to us; it makes us more rounded and agile thinkers and doers. That flexibility is a key skill for life, and essential as our girls plot their journey beyond King's.

• The House System has both social and developmental aims at its core. It allows for greater vertical integration, with all the benefits to our school community that brings, and has also been a great deal of fun. Crucially, it also provides an opportunity for girls in all year groups to develop leadership skills.

• Our bespoke and unique 'Springboard' programme in Years 7 and 9 deliberately focuses on skills to develop resilience, and the self-understanding and self-belief that requires.

• In leading our wide-range of academic societies, the girls take ownership of organising and inviting a wide range of world-class speakers, which this year has included Dame Lynne Brindley, former Chief Executive of the British Library, and BBC Young Musician, Lara Melda.

In keeping with our focus on the development of leadership skills, our guest of honour at our speech day this year is Kate Robertson, co-founder of the UK-based charity, 'One Young World' (www.oneyoungworld.com) a global forum that gathers together the brightest young leaders from around the world, empowering them to make lasting connections to create positive change. This message is an important one: our girls go on to make huge differences to the lives of others; learning to lead, and being inspired to do so, is a key part of that process.
Core Sixth Form Principles At King's
With Year 13 Parents' Evening, the Year 12 fundraising dinner for their annual India trip, and interviews for leadership roles all taking place within the space of the last few days, Sixth Form life at King's has been brought into keen focus.
These three events capture important aspects of the Sixth Form at King's: the striving for academic excellence, opportunities to develop interests and essential life-skills, and an understanding of the importance of thinking of others and contributing positively to our own and the wider community.
How do we develop these core principles?
We foster a culture of aspiration, rewarding excellence in all its forms. Our academic expectations are high; this is manifested in our exceptional 'added value.'
At a time of a national recruitment crisis, outstanding teachers want to come and work at King's: we continue to invest in our staff, who we know are the agents of change in the lives of our girls.
We invest, too, in our facilities. As Dame Lynne Brindley, MBE, Master of Pembroke College, Oxford, noted when she reopened our Sixth Form Centre, we have created university-standard spaces; spaces which allow for private and collaborative study, in a modern, fresh environment.
We are committed to educational innovation and the development of pedagogy: the art, science and practice of teaching; our Innovation team, centred around our new Innovation Centre, will shortly welcome two new members, including a Researcher in Residence.
We value the transferable skills which leadership opportunities develop. I look forward with anticipation to seeing how the girls rise to the myriad responsibilities we offer: What will they do to develop our academic societies? Which speakers will they host? Which House events will they take to new heights?
Finally, to focus learning and personal development goals, we have developed our own qualification, the King's Baccalaureate. This embraces academic distinction and the development of key skills, including Academic Scholarship, Communication Skills, Knowledge of the Workplace, Leadership, Personal Development, Cultural Pursuits, Physical Endeavour and Service to Others.
In combination, these each contribute towards a unique Sixth Form journey.
These are exciting times in education, and especially at King's. I can say with confidence that our Sixth Form is at the vanguard of provision for girls: long may that continue.
On 30 March, the Head Master's article on 'Core Principles' appeared in his monthly Stratford Herald, Education Matters page column: 'From the desk of the Head Master'.
Education in the News
Education has once again been in the headlines, not always on the back of positive news.
A particular focus has been the funding arrangements for state schools, with reports of parents across the country being warned about the financial challenges schools face. Funding arrangements for new schools has been the subject of scrutiny, too.
There are also concerns for the health of certain subjects in state sector schools: two creative subjects - Music and Design Technology - seem to be under particular pressure. Music, according to the BBC, 'could face extinction' as a subject in secondary schools, owing to pressures presented by the EBacc, and Design Technology, as quoted from The Telegraph, 'has disappeared from nearly half of schools because teenagers no longer like making things.'
It seems to me that the combination of financial pressures and League Table positions on their own could present the perfect storm; changing pupil interests add a further dimension to the challenge.
I have often said that one of the joys of running an independent school is the freedom we have to determine how we deploy our resources. Parents make great sacrifices to send their children to our schools, and have many different motivations for doing so, but key for many is the certainty that we can provide both creativity and continuity in their children's education.
Here at King's, as in so many other ways, we are delighted to buck trends. Music flourishes, both as an academic subject and as a major extracurricular activity. The girls love music-making, and we are proud to provide exceptional opportunities and facilities to enable them to perform to the highest standards.
We are also delighted that our girls are so creative: they delight in 'making things'. Design Technology is a popular subject, not just for the joy of designing and giving form to ideas, but because it also teachers valuable skills for future careers, Engineering in particular.
I cannot imagine a day at King's without music flowing from our Creative Arts Centre, or seeing the girls working both individually and in groups on challenging, engaging, and fun projects in Design Technology (or in our Engineering lessons, either).
All schools have their pressures. Being able to continue to offer the broadest of educations, with the rich diversity of subjects that entails, is fortunately not one of ours.
23 February 2017 - Character
On 23 February, the Head Master's article on 'Character Education' appeared in his monthly Stratford Herald, Education Matters page column: 'From the desk of the Head Master'. Please click here to access the article.
3 February 2017 - The Importance of Girls' Schools
Most mornings on the way to school, I listen to the 'Today' programme on Radio 4. Yesterday, one of the items was about research which suggests that girls by the age of six are likely to see themselves as less talented as boys. www.bbc.co.uk

This made for a particularly unsettling start to the day. It follows research which also shows that girls lack the career confidence of boys, and that girls close down, by the start of their teenage years, career paths.

Why should this be?

Surely, we all want all our young people - girls and boys - to explore their interests, gifts and talents unhindered by what others may think. We also know that this is harder to achieve than it sounds - and indeed than it should be.

There are many societal pressures on children which we as schools work hard to counter.

It is my view that the best way of supporting girls, of allowing them to grow in their own esteem and confidence, and to manage societal pressures, is through schools which are dedicated solely to them.

This is not only because there is well-documented evidence that in such environments girls make academic choices which defy gender stereotype: girls at Girls' Schools Association (GSA) schools are far more likely to study Science subjects at A Level and leave to study STEM-related degrees and careers. This pattern is reflected - but even more powerfully- at King's.

Girls' schools are important because glass ceilings do not exist. Ways to explore personal goals, academic interests, and leadership roles are there just for them.

This nurturing process is as important for a 7 year old, as it is for an 11 year old and a 16 year old. This isn't about wrapping girls in cotton wool; it's about allowing them to dream their dreams, and providing ways in which their dreams can be achieved.
At King's, we delight in being such a diverse community. There is no 'identikit' King's girl, and so we blend our educational experience to ensure that each is nurtured as an individual and that her skills, gifts, and talents are recognised and developed. This approach is the reason, I believe, why our Year 13 leavers go on to read for such a diverse range of degrees; why supra-curricular societies are so popular; why sport and physical activity thrive; why our girls leap at the chance to take on responsibilities.

Never have single sex schools for girls been more important. They teach girls that there are no limits to their creativity and ambition. Long may that remain.

From The Desk of the Head Master
(Mr Nicholson is writing a series of Blogs for the Stratford Herald's new Education Matters section. Please click here to access the article, as it appeared.).
At this time of year, many families are in the midst of making crucial choices about secondary education. Warwickshire is a county rich in its variety of secondary schools; many will therefore be considering the relative merits, and the 'fit', of a number of schools for their daughter or son.

It can be very easy to categorise schools as either 'academic' or 'pastoral', to believe that a school prioritises either intellectual nurturing or pupils' personal development.

The reality is that in an excellent school, these things go hand in hand. Personal and academic fulfilment are inextricably intertwined; focusing on one is a false choice and does great disservice to our students.

The voyage of discovery, and self-discovery, which is at the heart of every school experience, will only be truly successful if our pupils as individuals thrive. To thrive, we need to be happy.

'Happiness' is different for each of us. The key to unlocking it lies in knowing, valuing, and understanding every pupil, respecting their individuality and sharing their hopes and aspirations.
However, to be happy, we need to be fulfilled. That means that schools need to take a truly holistic view to ensure that all our pupils reach their great potential.

At King's, we are proud to work with every girl to help her discern her own, personal path to this fulfilment. This requires a deep understanding of our girls; through our pastoral programme, we know and care for the girls as individuals, equipping them with life-skills for school and beyond. This fits hand in glove with our school-wide ambition to offer the very best of opportunities, inside and outside the classroom. We embrace new learning opportunities, through pedagogical developments and the curriculum we offer. It is also about recognising that so-called 'soft skills' are, in fact, very hard skills to develop, and that schools need to model and scaffold learning in these areas as much as we do in subject specific lessons.

How do we approach this at King's? We recently revised our school Aims, which cover: Scholarship, Opportunity, Environment, Community, and Character. In working to fulfil them, we have introduced a new personal development programme, curriculum Engineering lessons, leaderships roles through Houses and Academic Societies, cutting-edge facilities, such as our newly-opened Innovation Centre, and a bespoke qualification, the King's High Baccalaureate.

All these opportunities, and more, contribute to a school environment and experience which puts the individual at the heart of their own learning and development: by embracing all our school has to offer, each girl is nurtured for who she is, finding the happiness and fulfilment which is uniquely hers.
Continuity and Change
Education has seen its fair share of change over the past few years.
The introduction of academies in the Blair years, two whole-scale reforms of public examinations (the first, curriculum 2000, introducing a broader Sixth Form curriculum, the second essentially reversing that and still working its way through the system), the introduction of free schools and acceleration of academisation.
I was privileged recently to represent the Girls' Schools Association at a consultation meeting about the wide-ranging White Paper at the Department for Education; it will be interesting to see what the final legislation looks like.
Even excluding the changes to come, that makes five significant structural changes working within the educational system in sixteen years. In secondary school terms, that means five changes in just over two generations of pupils.
As an independent school, we remain unaffected by many of these changes. Our curriculum has evolved to reflect the revised GCSE and A Level specifications but we have been immune from the huge structural changes to the running, operation, and funding of schools.
Throughout this period of change, we have been able to continue embracing our independence. That allows us to do two things, which may appear contradictory: first, to offer stability and consistency in the education we offer. Second, to develop and innovate in ways which have a direct and immediate impact on our girls.
At King's, we continue to assert these twin strands of our independence.
In revising our Aims, we embraced the best of our heritage and culture, at once reaffirming and refocusing the educational experience for all our pupils.
We have also developed our educational offering and been bold in innovating, for example in curriculum development (both personal development and subject-specific, as with Engineering), a focus on the supra-curricular (academic societies), and a new qualification (the King's High BACC). Indeed, we now have a bespoke Innovation Centre.
'Project One Campus' - www.projectonecampus.co.uk - the boldest of visions for King's and the wider Foundation, embraces both freedoms perfectly.
These twin freedoms are the great strength of the independent sector. They are, I believe, key to our sector's success, which Governments, of all hues, have consciously tried to emulate.
There are very tangible educational benefits to our approach.
This year, our 'value added' at GCSE (using standardised baseline measurements by the Centre of Evaluation and Monitoring - CEM - at Durham University) was exceptional. On average, each girl achieved over one grade higher in each subject than their baseline assessments predicted.
To put this into context, a girl who may be predicted a high B at GCSE was statistically likely to have achieved an A* at King's. CEM attributes such 'value added' directly to teaching and learning. How many more doors will be open to our girls because of these achievements?
Our whole focus is on ensuring that our girls fulfil their potential and are able to follow their dreams. Proudly, we will continue to offer continuity and innovation.
Character
I had a particularly nostalgic Christmas this year.
For the first time in many years, my family and I went to Southwell Minster (the Anglican cathedral for Nottinghamshire) for the Carol Service on Christmas Eve.
It was as a chorister at Southwell that I began my musical career. I have very fond memories of those years, with school, prep, sports, and instrumental practice, being snugly fitted in around choir practices and cathedral services. I recall the particular fervour of our Housemaster for clean shoes, with the evening routine including a visit to the boot room and shoe inspection, shiny shoes being a prerequisite to qualify for milk and biscuits before bed!
The service on Christmas Eve was reassuringly familiar; the choir was in good voice, with the hours of rehearsals resulting in stunningly beautiful renditions of both familiar and unfamiliar music. The musical lives of the choristers today must be little changed from thirty-odd years ago, although perhaps without the shoe-cleaning obsession!
So much of the trajectory of our lives is determined by our school experiences. Being present for the iteration of the Christmas story by the Minster Choir of today gave me pause to reflect on what my experiences as a chorister at Southwell had taught me.
Learning so much music, singing in different languages (Latin and French, in particular), 'performing' most days, balancing a heavy school workload with all the choral music and instrumental practice, certainly made for a full and busy life as a young boy.
And the lessons? The list is long, but includes my great respect for the following 'capital C' Character traits:
Tenacity
Resilience
A strong work-ethic
Striving for the highest of standards
Team work
Balancing many and various competing demands
These traits are very familiar, as they mirror the values we aim to instil in the girls at King's. Our revised Aims specifically refer to Character, in addition to Scholarship, Environment, Community, and Opportunity.
We know that every girl is different, and that her own unique qualities, expressed through her own unique personality, are crucial to her identity. But just as her intellectual journey will be unique, so too will be the formation of her character: we want all our girls at King's to be the very best versions of themselves.
I firmly believe that 'capital C' Character can be taught. We do this at King's formally through PSHEE and the Springboard programme, as well as informally through a nurturing school environment.
Such 'capital C' Character development is important, to ensure that our girls fulfil their enormous potential and are fully rounded individuals, equipped with complex and nuanced skills, ready to do good in the world.
Dreaming Spires
The past couple of weeks have seen a focus on scholarship and academia. These can sometimes seem rather fusty concerns, and perhaps not especially fashionable to talk about. They are, however, part of the fabric of King's, and areas we continue to put great emphasis.
Some two weeks ago, we welcomed our 11+ academic scholarship candidates to a day giving them a taste of working with our teachers and girls on a range of 'stretch and challenge' activities. These included Engineering (now a compulsory part of our Year 8 curriculum), Modern Languages, Science (in the Innovation Centre), and the search for infinity in Maths. Spending part of the day with our current scholars, this gave the King's girls of the future - the class of 2017 - a taste of things to come.
Later that week, we held a 'King's Links' event at Oxford. With St Anne's College as our base, we were hosted by current alumnae of King's, who gave the girls tours of the university, including the Physics faculty, Jesus College, and Hertford College, providing a unique opportunity for our current girls to see and hear about life at Oxford.
We have also been actively promoting our academic societies, with the sixth form leaders of Hobbs Society and Landor Dining Society drawing together an exciting programme for Spring Term, and Dr Chamberlain, our Academic Administrator, developing with departments the term's 'Lit and Phil Soc' sessions. These will include Classics (cryptography), Art (Abstract Expressionism) and Computer Science. Dr Burley, our Deputy Head (Academic) starting in January, and I have already been discussing how to extend and expand these programmes to draw in our younger girls, and further foster this love of learning beyond the classroom and subject specifications.
Why are such events and activities important? There are no defined outcomes, nothing to be assessed or examined; so what is their value?
The value lies in the intellectual inquisitiveness such opportunities provide; discourse and problem solving in different contexts, which promote subtleness and dexterity of thought; they also nurture aspiration.
These are skills which not only assist with boarder academic development but ensure that the girls at King's leave us understanding how to grapple with and resolve demanding problems. In our world which seems to grow more complex by the day, these are skills which we need our young people to acquire; King's is proud to lead the way.
Links and Partnerships
The strength of a school community rests on its ability to work together. That partnership embraces pupils, teachers and parents; only in this spirit of partnership can a school ensure that each pupil achieves their personal best, both inside and outside the classroom.
At King's, this is a partnership which we look to continually develop, by engaging parents as fully as we can in their daughters' development in the broadest sense. Most recently this has included introducing Pastoral Forum talks, and the Careers Development Group.
Schools also, I believe, have a responsibility to develop partnerships within their broader communities. This goes beyond any requirements independent schools may have to fulfil public benefit assessments. Rather, being willing to engage with communities beyond our own, enriches everyone; being open-hearted and showing a willingness to foster links with others shows that we are serious about being a force for good beyond the confines of our own walls.
Today, I am very privileged to be joining the trip to Cambridge with the first ever group of 'Warwickshire Scholars'. This is a group of Year 6 girls and boys from local primary schools, selected by their schools to take part in a new partnership between King's and Clare College, Warwickshire's 'link' Cambridge college.
Last summer term, whilst this girls and boys were still in Year 5, they joined us for an afternoon of activities run by current students at Clare. This term, the girls have joined us here at King's for a programme of activities led by staff and Sixth Formers; the boys have attended similar sessions at Warwick School.
This sort of partnership - spanning our Foundation, as well as primary schools across the county - is a wonderful example of how we at King's can foster aspiration and achievement, two key characteristics we seek to instil in our girls. Long may that continue.
Promoting Achievement
The run up to the publication of public examination results is always a time for reflection and anticipation; for the girls, there will be an understandable mix of excitement and apprehension; for teachers, we hope that our students put into practice all the advice and expertise imparted over the duration of the course.
This year, we modified the way in which we monitored the girls' academic progress and achievements in the Sixth Form, by enhancing our current processes to focus on two consistent measures each half term:
1. Their approach and attitude to their studies;
2. Their attainment, measured alongside their A Level predictions, which themselves are benchmarked against other pupils nationally. These predications are worked out by the Centre for Evaluation and Monitoring at Durham University, following a test in Year 12, alongside GCSE outcomes, and have been used by King's for many years.
On top of that, we have promoted and rewarded those whose approach to their studies, and their achievement, has been at or above that expected, and offered alternative support mechanisms for those who are not progressing as we would like. This has included a one-to-one bespoke mentoring programme, Head Master's Commendations, and Head Master's Breakfasts.
Achievement is a complex combination of ability and industry, with teaching at the heart of maximising the potential each girl shows. I have written before about our exceptional 'value added' score, which shows the direct impact of the quality of the teaching here at King's; it is something about which we are very proud.
Achievement is also something very personal, and needs to be judged on its own terms; we want all our girls to achieve the best they possibly can.
As we await this year's public examination results, we look forward to celebrating with them their successes as they look forward to the next stage of their educational journey.
The World Around Us
Today is the one hundredth anniversary of the start of the Battle of the Somme, one of the most devastating and bloody battles in the 20th century. In marking this tragic event yesterday, the Bishop of London called for reconciliation to be the legacy of such conflict and destruction. Being so close to Coventry, a city with a mission for reconciliation, this message will I am sure resonate powerfully in our more local area.
A week after the referendum, and I doubt few would have predicted the events which have subsequently unfolded. It has in fact been a week like no other. Much has been written and spoken about the reaction of younger people to the referendum result.
In a whole school assembly, I spoke about the awesome power of democracy as well as its fragility; the need to engage actively and constructively with issues, however complex or uncomfortable; and the necessity of both understanding others and their views, and accepting difference.
I spoke, too, about community, and how each of us as individuals contributes to the well-being of our society, beginning with the way we interact with one another in our day to day lives. For the girls, that starts by the way they engage with each other in their lessons, form times, and activities. The respect we show one another sets the tone for our community, creating a place of understanding, where diversity in its broadest meaning is valued, and where we are drawn together by common goals.
Whatever our final relationship with the European Union looks like, our girls are living in a world inextricably interlinked, and I do not see how that could - or indeed should - be unpicked. From the community activity our girls are involved in locally, to the charitable works undertaken for those in need, and the numerous residential trips, both to study and to work with others, our girls grow up here with an understanding of active global citizenship, and we are committed to nurturing this further in the future.
Interestingly, we also have a regulatory duty to actively promote understanding and cohesion:

• further tolerance and harmony between different cultural traditions by enabling students to acquire an appreciation of and respect for their own and other cultures;
• encourage respect for other people.
These are amongst the fundamental British Values, as defined by the Government. Whilst I think it sad that it was necessary to prescribe them, we fulfil them in a variety of different ways.
Something I am particularly proud of is how we develop cultural understanding through our Modern Foreign Languages programmes. A recent study by Cambridge University highlighted the value of studying languages: www.publicpolicy.cam.ac.uk/pdf/value-of-languages, and I am pleased to report on some recent successes and developments:
Linguistic Triumphs:
• Two of our Year 13 girls have been offered a place to study Modern and Medieval Languages at Cambridge next year.
• Spelling Bee Competition – a King's girl won the Regional Final and will represent the Midlands in the National Final.
• Anglo-French Speaking Competition at Birmingham University: we were delighted to win 1st and 3rd prizes in the Under 18 category.
• European Day of Languages Poster Competition run by Routes into Languages: a King's girl was runner up.
• Poetry Competition run by Routes into Languages: King's girls came first in both Key Stage3 and Key Stage 4 categories, and runner-up at Key Stage 4.
• French Film Writing Competition run by Oxford University: a King's girl was 'Highly Commended'.

Recent initiatives have included:
• A Language Conference in November jointly run with the Classics Department.
• Trips to Universities – e.g., visit to University of Nottingham with German A Level students for a day of lectures about German Unification.
• Trips to cultural events – e.g., Theatre trip with French A Level students to see Molière's "Les Femmes Savantes"
• Trips abroad to put language into practice.
• The launch of Pen Pal link with French School in Tarbes.
• A Mentoring Scheme – Sixth Form students help our younger students.

Next year, the following are being introduced:
• Certificate of Languages in Business as part of the Sixth Form enrichment programme, to be run in French. This course is an Ofqual Approved Qualification, which encourages learners to use language skills for career enhancement and economic benefit.
• Introduction of Language Ambassadors.
• A new cultural club to promote the appreciation of different cultures.
• Bilingual Club for girls who have French as a mother tongue.
It is a delight to celebrate our girls' successes in this area, and I look forward to even more in the future.
Engaging in activities such as these will only serve to enhance our girls' understanding of the world around them; that can only be beneficial to our own community and for the good each girl will being to society.
King's Girls- The Best Versions of Themselves!
I read recently the following extract from a report commissioned by the charity 'Young Enterprise':
Findings have also indicated a difference in classroom performance; 36 per cent of girls believe their gender makes them feel less confident in putting themselves forward for leadership roles, with a quarter stating boys dominate classroom discussions too much.
You will, I know, share my deep concern that girls up and down the country feel this way. I often speak about key reasons for single-sex education for girls: the lack of gender-bias in subject choice, learning environments tailored specifically for them, and the empowerment to pursue interests and skills unencumbered by stereotype. The findings outlined above demonstrate just how valuable such an education is, in making sure that the needs of girls are addressed, and in that way that their life chances are enhanced.
Whilst I have written about these opportunities before, some of the programmes we have at King's to develop confidence and leadership are worth reinforcing.
Our new King's Baccalaureate programme is specifically designed to stretch and challenge the girls so that they develop a broad range of skills, some of which - for example, public speaking - may be out of their comfort zone. Mastering skills which may not come easily is as important as honing those which are more natural to us; it makes us more rounded and agile thinkers and doers. That flexibility is a key skill for life, and essential as our girls plot their journey beyond King's.
The new House System has both social and developmental aims at its core. It has already allowed for greater vertical integration, with all the benefits to our school community that brings, and has also been a great deal of fun if the laughter and jollity at the meetings is anything to go by. Crucially, it also provides an opportunity for girls in all year groups to develop leadership skills, through working purposefully with girls in other years in organising specific events, and seeing more girls modelling these skills on a day to day basis. It also provides more opportunity for healthy competition; for the girls to have greater scope to engage in a broader range of activities, some of which will be new to them.
Central to the development of confidence and skills next year will be our 'Springboard' programme for Years 7 and 9. With modules on personal development, leadership, and careers, these lessons are designed to broaden horizons and open the girls' eyes both to a better understanding of themselves and of how they can make their impact in it.
In our vibrant talks and careers programme, we are able to both open girls' eyes to the rich variety of paths they may choose to follow, and cater for their specific interests; I am delighted that more of these events will be led by our girls in the future.
However important these initiatives are, it is also fundamental that important messages are delivered throughout the girls' day. In a nurturing classroom, there is space and permission to explore new ideas and concepts without the anxiety of getting things wrong; the vocabulary we use (for example, high and low, rather than good or bad) can take emotive labels away from the ups and downs we all encounter in life; skillfully drawing out contributions in class from those who are less confident is the hallmark of a great teacher.
As we continue to enhance the opportunities for our girls here, we do so with the specific aim of helping them to be the very best versions of themselves both in school and in their future lives. Would that every girl could say that.
Personal Development - The Best Version of Ourselves
It should go without saying that a rich school experience should take full account of each
pupil's personal - individual – development.
Through curriculum lessons, activities outside the classroom, and working with their peers, our girls at King's travel on an exciting voyage of self-discovery, helping them to get to know and understand themselves well, and others.
Throughout their journey here, we encourage the girls to not only embrace the things that go well for them but also the things which they find difficult. Understanding our areas of strength and those which need some attention can seem much clearer cut when we think about academic progress. They can certainly be more straightforward to measure, although I am very pleased that we do report formally, via form tutors, on girls' broader development. However, we all know that things that are truly worthwhile are worth working at. That applies as much to friendships as to endeavour in the classroom, and requires a good deal of self-knowledge as well as the support of teachers, friends, and family.
Our experience as adults teaches us that managing and leading ourselves can be as difficult as managing and leading others, whatever the context, as one thing is more certain than anything else: we take ourselves with us where ever we go. With that in mind, we want all our girls at King's to take the 'best versions' of themselves throughout their lives. Part of that is understanding the impact we can have on others, both directly and indirectly.
How do we do this at King's?
• A very broad pastoral programme, guiding girls through the twists and turns which teenage life can bring;
• A comprehensive PSHEE programme, which covers relationships, inter-personal skills, community engagement and an understanding and appreciation of the diversity within our society today
• Encouraging the girls to take part in a diverse range of extracurricular activities, expanding their interests and horizons, and mixing with as many other girls as possible;
• A broad programme of outside speakers, with a range of life-experience and life-stories;
• Engagement with the world beyond our Blue Door, meeting and working with people of all ages.
Three major initiatives this year will also aid in this process.
First, our new House System, which has key aims of promoting vertical integration and new opportunities for pupils to work together and develop leadership skills.
Secondly, the King's High Baccalaureate, where girls will work on eight core areas, including personal development, communication skills, and service to others.
Thirdly, our Pastoral Forum, designed to help us talk to parents about particular pastoral issues. So far this year, we have held talks on teenage mental health and internet safety.
We draw, too, on the expertise of others to work with our girls. Later this term, we welcome the well-known educationalist Emma Gleadhill to lead workshops with Year 7 on "Friendship - the Joys, the Pains, and Handling Change". Emma is also joining us again in November to speak to other year groups and parents.
I am also delighted to have appointed a co-ordinator for pupils' personal development, who will continue to develop this vital area of school life, including new programmes in Years 7 and 9 to include: Leadership and Team Working Skills; Independent Study Skills; Building Relationships and Interpersonal Skills; Contribution to Community; Resilience and Positive Coping Strategies; Problem Solving Skills and Entrepreneurial Skills.
It is also through these programmes, and our day-to-day contact with the girls, that we, as teachers, get to know the girls as individuals, too; only then can we best support their needs, needs which will inevitably change throughout their time at King's.
I hope that our absolute commitment to nurturing our girls, and preparing them for the excitement and the challenge of life in and out of school, and in their life beyond King's, shines through in all that we do.
Myth Busting!
There have been a number of articles in the press over recent weeks and months regarding independent schools, which have made interesting reading. I am delighted to use this opportunity to address some of these, and challenge a number of possible preconceptions.
Myth one: you cannot measure the value of an independent school education
Last week, the ISC published research from the Centre for Evaluation and Monitoring at Durham University (CEM) regarding the tangible impact of independent schooling on pupils' educational outcomes.
Included in their findings is that independent schooling accounts for a 0.64 of a GCSE grade increase.
At King's we monitor our pupil outcomes carefully, also using CEM to analyse the girls' results. This shows that over the past thirteen years our girls have achieved, on average, even greater 'value added'. From their MIDYIS assessments in Year 7, there is an average value added score of 0.73.
Any score greater than 0.27 is judged by CEM to be due to the positive impact of the teaching, and here at King's it equates to girls achieving almost ¾ of a grade higher on average per subject than similar students across the country. This is an exceptional outcome.
When it comes to progress onto post-16 and university courses, the importance of high quality GCSE grades cannot be over-emphasised, as these are what many universities will look at first. It should be remembered that after this year, given the changes to A Levels, the only consistent measure universities will have when judging UCAS applications from English schools will be GCSEs.
Myth two: independent school pupils are discriminated against by universities
As I have written about before, we are delighted that our girls, both historically and currently, achieve excellent university offers.
Universities want and need the best students, and we have found year on year that our girls continue to get very good offers in line with their predicted results. Yes, sometimes there are disappointments, but we have no evidence to suggest that this is due to any bias by universities.
On average over recent years, the significant majority of our girls go on to study at Russell Group universities. You can read more about these 24 institutions by following this link: www.russellgroup.ac.uk. Over the last three years, on average, our girls have achieved over three offers each from these universities. This is very impressive because, for most subjects, it is only possible to apply for five places.
Of course, the important thing is that girls progress to the course and university of their choice, and using only Russell Group universities as a measure does not take into account those who choose different routes. These may include art foundation courses, drama school, or music conservatoire. Neither does it recognise those girls who choose to attend universities overseas, nor excellent universities in the UK, such as St Andrews, UEA, Surrey, Loughborough, or Bath, which are not part of the Russell Group.
This year, we are delighted that two girls have received offers to study abroad, at MacGill University in Montréal, Quebec,one of Canada's' finest universities; two girls, currently in Year 12, are also preparing for overseas university applications.
At this time of year, girls in Year 13 receive their offers, and this year we have been delighted with the results. Five have been offered places at Oxford or Cambridge, with 255 further offers to date.
Follow this link to see where our recent leavers are studying: Leavers' Destinations
Myth three: independent school pupils do less well at university
Earlier this year, there were a number of articles written based on research undertaken by HEFCE (the Higher Education Funding Council for England), claiming that students from state schools do much better than their independent school peers when it comes to university degree outcomes. This came as a huge surprise, given what we know as Heads about our former pupils as they progress through their university careers.
It transpires that the headline statistic published by HEFCE contained a basic mathematical error. In light of this, Professor Alan Smithers, from the Centre for Education and Employment Research at the University of Buckingham, analysed it thoroughly and published his own report.
This shows that the actual degree performance is exactly opposite to that reported by HEFCE: 82% of independent school entrants receive a 1st or 2:1 compared to 73% from state schools and colleges.
Please follow this link to see how well our former pupils do at university: Leavers' Destinations
Debunking these three myths shows just how valuable an independent education can be, and the improved life-chances it can afford. This is, in part, because as a truly independent school, we can focus on, and allocate resources to, our particular priorities. An enhanced school experience for our girls will always come at the top of that list.
What I know cannot be directly measured is the impact of our extensive extra-curricular provision, the countless day and residential trips offered, both abroad and closer to home, and the myriad other opportunities offered outside the classroom here at King's. However, we all know that they greatly enrich the school experience; they have a huge impact on our girls, and help to make King's the vibrant school we know it to be.
Earlier this year, I wrote a blog article entitled 'Four cheers' for King's, which can be found below. By my reckoning, the total now is seven cheers and counting.
Friday 26 February - A Levels, The Gold Standard
Soon after his appointment as Secretary of State for Education in 2010, Michael Gove announced his intention to reform A Levels. The last major reforms, named 'Curriculum 2000', had taken place in the first term of the previous Labour Government.

When Curriculum 2000 was introduced, the concept was to broaden pupils' Sixth Form experience by studying four subjects in Year 12 before specialising in three for Year 13. The examinations for these A Levels were divided between the two Sixth Form years: AS examinations taken at the end of Year 12, which could either be stand-alone qualifications or count towards the full A Level, and the A2 examinations at the end of Year 13. The combination of the AS and A2 examinations in each subject resulted in the full A Level.
The Gove reforms were designed to make A Levels 'more academically rigorous', in part by revising the way in which they were assessed. This was to be done by removing the modular programme of exams divided between Year 12 (AS) and Year 13 (A2). They are in the main also more content-heavy, with many schools therefore choosing to offer three rather than four.
The new, 'reformed' A Levels are being phased in over a number of years sitting alongside the old, 'legacy' A Levels. This year's Year 12 pupils are the first cohort to study the first group of reformed specifications in subjects which include Art & Design, Biology, Chemistry, Physics, English, History and Economics. All the 'reformed' specifications will be in place by September 2017.

Whilst there are still stand-alone AS qualifications, these no longer count towards the full A Level in 'reformed' subjects; the exams in Years 12 and 13 have been de-coupled.
A focus on three subjects over a two-year, linear course may sound very familiar. That is because, in short, once all the reformed subjects have worked their way through, the Sixth Form experience will be very similar to that which existed prior to Curriculum 2000; similar to that followed by many readers of this blog: three A Levels studied across two years with terminal examination at the end of Year 13.
A Levels have always been taxing, and rightly so. Much of the talk about 'dumbing down' over recent years has been ill-founded; we know, for example, that Cambridge University greatly valued the AS module results, as they proved to be a very reliable guide to future success.
There are, of course, numerous different routes for Sixth Form study. Instead of A Levels, a number of independent schools offer the PreU in some or all subjects, or the International Baccalaureate. That there is such variety of provision in the independent sector is something that we should all celebrate: we have the freedom to choose the right qualifications for our pupils.
At King's High, we believe that maintaining A Levels is the right route for our girls. A Levels have been, and will surely remain, the 'gold standard', and provide the depth of study and understanding in preparation for university life. They are recognised for these qualities not just nationally but internationally; they are understood and valued by universities and future employers, and continue to allow pupils to excel in their specialist subjects.
Schools have, understandably, taken numerous different approaches to the implementation of the A Level reform agenda. The majority of our girls will now sit three rather than four subjects, and we will also introduce additional lesson time in Year 12 to accommodate the larger specifications.
Whilst the A Levels themselves provide depth, we are taking the opportunity at King's High to introduce greater breadth. This is being done by promoting further the Extended Project Qualification – a stand-alone research qualification – which has been popular for a number of years. Interestingly, it is now gaining greater recognition by universities in UCAS offers. We are also exploiting the freedom we have to design our own curriculum by developing our own Sixth Form qualification, encompassing the breadth of skills we believe pupils entering university and careers need, including leadership and teamwork.
The reforms allow schools both to embrace the great strengths of A Level study and complement them with educational programmes which will prepare our students for their life beyond school: these are things we should all celebrate.
Editor's Note: Mr Nicholson was invited to write an article about his views on A Levels for a highly-regarded regional publication. His article will appear in their April issue and we will provide details upon publication.
Friday 12 February - Four Cheers for King's!
There is always much debate about education in the press. Often it concerns changes to public examinations or the latest league tables. Most recently, there has been much written about different types of schools: single-sex verses co-ed.
Fundamentally, a school is not excellent simply by virtue of whether it educates girls or boys. An excellent school will need to support outstanding learning in numerous ways, including: superb teaching, high-quality resources, and outstanding provision outside the classroom, aligned with a culture of high expectation and equally strong systems of support.
As every parent knows, each child is different; not every school will therefore be right for all. One of the many strengths of the independent education sector is the diversity of our schools, which reflect many of the varying needs of pupils. I am proud of this individuality, the diverse opportunities we can therefore offer our pupils, and indeed the impact we can have on the wider educational debate.
However, my primary concern as Head is to ensure that each girl at King's is nurtured as an individual; that her uniqueness is embraced and celebrated. Each will define success in her own terms, just as we do as adults, but it is our responsibility to help her achieve - and indeed exceed - her potential.
What do I believe are the benefits of single sex education? My experience of having worked in girls' schools for a number of years before having the privilege of leading King's High is that such an environment actively promotes opportunities to prevent girls from falling into gender-stereotype moulds. For example, girls are free to choose examination subjects because they like them rather than because it is expected of them, and they take part in every aspect of school life: in plays, building the set, and designing the lighting sequence as well as arranging costumes and make-up; playing trombones and bassoons in orchestras, as well as the flute and violin.

That girls have the opportunity to explore their academic and extracurricular interests led purely by their talents and ambitions is essential. This, for me, is the most potent argument for single-sex education.
Such individuality is reflected in the girls' choice of A Level studies. Choosing Maths or a science goes as unremarked as choosing English or History, and rightly so. To put that into some sort of national perspective, currently some 79% of our Sixth Formers study at least one subject related to Science, Technology, Engineering, and Maths ('STEM' subjects). Nationally, the figure for girls taking STEM subjects in GSA schools is 55%, as compared with 34% of girls across all schools nationally.
We are also extremely proud that our girls go on to read the right subjects and disciplines for them. This includes: medicine, veterinary science, law, a full range of creative subjects, drama at RADA (in fact, we have two girls at RADA at the moment – I do not know of any other school which can claim that), music conservatoire, and a host of other subjects, including recently: Zoology, Astrophysics, Oceanography, Archaeology, Anthropology, Aeronautical Engineering, and Neuroscience. To continue on the STEM theme, some 50% have gone on to follow STEM-related subjects over the last three years.
We also know that our job is never done; schools evolve over time, adapting to the changing societal and educational landscapes. At King's, we embrace these challenges, which include developing ways to further support our girls. We want them to be confident and self-assured, and are delighted to have been selected for a pilot of the innovative 'Ignite' programme, specifically devised for girls to further inculcate these qualities.
However, what is so exciting at King's is that we are in the position to offer girls not just the best opportunities afforded by a single-sex school, but what could be termed 'single-sex plus'.
This is because the Warwick Independent Schools Foundation offers our girls and boys all the advantages of single sex education and, in addition, the best opportunities to work together. In short, I believe that we offer the best of both worlds.
How is this manifested? Barely a day goes by without boys from Warwick School walking through our buildings; more often than not, as I walk to see colleagues at Warwick Prep School and Warwick School, I meet girls on their way to the Myton Road site. They may be having a lesson in those we offer jointly at Sixth Form - this year, that includes Drama, German, Latin, and English Language. They may be taking part in Foundation Music Groups, or attending one of the other extracurricular clubs and societies run jointly. On a Friday, it will most likely be for one of the numerous activity options, such as Science in Action, CCF, or Young Enterprise.
Such opportunities ensure balance and breadth for our pupils, and complement their day to day learning environment.
In short, three cheers for single sex; four for single-sex plus.
Friday 5 February - Important Life Lessons
As I write this, I have just watched two exciting games of netball, as two of our teams - U14 and U16 - compete in the Regional Championships.

Yesterday, I was with the girls in the Senior Chamber Choir as they recorded their first CD.

In seeing our girls work towards exciting goals, I am reminded of some very important life lessons.

There has, over recent months, been a great deal of discussion about 'perfection' and 'failure'. This, for me, is a debate which is too absolute, too black and white. As we follow the twists and turns of life, we know that getting something right doesn't mean that it's 'perfect', just as getting something wrong isn't 'failure'. What is important, I believe, is striving to do as well as we can in all that we do, as we learn so much in the process, whatever the outcome.

Schools are in the privileged position of being with our pupils through both the ups and the downs which they will inevitably encounter. Helping our pupils to deal with setbacks is immensely important; so too is helping them to achieve their best, and often these two are linked. In fact, the creative tension created between them was much in evidence at the recording session and on the netball courts. At the former, the girls knew what had gone well and what needed retakes - they were determined to do the best they could, under the expert guidance of Mr Smallwood. At the latter, team talks, communication during the games, regrouping after disappointments and reflections on success, tactical advice from our superb coaches showed just how much each member of the squads strived to make every match count. This tenacity and resilience paid tremendous dividends.

There are strong parallels between the music and sports teamwork in evidence this weekend and our work as a school, more generally.

So much of what happens at King's revolves around the teamwork created by the positive relations between our girls and teachers. In the classroom, this partnership can be seen in action day after day; it can be seen too in the conversations which happen in corridors, the support which takes place outside lessons, and the opportunities to pursue subjects beyond the bounds of the curriculum.

In their journey through King's, our girls develop leadership skills in the many different team scenarios they encounter. The knowledge of how we get the best from ourselves and the wisdom to know that we cannot achieve without the support of others: leadership of self; the insight to know that there are times when we need to be there for those around us, however formal or informal the situation: leadership of others.

As I finish typing these thoughts, our U14s have won their place in the National Finals, with U16s having played magnificently, making it through to the semi-finals. The wonderful reality for these squads is that however well they have played together so far, as they develop over the years ahead, they will get even better.

My message to all the girls at King's is, therefore, this: remember that we all learn from our ups and downs; that trying to do your best is always worth the effort regardless of the result; and reflect on what you have achieved through your own endeavours and the work you have done with others, and just imagine what even greater things we will achieve together in the future.
Friday 22 January 2016 - New Year, New Resolutions
At the start of term, I spoke to the girls about the two 'new years' we have in schools: the new calendar year and the new academic year. Both are good opportunities to take stock and reflect on what we want to achieve, both in the short and longer term; we are fortunate to get a second chance to make good on the promises we make to ourselves.
As many of us will know only too well, resolutions are easy to make but are difficult to keep without working hard at them. Too often, perhaps, we try to make too large a leap when that is not what is required; sometimes our resolve is tested too easily; possibly what we aim to do is simply not important enough for the effort required to see it through.
Resolutions can, though, be both powerful and transformative. I reminded the girls about my assemblies in September when I talked to them about '1% incremental improvements'. This was the approach taken by Sir David Brailsford in preparing the tremendously successful GB cycling team for the 2012 Olympics, membership of which included Victoria Pendleton, Britain's most successful female Olympian.

Sir David focused on the idea of 'marginal gains' – small improvements which together made a significant difference to the performance of each individual athlete. This is what he said:

"The whole principle came from the idea that if you broke down everything you could think of that goes into riding a bike, and then improve it by 1%, you will get a significant increase when you put them all together."
These are some of the aspects he considered:
• weekly training programmes
• weight of the bike frame
• The shape of the helmet
• the bike seat
• the weight of the tyres.
• the pillow that offers the best sleep
• teaching riders the best way to wash their hands to avoid infection
• the diet of the riders

My challenges to the girls were these:
• What marginal gains can you make that will add up to that really big difference which will enable you to fulfil, even exceed your potential;
• What are those marginal gains which will mean that you can be more ambitious than you ever thought possible;
• What 1% changes will have the massive impact on your lives and futures.
In relation to resolutions this New Year, I encouraged the girls to make a simple, achievable pledge to themselves and a friend - something straightforward for them to achieve but which would have a transformational impact.
As a school, we are also identifying our own 1% incremental improvements. This is an exciting process, which I have likened to a journey, for that is what it is. This is also the way I believe we can best enhance our wonderful school.
We have already taken some important first steps, which have included:
The establishing of a House System, to build on the strong sense of community and belonging within the school, and offer additional leadership opportunities;
Expanding and deepening our GCSE programme;
Developing our already extensive careers programme, forging new links with alumnae and parents, universities, and businesses;
Increasing our provision in both PE and Music;
The creation of new ways to recognise both achievement and contribution to our school community, and in offering academic and pastoral support;
Devising further enrichment opportunities, offering more opportunities for girls to engage with leading thinkers and opinion formers.

However, the journey continues: I am currently talking to all the girls, form room by form room, to seek their ideas; a similar process is also underway with my colleagues; and, shortly, I shall be asking parents for their views, too.
This is a journey on which I hope all members of our vibrant community will embark with enthusiasm and excitement; I look forward to reporting on our progress in the weeks and months ahead.
Friday 9 October 2015 - Jewel in the Crown
Sixth Form years are often those most loved by students. Here at King's High, we not only prepare our girls for the next stage in their educational careers but also look to develop their wider skills so that they can make a positive impact on those around them.

Whilst it is essential that the girls achieve all of which they are capable in the classroom, our Sixth Form offering goes far beyond this, including opportunities to develop leadership skills, careers provision, and a vibrant 'enrichment' programme. We recognise that every girl here has the ability to lead, and indeed many will assume very responsible posts in their careers. We therefore put great emphasis on providing opportunities where these skills can be fostered. Whilst these are often considered 'soft skills', and there is certainly no public examination in them, they are essential attributes if girls are to make the most of their own potential and the potential of others. This is why we put such great emphasis on providing opportunities where these skills can be fostered, including:
• The School Prefect System for those in Year 13
• Form Leaders, Deputy Leaders, and Form Secretaries, for each form
• Mentoring roles, for Sixth Formers to help younger girls with subjects
• Our school 'family' system, with Sixth Form 'mothers', to help Year 7 girls settle in
• Leading extracurricular clubs
• School Council
• Sixth Form Committee
• The unusually high level of participation in the Duke of Edinburgh's Award Scheme
• The joint Combined Cadet Force with Warwick School
We also know that university application support is vital. At King's, this is provided by a team of some twenty staff, each with particular roles, including support for UCAS personal statements and for applications in specific and highly competitive subjects, such as medicine. Guidance is provided for entry into both UK universities and beyond, including dedicated staff who support applications to Oxford and Cambridge universities, US universities, and those even further afield, including Australia.
As a school, we are always looking to enhance the opportunities for our girls, which this year includes broadening our provision for those who are likely to have subject interviews as part of their university entrance process, bringing in additional expert support from both external consultants and drawing on the skills of alumnae and parents in associated professions. These initiatives complement the already vibrant Careers Lunch Programme of visiting speakers, which itself presents a wonderful opportunity for networking.

Our 'enrichment' programme, which already includes myriad subject talks, clubs and societies, trips, and activities, has been added to this year by a series of lunchtime talks, the 'Head Master's Lunch', delivered by world-class experts, on interdisciplinary subjects. Our speakers this year include: Professor Angie Hobbs, Professor Miriam Gifford, Professor Alexandra Cristea, Professor Rebecca Surrender, and Professor Damien Griffin, speaking on topics as diverse as migration, artificial intelligence, social policy, and food security.
We also collaborate closely with our brother school in the Foundation, Warwick School, truly creating for our students the 'best of both worlds'. A literary society is a recent addition to our many links.
King's offers a vibrant and dynamic Sixth Form experience: the year groups are large enough to offer a vast array of opportunities, yet the voice and needs of the individual are never lost. That the individuality of each girl is embraced may be seen by the diverse courses pursued by them beyond King's, which have recently included: Zoology, Astrophysics, Oceanography, Archeology, Anthropology, Aeronautical Engineering, and Neuroscience.

It is an exciting prospect to be celebrating our 'Jewel in the Crown' on Wednesday, when we welcome our Year 11 families, and those who are interested in finding out more about us from other schools, to the Sixth Form Open Evening. I am sure the diamond will be dazzling!
Friday 25 September 2015 - Reflections of a New Head
Of the many conversations I have had with my new colleagues and the parents of pupils, the two most commonly asked questions have been, 'Are you enjoying it?' and 'Is it what you expected?'.
To the first, the answer is an emphatic and unqualified, 'yes!'; in fact, I have loved every minute of my first three weeks at King's. To the second, whilst I spent many months imagining what it would feel like to be the Head of King's High, the reality is in every way more exciting and energising. Leading a school is, of course, multi-dimensional and complex. Every school is different: from the simple things, for example the nomenclature of year groups, to the complexities of how the curriculum is delivered and managed. Each day is varied and different. It will certainly include a range of meetings with, for example, colleagues, parents, Governors, Foundation staff, my fellow Heads, and members of our wider school community, with issues ranging from the day-to-day to the strategic.
However, getting to know and working with the girls is always my key priority.
In teaching Years 7 and 12, I see each week their inquisitiveness, thirst for knowledge, enthusiasm and sense of fun. In supporting their activities outside the classroom, I admire first-hand their commitment, determination and dazzling range of skills and expertise.
I have now also visited many form groups and asked the girls to tell me what they think I should know about the school, and what they love about it. Their response has been remarkably consistent across the year groups: the school is a very friendly place where girls are kind to one another; they love their learning and their teachers; the trips and extracurricular activities are greatly enjoyed; lunches are a big hit, as is Matron! That there is such consensus about the strengths of the school is testament to our success in delivering our aims: we know what our school stands for and how those values can best be promoted.
Some have asked what weighs heaviest on a Head Master's shoulders. Quite simply, for me, it is the driving force for why I aspired to lead King's High: to ensure that every girl here achieves all of which she is capable, and leads a fulfilling life beyond King's, knowing the importance of the positive impact she can make on those around her. As leader of this wonderful school, that is also my greatest privilege.