Music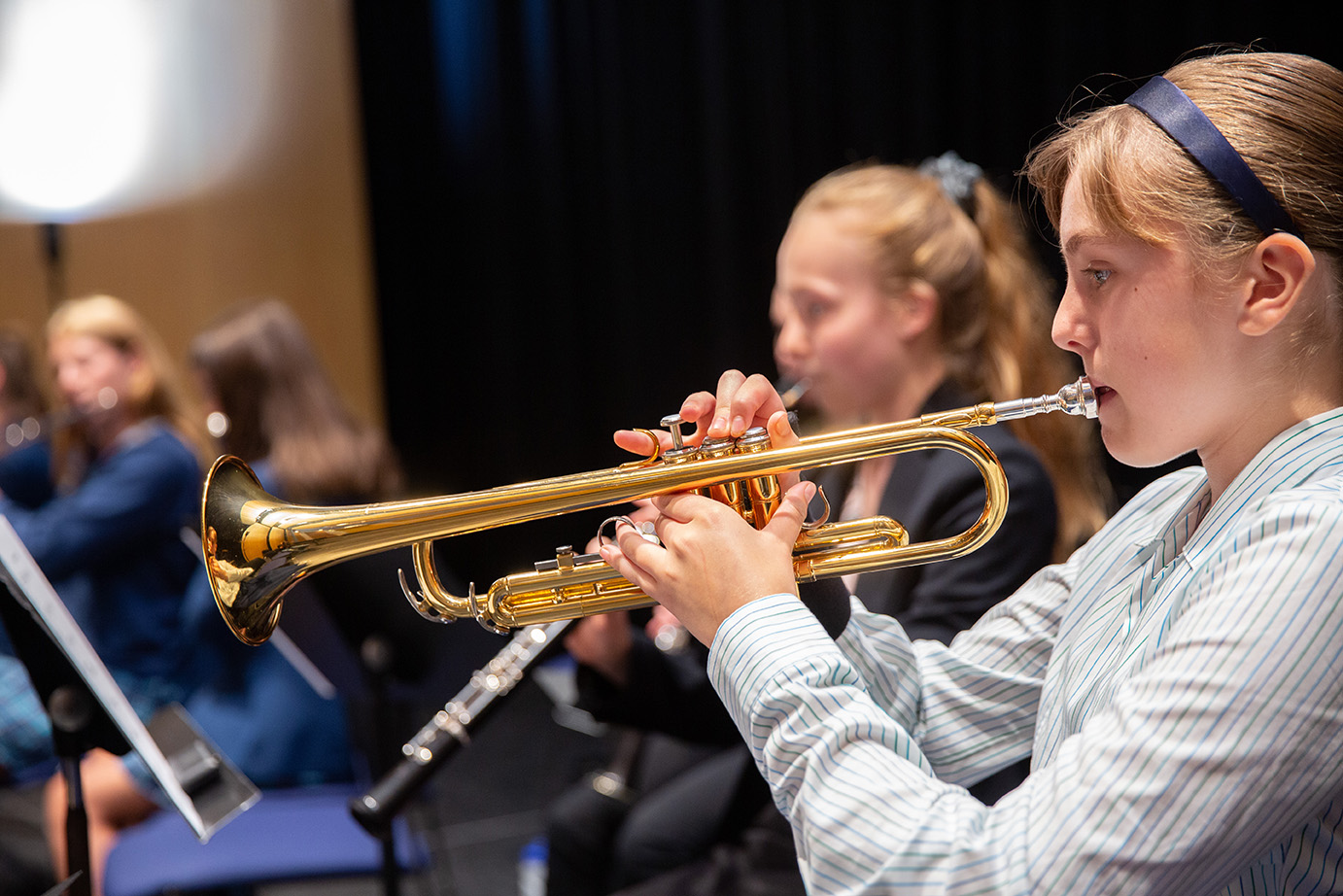 In addition to one-to-one individual instrumental and singing lessons, we hope that your child will become fully involved in the wide range of music-making available, both in and out of the classroom and across the Foundation.
Academic Lessons
At King's High, Music is taught as a class subject in the first three years. In Year 7, lessons involve group singing and instrumental performance, and the development of music theory, listening, appraising and composing skills. The Year 7 instrumental music scheme will be entering its fifth year in Autumn 2022: every student in Year 7 develops their knowledge of music using instruments of the orchestra (strings, woodwind, brass and percussion). We always look forward to showcasing what the students have been learning on the programme through a live demonstration for parents, and students have commented that the programme is a particular highlight of their Year 7 experience at King's.
Co-Curricular Music Activities
Co-curricular music activities are open to all, regardless of whether students have individual lessons in or out of school; these activities play an important part in the life of the School and the Foundation, with a significant number of students attending rehearsals before school, during lunchtime and after school.
Vocal groups are organised by age (some by invitation and/or audition), and membership of instrumental ensembles is determined by key stage and level / experience of playing.
There is a wide range of choirs, orchestras and ensembles to suit all musical styles and interests, which are outlined below.
Choirs
Junior Choir (approximately 60 members, with no limit on numbers) is open to everyone in Years 7, 8 & 9 – no audition required.
Junior Chamber Choir (approximately 30 members) is open to Years 7, 8 & 9 - selected by audition. It is an expectation that members of the Junior Chamber Choir also sing in the Junior Choir.

Senior Chamber Choir (approximately 24 members), selected by audition.
Orchestras and Instrumental Ensembles
Key Stage 3 Orchestra (Years 7-9) is open to all players who have reached Grade 2 or above.
String Orchestra is open to players who have reached Grade 4 and above. Usually this involves more senior students, although younger students who have reached a more advanced level on their instrument are also welcome.

Jazz ensembles cater for all ages and levels of experience. Blue Lagoon Jazz open to Years 7, 8 & 9, and the KHS Big Band for Years 10-13 (by invitation).

Chamber Ensembles cater for a variety of instrumental groups at various levels, including: String Quartets –Beginner, Intermediate and Advanced (by invitation), String groups (including the A-Strings, open to string players in Key Stage 3), Harp and Guitar Ensembles, Orchestral Percussion (by invitation), Wind and Brass groups (including Wind Quintet, Baroque Soloists, Oboe Band, Recorder Consort, Clarinet and Saxophone Ensembles, and Unity Brass).

Students are also encouraged and supported in setting up their own groups, including a cappella vocals, jazz, rock and pop.
Theory and Aural
Theory Classes are available from an introductory level, as a class lesson during lunchtime, and after school, for students working towards Grade 5 Theory. Composition skills can also be developed during after school classes, though primarily for students in the GCSE years.

Aural Classes are also available for students at all levels, as a class lesson during lunchtime, and on an individual basis by arrangement.
Foundation Music
The following involve students from across the whole Foundation age range:
Foundation Symphony Orchestra (by invitation) for instrumentalists from across the Foundation who perform at a high level (meets after school).
Foundation Wind Orchestra / Foundation Wind Ensemble / Foundation Concert Band (by invitation) for wood wind, brass and percussion players who have passed Grade 6 and above from across the Foundation (meeting after school).

Foundation Chamber Choir members are selected from King's High and Warwick School by invitation and/or audition (usually Year 9 and above).
Concert Programme
We organise a busy programme of concerts from large scale performances featuring our choirs, orchestras and instrumental ensembles to more informal events where anyone is invited to come and perform, including Musical Horizons tea-time concerts as well as our popular Friday Live! lunchtime series. Performances also feature during school assemblies and at various school events, including open evenings etc. There are opportunities for our best performers to give showcase recitals. We also have joint concerts with the other schools in the Foundation. For the new students, however, the most important of these is probably the Year 7 Concert held in October, which involves every pupil in the year group.
Facilities
The new Music School opened in September 2020 and unites the music departments of both King's High and Warwick Prep in one building. The Music School enjoys dedicated, state-of-the-art facilities including an auditorium, rehearsal studio (including organ), two music classrooms, one keyboard suite running Cubase and Sibelius workstations, percussion studio, 13 practice rooms, music library and instrument storage, office and technical spaces.
Individual Music Tuition
Individual lessons are available as follows:
Piano (including jazz)

Organ

Flute, Oboe, Clarinet, Bassoon, Saxophone, Recorder
Trumpet, French Horn, Trombone, Euphonium, Tuba

Orchestral Percussion

Drumkit

Violin, Viola, Cello, Double Bass, Harp

Guitar (classical and electric, including bass)
There is a team of some 35 visiting teachers across the department delivering over 450 individual lessons per week to pupils at both Warwick Prep and King's High.
During this year we will be inviting parents to visit and observe their child's music lessons during an open fortnight. Parents will be invited to sign up to visit ahead of that period.
Should you wish your child to commence music tuition later in the school year please do not hesitate to contact the Music Department.
Timetabling
Music lessons for Years 7 – 10 are arranged on rotation throughout the school day. Fixed lessons outside the academic timetable are reserved for students in Years 11-13. For students who learn three or more instruments in school (including LAMDA), one of these lessons will be fixed outside curricular time. (Further details of the timing of individual music lessons are given in the tuition agreement).
Timetables are sent to the students via their school e-mail account, as are regular updates and any timetable changes from members of the Music Staff. Timetables are on the departmental noticeboard.
Communication with the Music Department regarding lessons is encouraged and messages may be sent by e-mail at any time. All Visiting Music Teachers may be contacted via their school e-mail address.
Students who have music lessons outside of school are not precluded from taking part in the musical life of the school and are, indeed, encouraged to do so. Please do contact the Music Department to share with them your child's outside of school commitments and achievements.
Music Tuition
Please register your interest and check availability by emailing Christine Tregaskis, Music Administrator at C.Tregaskis@kingshighwarwick.co.uk.