Physical Education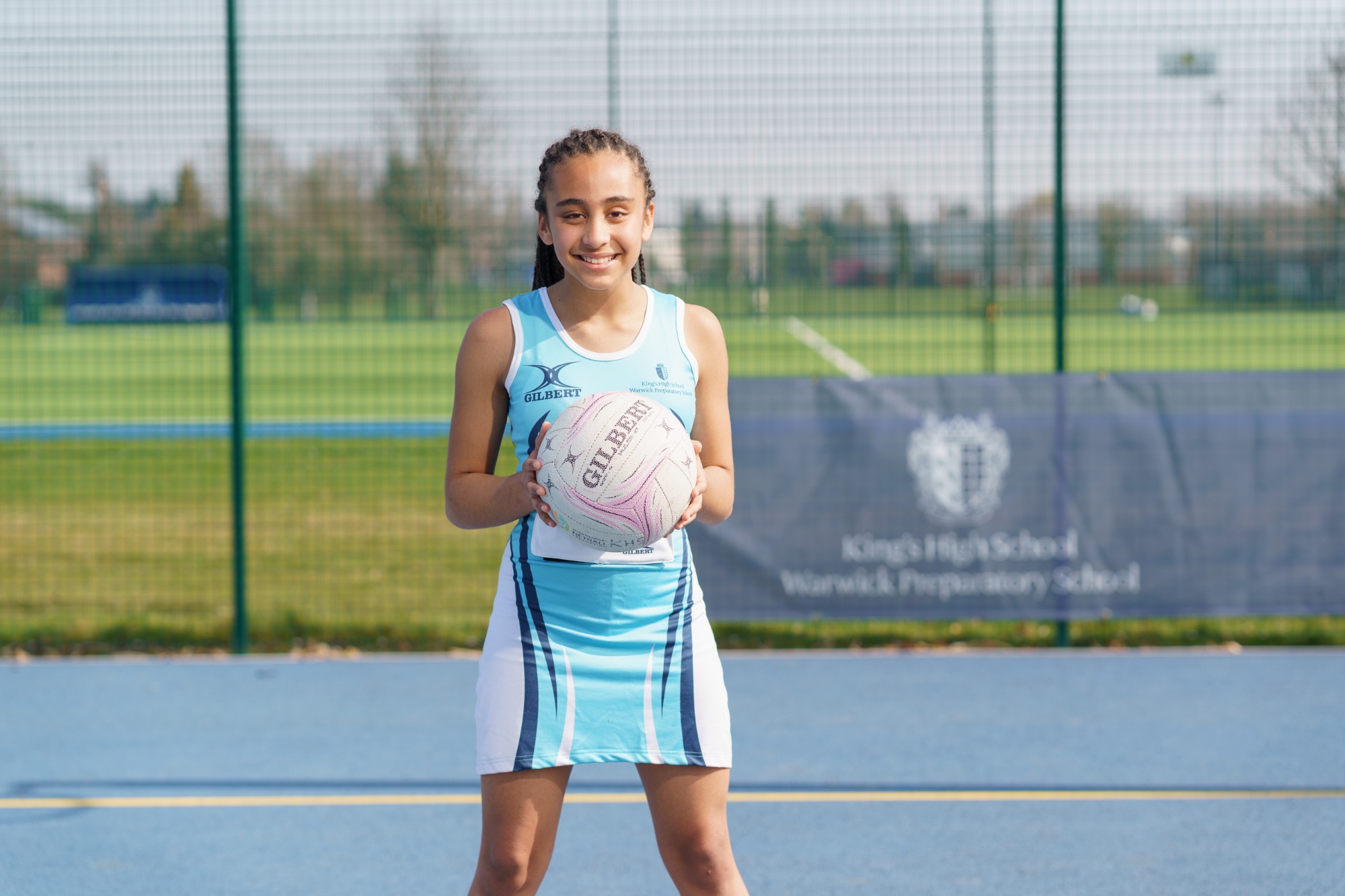 Our Aim
Sport and exercise are very important at King's High, both the participation and performance, and we hope your daughter will make the most of the fantastic opportunities we offer. We aim to provide a range of experiences that will allow every pupil to develop her talents and abilities to the full, generating confidence, enthusiasm and an enjoyment of physical exercise and sporting activity that will last throughout her life. 
We also aim to achieve full participation from all students, assist each girl to fulfil her true potential and achieve excellence, both at individual and team level, in chosen sports and activities.
We run successful teams at County, Regional and National level, and some of our students go on to represent their country in their chosen sports. Apart from specific squad practices, all our activities are inclusive. We ask each KS3 pupil to sign up for, and take part in, at least one Co-curricular (lunchtime or after school) sport or exercise activity each term, e.g., Dance or Netball.
If a pupil is wishing to participate in school fixtures they should endeavour to attend the after-school training session where there is the option as a minimum.

Activities on offer over the course of a year:
Athletics (All Years) – There is a club and a squad practice which take place two evenings a week, in the Summer Term, usually at the field, but the gym or Sports Hall may be used in inclement weather. We ask all those who would like to be considered for the athletics teams to attend at least one, if not both, these sessions.
Badminton (All Years) takes place in the Sports Hall. There are two clubs; a Badminton Academy, which is by invite and is run after school; and a lunchtime recreational club where pupils will receive coaching, can play with their friends and may, occasionally, be invited to play some matches.
Clay Pigeon Shooting (Year 10 and above, a charged activity) – all equipment is supplied. Shooting takes place at Wedgnock Shooting Ground, Warwick, after school, where you can learn to shoot competitively, for D of E skills or just for enjoyment. The cost of this activity is approximately £140 per term.
Climbing Club (Year 10 upwards, a charged activity) – takes place at Warwick School. Full training and safety testing is provided but, must be completed before students can join the club.
Cricket Club This takes place after school, and all levels of experience are catered for. This is now one of the major summer sports at King's in the summer term. We run teams and host festivals across the year groups and a number of students go on to represent the County.
Cross Country Club (All Years) This takes place at lunchtime, and all students are invited to attend and train. We take part in a number of competitions throughout the year.
Dance (All Years, a charged activity) Ballet, Contemporary and Hip Hop taught by a team of external, qualified teachers. An energetic lunchtime or after school activity.
Equestrian (All Years, charges vary depending on competitions) Participation in such competitions requires a horse or pony and is run in association with NSEA or GBSEL. Training sessions are on demand with specialised trainers.
Fencing (All Years, a charged activity) – This takes place at Warwick School after school, and is led by Mr Nick Chapman.
Football (Years 7-10) This take place after school and pupils are able to play recreationally and compete for school should they wish to.
Gymnastics (All Years) All pupils are welcome to attend. It takes place on a Friday, after school, in the gymnasium. Throughout the course of the year there will also be opportunities to compete for those who wish too.
Hockey (all Years) Hockey Club takes place, at lunchtime after school, on different evenings for different age groups. All are welcome to attend, and teams will be chosen from the club. It runs from 4.15 - 5.30pm at the School Astroturf.
Lifesaving (Year 10 Upwards, a charged activity) takes place at Warwick School Pool, and is led by a Warwick School Teacher. Pupils have the opportunity to gain Lifesaving awards and to learn and practise lots of new skills.
Martial Arts (All Years, a charged activity) takes place in the gym, and is led by an external coach. There are opportunities to undertake grading, as appropriate.
Netball (All Years) Different year groups have different allocated after school and lunchtime sessions. Training sessions are open for all and there are competitive fixtures throughout the year in various different teams.
Rugby (Years 7-11) Rugby coaching is offered by professional coaches throughout the year. Training takes place weekly after school.
Skiing (All years) Organised training sessions take place on a weekly basis and there are opportunities to compete in ski racing when pupils are confident and competent to do so. This is a charged for activity and parents must be able to transport their daughter to the training sessions. These generally take place on a Friday evening and Sunday.
Swimming (All Years, a charged activity) All swimmers need to be confident in the water and able to swim lengths without stopping. The sessions are aimed at improving swim strokes and fitness. There are sessions on Friday, 4.15pm until 5pm (one charge), and Tuesday, Wednesday and Friday morning, 7am until 8am, which has a separate charge. The venue is Warwick School Pool, as the sessions are held jointly with the boys.
Tennis Club (All years) – This takes place after school, once a week, for each age group, in the Summer Term plus lunch time training session for squads. All pupils are welcome to come and receive coaching, develop their skills and play games.
Tennis Squads (All years ) 8 to 12 students are selected to receive professional coaching one lunchtime per week, in the Spring and Summer Term. Opportunities are available for private lessons before school. These are invite only.
Water Polo This follows straight on from the Friday after school swim session, from 5.00pm until 5.45pm, and is included in the charge for swimming. A separate training session takes place on a Wednesday, and there is a separate charge for this session. There are also occasional Sunday sessions from 4.00pm until 5.00pm. Strong swimming skills are required, and therefore anybody wanting to play Water Polo is expected to attend a swimming session, as well. Basic ball-handling skills and specific fitness exercises are taught, as well as playing mini-games. Once again, the session is held jointly with Warwick School boys.
Additional Information:
If any clubs/practices are cancelled for any reason, information will be posted under news items on the Sports website. Please check this regularly.
All external coaches and teachers employed have professional qualifications in their field, have an enhanced DBS check and are given a full induction programme by the School. At the end of the day, pupils should walk quickly to the Sports Hall or field and change there for their activity.
Pupils should be collected from Gallows Hill car park or the main school car park at the end of any after school practice.
Activities at Warwick School – Pupils walk to the Sports Centre, and should be collected from the Junior School Car Park, at the end of the activity.
The co-curricular website enables pupils to be signed up for all activities. Details will be sent to parents in the summer holidays. The cost of paid for activities will be added to your school bill, at the end of the term.
If you have any queries about sporting co-curricular activities or payment, etc., please speak to Mrs Smith, Mrs Parkinson-Mills (or Mrs Didlick who co-ordinates the whole of the co-curricular activities programme).
Collecting Pupils after activities
Please be prompt to collect your daughter after practices, clubs and/or fixtures. If you know you will be late, please make alternative arrangements, or ask your daughter to return to school and attend after school care. If your daughter is persistently collected late, we regret she will not be allowed to continue to attend the activity.
Fixtures
The fixture calendar, news items, cancellation and team sheets can all be found on the School Sports website. Password access to team sheets will be provided. In addition, you may find it useful to follow King's High Sport on Twitter for cancellation updates and news items.
Regular fixtures are played in Hockey, Netball, Swimming, Tennis, Athletics and Cricket. The vast majority of fixtures are found on the main school calendar and on the Sports website. Additional fixtures, on a more ad hoc basis, are made in Cross Country, Water Polo, Badminton, Dance, Golf, Equine events, Fencing, Football, Skiing and Clay Pigeon Shooting.
Fixtures are played regularly after school and on Saturday mornings and, occasionally, on Sundays. Team lists are put on the School Sports website. It is the students' responsibility to find out if they are in a match, and they are expected to check the website regularly (at least two or three times a week) and inform a member of staff, well in advance, if they cannot play.
If a pupil is unable to play in a fixture we ask that this is communicated via a parent two weeks in advance to their team coach and Mrs Parkinson-Mills. All pupils are expected to be available to play in fixtures on a Saturday morning.
Home fixtures These take place at King's High Playing Fields, or, occasionally, at the Bridge Sports Hall, or at The Foundation Swimming Pool.
Away Pupils will either travel by mini bus or coach to away fixtures. If travelling on a Saturday morning, and at most other times, pupils will be collected from and dropped off at the main bus bay outside the Bridge House Theatre. Pupils are expected to travel to and from fixtures in King's High kit, and should bring clothes for inclement weather.
Cancellation If the weather is inclement, fixtures may be cancelled. On a school day, as far as possible, this will be done at lunchtime.
On a Saturday morning, this will be done by 7.30am. To find out if a match is cancelled on a Saturday morning or any other day, please check the fixture on the School Sports website and refer to the King's High Sports Twitter Feed @KHSsport. We also enter local and national tournaments, and competitions. Some of these will take place in the School day, and pupils will be given plenty of notice of the event.
If selected, a pupil should make every effort to attend. If they wish to be in a squad, then this should be a priority.
Inter House
Inter House Sport is available to all students. We encourage as many students as possible to take part in this fun, and competitive intra-school opportunity.
Team Selection
Selection at King's High takes place to choose students for matches, meetings and tournaments. Unfortunately, we are not able to accommodate all students' desires, and staff have to use their professional judgement to pick the best students for the opposition and situation.
Selection is always based on both commitment and ability. Initial non-selection does not mean you will never be invited to play during that year, and initial selection does not guarantee a place for the year. Performances are constantly monitored at clubs and during lessons. It also does not exclude you from attending clubs and practices. Representing the School is an honour and a privilege that has to be taken seriously. If selected for a squad, pupils must attend training and should make themselves available for all matches as far as is reasonably possible.
Teams run in Hockey and Netball: U12 Netball A, B, C, D, E, F teams; U13, U14 Netball A, B, C, D teams; U15, U16 Netball A, B teams; U18 Netball 1st and 2nd VII teams; U12 Hockey A, B, C, D, E, F (7 a-side) teams U13 Hockey A, B, C, D teams; U14 A, B, U15 A, B, U16 Hockey A teams and some B teams; U18 Hockey 1st and 2nd XI teams Summer teams run are in Cricket, Athletics and Tennis.
Curriculum Sport
We expect all students to take part in lessons unless they have a note from home to excuse them. If they cannot take part as a performer, then, when it is reasonable, the pupils will be given other roles in the lesson and should still bring their kit and warm clothes to the lesson. If a child has any serious or long term medical issues, then a doctor's note or information about any physical challenges from a physiotherapist may be required. This is so we can adapt the experience safely and accordingly and aid any recovery and rehabilitation.
The Fitness Suite
The Fitness Suite is a new modern facility giving students the opportunity to develop their cardiovascular endurance as well as experiencing the latest developments in strength and conditioning. It is available for use in curricular and co-curricular time by all pupils, once they have received an induction by a member of the PE staff. It is available for pupils to use before school and after school from Years 8 –13. There will be a member of PE staff or Personal Trainer present to offer advice.
Sports Tours & Trips
The PE department take many sports teams on tours (these are for those who have been selected). In addition to sports tours, the PE department regularly run various trips to top sporting events:
July 2018 Senior Hockey and Netball tour to South Africa; October 2018 Junior Netball tour to Jersey;
October 2019 Junior Hockey tour to Holland; October 2022 Junior Netball tour to Jersey; February 2023 Junior Hockey tour to Barcelona.
Trips have been organised to see International Netball matches and to the Wimbledon Tennis Championships, amongst other events. We also organise a Sports Awards Evening. The Sports Awards Evening is held annually at the start of the summer term. There is a sit-down meal for leaving Year 13 pupils and staff followed by an awards ceremony for parents and award winners.
We have a guest speaker in attendance, and Sports Colours and Sports Awards are presented to our most distinguished pupils.
Sports Colours are awarded to students who have made an outstanding contribution to their sport and whose performance has been excellent. Commitment is a pre-requisite, and the pupils who receive colours should also be deemed excellent role models for their peers and younger pupils.